Rachel Singh, Writer
Summer's indisputable hot spot is open and more popular than ever. Greece was one of the first countries to announce its reopening after the Covid pandemic, and their summer game is going strong. Check out our feature on the best hotels in Greece, two of which are actually in Mykonos. Also in preparation for your trip to this legendary locale, we have the curated guide the best restaurants in Mykonos. We would venture to say, if you play your cards right, it's going to be your best summer on Mykonos yet.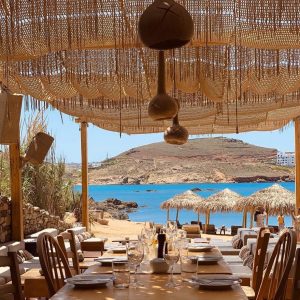 Note: Although Mykonos is notorious for its partying, it has much more to offer than just legendary nightlife. (Although that's quite fun, too.) The island can be as wild or as tame as you'd like. You even have a new hotel option, the Kalesma, that gives you a more tame side of Mykonos.
On COVID, restrictions are still enforced on the island, with some establishments operating at limited capacity or by reservation only. When possible, make sure to book ahead to avoid any surprises.

For a chic and effortlessly trendy late lunch: Spilia
Tucked in a seaside cave by Kalafatis beach, Spilia is a pleaser. To get there, you have to trek along a narrow path, passing octopuses line-drying in the Mykonos sun — a sure bet that you're in for a great meal. You can lose track of time sipping on rosé while watching hordes of beautiful people arrive by boat and transfer to and from yachts anchored in the bay. The waiters are busy cracking fresh sea urchin and pulling fresh lobster out of the natural sea-pool right next to you. Feast on crabs, lobster pasta, sea urchin and rosé. Reservations are a must.
For laid-back beach BBQ: Kiki's Taverna
No need to dress up for Kiki's, which is why it's one of the best restaurants in Mykonos for us. This old-school open-air taverna is like a gentle breeze on a hot summer day. Very refreshing and approachable when compared to Mykonos' polished establishments. It's honest, unpretentious and delicious. Head straight to the restaurant from Lovers Beach a few steps away, or from nearby Agios Sostis Beach. Come in your bathing suit and bare feet if you'd like. No one cares. The menu is composed of a variety of homemade salads, dips and tzatziki, and lots of good things from the BBQ: fresh fish, octopus, pork chops, grilled vegetables.
No website, no Instagram, no reservations. Open for lunch only. Good things come to those who wait, and the wait sure is long, but it's well worth it. The owner offers complementary rosé to all in queue. That's the spirit.

For the food and the good vibes: Alemagou
Ftelia Bay encloses Alemagou, an all-day restaurant and beach club. No dancing on tables or champagne spraying here, as the vibe is very boho-chic. The ceiling gently floats in the breeze, and the ambiance invites relaxation. It's a great choice for a long family lunch, as time stands still and memories are made. Alemagou serves some of the best food on the island, hands down. The menu includes elevated Greek classics like lobster spaghetti and Greek salad. Don't miss the truffle crab tartare. Reservations are a must.

Classic for a reason: Scorpios
Now part of the Soho House family, Scorpios needs no introduction. It's always on the best restaurants in Mykonos list. One of the most famous places on the island, it is a must-visit. Scorpios inspires a way of life. It's the pioneer of establishments aiming to create more than just a restaurant or a club.

Go for the spiritual shaman-type good vibes, and you'll want to stay for hours. We highly recommend going for cocktails, watching the sunset and transitioning to dinner. Our definition of a good time definitely includes a long summer night at Scorpios, listening to beats, feet in the sand, eating the best pasta alle vongole you'll ever have. Reservations are a must.
For soaking up the sun and dancing on tables: Nammos
Let's put this on the best restaurants in Mykonos, for dancing on a table category. You can multi-task though, so dancing on a table while spraying champagne like an F1 driver. For good, old-fashioned fun, Nammos is your place. Come early, and hit the designer stores on your way there. Or on your way back, though shop at your own risk.
Soak up the sun in one of the daybeds surrounded by the jet set crowd while sipping on rosé champagne. This is the place to be and be seen. Prefer to stay on your yacht anchored in the bay? No problem. Nammos will deliver its offerings directly to you using its private charter service. Should you change your mind and prefer the beach instead, they'll pick you up. Now, that's luxury.
Late afternoon, make your way to the restaurant for a late lunch, which turns into a big party by 6 p.m. The best part is, you can still do all that and either be in bed by 10 p.m., or freshen up and keep the party going with a big night out.