We know there's uncertainty with Covid, but what's pretty certain is that everyone is traveling this year. If there's an open border, no quarantine, and a luxury hotel, people are going. There are just a few destinations with rooms left, and we have them here.


Stein Erikson Lodge, Deer Valley
They don't call it the 'best skiing hotel in the country' for nothin'. There's always fresh powder and the ski in/ski out access definitely puts the cherry on the top. A mix of traditional luxury suites and quaint cabins leave plenty of options for sleeping, too. And regardless of where you reside, you can warm up in one of the year round heated pools, or with a steamy facial at the world renowned spa. Rooms all have exterior doors, so you can avoid your neighbors if you want too, and the restaurant, the Giltretind, has unbelievable bites.

It's notoriously hard to travel over the holidays, but we've got you covered. Stein Erikson has a stunning four bedroom townhouse with a full kitchen and cozy fireplace. There is a seven night minimum so if Covid has been hard on your wallet, it might be best to consider somewhere else.

Rosewood Miramar Beach, Montecito California
If you want to be on the beach, you'll probably be in a place where you'll need to do regular Covid testing. Incase your vacation is where you want to go to completely forget about the pandemic that'd been going on for way too long, we have the places for you. Rosewood Miramar Beach has villas and bungalows with nearly 300 degree views of the open ocean.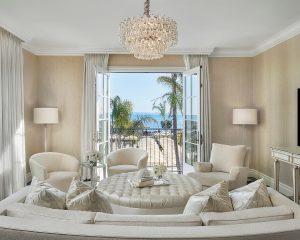 And that's not even just why we love the hotel. Granted, if you're looking for the no shoes and cover-up kind of island vibe, you might want to look elsewhere. The Rosewood is Old Hollywood glam and the restaurants have dress codes. But when you're table neighbors with Sophia Vergara, you'll want to be looking your best. And even though the hotel is upscale, with clean, white furnishings, and top notch service, the grounds are completely family friendly. Your kids will love the pool where they can play in the water and enjoy an ice cream in the afternoon. Because even though it's Christmas, when the weather is warm, they'll be in the pool.
For you there is a five-star spa with athletic facilities and personalized concierge. (We think it's especially relaxing) There's also a Goop boutique and a restaurant designed by the head Chef at Harry's Bar in Italy. And with the miles of powder soft sand and stunning coastline, you won't need to leave the resort. Granted, you're paying a pretty penny here. A week will be almost 100k, but hey, if you have the means, why not.

Rancho Valencia Resort and Spa, San Diego
Incase you're after Spanish vibes without the quarantine, Rancho Valencia has your back. Except, while the villas are hacienda style, the clientele is distinctly Rancho Santa Fe. That is, expect your neighbors to pull up in Bentleys wearing Birkins. That being said, if this is you, you'll love it.
Villas and suites range from 900 sq ft, to 5,000, and feature amenities like heated toilet seats, Illy espresso machines, and private garden patios — you know, exactly what you'd expect from the most expensive hotel in San Diego. You wake up every morning to hand delivered Newspaper and fresh squeezed orange juice, and for some villas, a dip in the private pool. Because you get your money's worth.
Even though they aren't on the beach, the ocean is just five miles away. Also, the tennis courts and golf courses are perfect for festive family tournaments. You'll also want to check out the newly renovated spa which is Forbes five-star.
Casitas have fully stocked kitchens, as well, so you can bring the whole family and cook your holiday favorites.

Montage, Laguna Beach
If you haven't got the memo by now, Cali is going to be hot this winter. And at this hotel that means more than just the weather. Halfway between LA and San Diego, Montage is a destination for celebrities and your everyday well-to-do SoCal clientele alike. But not even the most elite vacationers treat Montage as a weekend getaway. This is exclusively for big occasions. In one average weekend, the hotel sees 6 proposals, 2 birthday parties, and a wedding alone.
The grounds are California classic. Wood everything, a mosaic tiled pool, and Early California art make you feel like you should be wearing a white suit wherever you go. And set above the Pacific, the sparkling water only adds to the luxurious feel.
But despite the see-and-be-seen nature, the hotel grounds cover over 30 acres of beach front where endless day trip opportunities and places to relax lie. The tidal pools bring the down and dirty inner marine biologist out of even the most sophisticated LA socialites. And because the hotel brings out the earthy and artsy side out of different kinds of people, they have over 230 different rooms for different vibes. But regardless of beach front or hot tub, gorgeous exposed beams and tip top service are consistent across the board. And for you, we have a couple villas with fireplaces and kitchens. But you might want to get the whole fam on board for these, as they come at top dollar.
If you're a huge foodie, you might be disappointed in the lack of creativity and originality. The onsite bar and restaurants have California classics like fresh seafood and kale and quinoa bowls. But all food is fresh and local, and there's nothing on the menu we wouldn't eat. Sometimes everyone needs comfort food.

Silversands, Grenada
We know some of you are just itching to get away, so a couple of Covid tests and a jab or two are nothing for you. If that's the case, Silver Sands might be where you want to turn to. On the new side, Silver Sands steers away from the typical Caribbean island vibe. Instead, the hotel plays up the best features of the land while staying true to their ultra lux, minimal philosophy.
Every part of your stay is smooth and easy. You won't have to worry about transport from the airport, as you'll be picked up in Tesla (so no fear of Covid). Though just 53 rooms make it boutique sized, the high level of care to the details make it feel like a larger hotel.
The main appeal, besides the overwhelming beach and ever-perfect weather, is the longest pool in the Caribbean — it's 330 feet. When you're looking to relax on vacay, you'll find endless perfect spots to lounge in the sun and take a dip undisturbed by your neighbors. All the suites, not just the villas, also feature 5.5 foot soaking tubs, private terraces, and unobstructed ocean views. For foodies, the Asiatique restaurant is amazing and run by two former Aman chefs. People rave about the Bang Bang shrimp.
For the holidays, this is a great place to bring the kids. The Grenadines are Zika free, so there's one less contagion to worry about. And plenty of beachfront and island activities can be arranged for 12 and unders. However, suited to the modern traveller, Silver Sands compromises, bringing enough liveliness for the adults swell. St. Tropez inspired night scenes and a stunning spa draw visitors and guests alike.
(See why we like it here)

Beach Enclave Long Bay, Turks and Caicos
Again, traveling over a body of water requires more steps during the Covid age, but if you're prepared for the effort, travel can be well worth it. That is especially true for Beach Enclave Long Bay.
These villas that just recently opened in April have stunning views of the Bay and shiny new interiors. While they do not come with the traditional services a full on resort might, they offer the privilege of being standalone villas with full kitchens and baths. A private butler is also there to arrange any spa service, activity, or fitness class you might desire. With the standalone villa style vibe, you and the family also have more freedom to explore the nearby town where there are plenty of restaurants and bars. The shallow water along the coast also makes it a perfect spot fir swimming with little ones.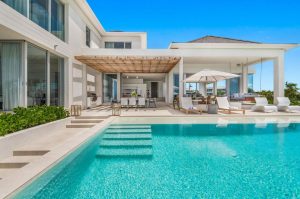 There is one larger 5 bedroom villa for all the cousins, but two bedroom villas have one or two bedroom cottages attached so there is space for everyone no matter what.
However whether nearby or further away, the bottom line here is that if you want to escape during the holidays, you better be willing to open your wallet.