Did someone say comfort food? Now is the perfect time for noshing on nachos — especially if they are oven-baked just right and doused with the most delicious tomatillo sauce. We've also figured out a way for cheese to hit every single chip. Here's a great Nachos recipe, along with expert tips for making the perfect batch.
We'll say it. These are some pretty involved nachos. But trust us when we add that the result is worth it. Taking that extra time to char your veggies, make decadent homemade toppings, and slowly simmer your carne asada is what puts these nachos over the top. If you want to save some time in the kitchen, feel free to swap the charred scallion crema for store-bought Mexican crema. And fresh radishes will do the trick just as well as pickled. But if you're looking for an excuse to go above and beyond — and we always are — then this is the way to do it.
The Lineup:
Corn tortilla chips (we recommend this brand)
Blue corn tortilla chips
Carne asada
Charred scallion crema
Pickled radish
Pico de gallo
3 cheeses: two shredded, one crumbled (we chose monterey jack, oaxaca, and cotija)
Guacamole 
Carne Asada
Ingredients:
2 ½ lb skirt or flank steak, sliced into thin slabs
2 tsp garlic powder
1 ½ tsp onion powder
½ tsp cumin
The juice of 4 limes
1 ½ tsp salt
½ tsp oregano
4 peppercorns
1 tbsp steak seasoning
1 tsp smoked paprika
The juice of 2 oranges
½ white onion
4 garlic cloves, smashed
½ light beer, like Modelo or Corona
1 bunch cilantro
Bacon fat, or any other reserved fat, for cooking
Directions:
To prepare your marinated carne asada, place your steak in a deep casserole or baking dish. Seasoning in layers, add the garlic powder, onion powder, cumin, salt, oregano, steak seasoning, and paprika to your meat, massaging the seasoning in well. 
In a blender, combine your lime and orange juices, garlic cloves, peppercorns, half of your cilantro and ¼ of a white onion chopped into large chunks. Blend until smooth, then pour over the meat. 
Next, thinly slice the remaining ¼ of white onion and roughly chop the rest of your cilantro. Add the onion, cilantro, and ½ a beer into the dish on top of and around the steak. The meat doesn't need to be fully submerged in the marinade, but should be covered well. Cover and refrigerate for at least six hours, or overnight.
When you're ready to cook the meat, place a cast-iron skillet over high heat. In a large dutch oven, heat your bacon fat over medium low. 
First, place your steak into the cast iron skillet just to sear the outside. You're looking for just a bit of color here, about 3 to 4 minutes on each side. Once the meat is seared, transfer to the dutch oven. Allow the meat to simmer in the fat for about 20 to 30 minutes, until the steak is cooked to about 120 to 130 degrees. Letting the meat simmer in its own fat means means it won't turn tough and chewy, as flank steak tends to get. Slice into thick slabs and set aside until you're ready to assemble the nachos.
Creamy Tomatillo Sauce
Ingredients
About 6-8 tomatillo
2 jalapeños, seeds removed
1 onion, cut into large chunks
1 head of garlic
A pinch of salt
½ cup cilantro
1 tbsp cumin
2 avocados
Olive oil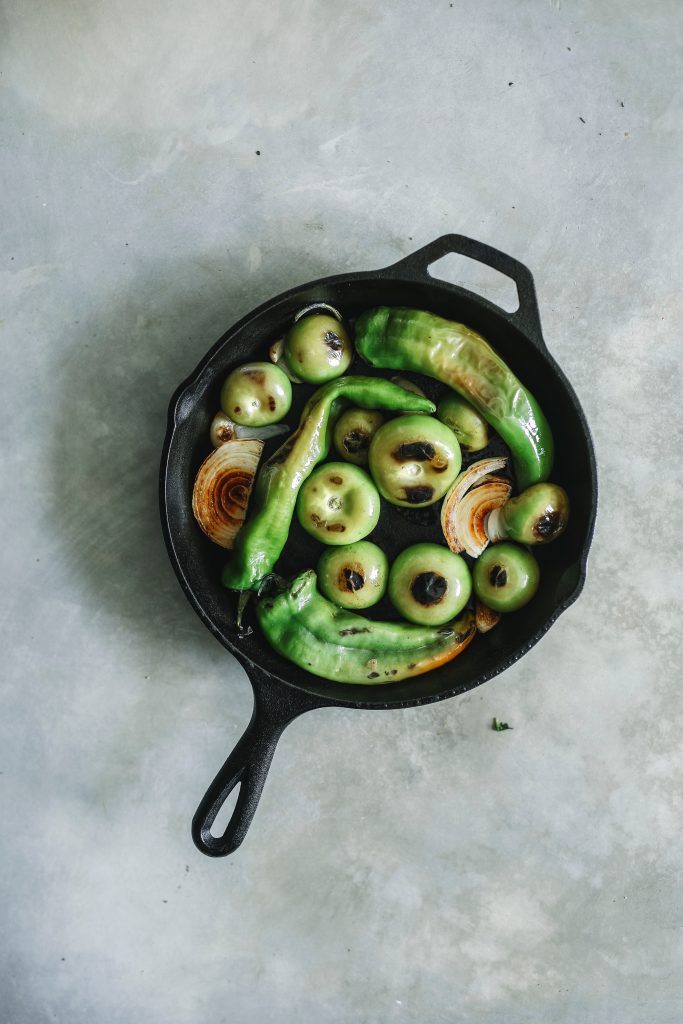 Directions
Preheat the oven to 400. Slice the top off of your head of garlic and drizzle with olive oil and a pinch of salt. Wrap the garlic in foil and place directly on the top rack of your oven to roast for about 30 minutes, or until soft and golden brown. 
In a dry, cast-iron skillet over medium heat, roast your tomatillo, onion and jalapeños until the outside is slightly charred. Drizzle lightly with olive oil and a light sprinkle of salt before transferring to the 400-degree oven. Let roast for about 20 minutes. The vegetables should be very soft and have a dark char around them.
Squeeze your roasted garlic into a blender. Next, add the roasted tomatillo, jalapeño, and onion, as well as the cumin, cilantro, one avocado, and a pinch of salt. Blend until smooth, then taste for consistency. If you're looking for a creamier sauce, add the second avocado and blend again. Season with salt to taste and set aside.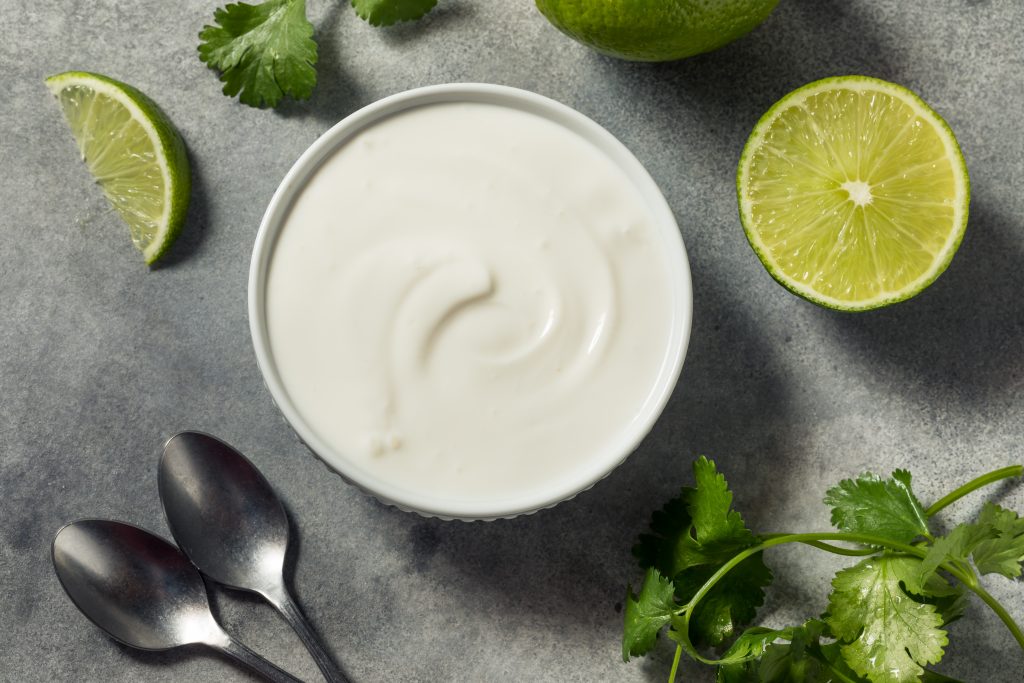 Charred Scallion Crema
Ingredients
1 bunch green scallions, trimmed and cut into large pieces
1 jalapeño, seeds removed
The juice of 2 limes
1 cup sour cream or Mexican crema
½ cup kewpie mayonnaise
A large pinch of salt
Directions
In a dry, cast-iron skillet, roast the scallions and jalapeño over high heat for about 12 minutes. Toss occasionally, allowing the vegetables to blacken around the edges. They should be mostly charred, with still a bit of green showing. 
In a blender, combine the scallions, jalapeño, sour cream, mayonnaise, salt, and lime juice. Blend until you have a smooth consistency with flecks of the charred vegetables. Store in a jar and set aside in the refrigerator. 
Pickled Radish
Ingredients
1 radish bunch, sliced very thinly
¾ cup water
¾ cup vinegar
1 tsp peppercorns
¼ tsp red pepper flakes
Directions
Place the sliced radish, peppercorns, and red pepper flakes in a heat-resistant container, like a mason jar.
In a small saucepan, heat the vinegar and water until just boiling. Let cool for a few minutes before pouring over the radish. Let the jar cool on the counter uncovered for a few minutes before covering and placing it in the fridge. Chill for at least an hour before serving.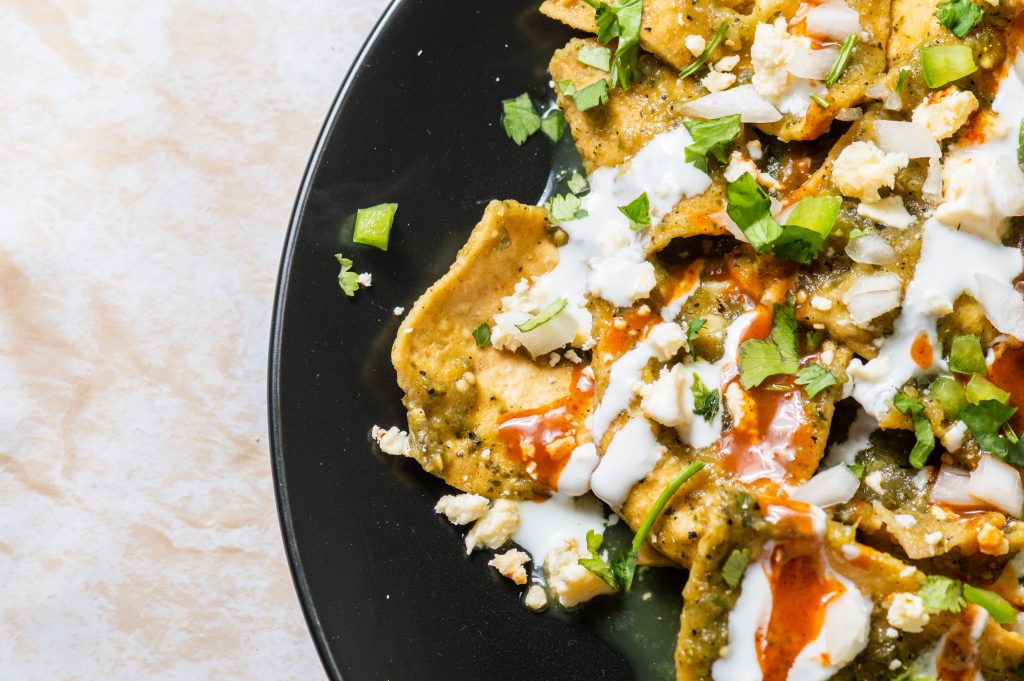 Assembly:
Now for arguably the most important part of any nacho recipe. Three types of cheeses and meticulous layering will leave you with loaded, cheesy chips in every bite. It also means keeping the cold toppings cold, because no one wants a bite of hot avocado or melty sour cream. 
Preheat your oven to 400 degrees. On a sheet pan wrapped in foil, then parchment paper, begin with your first layer of chips. Sprinkle over a generous layer of your first shredded cheese, then add another layer of blue corn chips. Repeat this process with the two types of chips and shredded cheeses twice, so you have two solid layers. Slide the dish into the oven for about 8 to 10 minutes, or until the cheese is melted. Make sure to keep an eye on it so it doesn't burn.
Once out of the oven, begin assembling the rest of your toppings. Start by drizzling over the tomatillo sauce, then sprinkle over the pico. Next, drizzle the crema — generously. Use an ice cream scoop for perfect dollops of guac, plopping them all over the sheet pan. Finally, finish with the pickled radish and a healthy sprinkle of cotija. Serve hot on the sheet pan, or transfer the parchment paper to a platter.