We know. You're missing your European ski trip, which you normally add on to that conference in Spain about this time of year. We are, too. To bring you one step closer, we have the ultimate recipe for raclette, the homier cousin of fondue. But in our dramatic version, get out a blow torch because we're doing this Verbier style.
We had seen the traditional raclette setups, where in perfect skillets your raclette, which is a Swiss cheese that melts into gooey goodness, is warmed up and served traditionally with boiled potatoes, sausages, pickled onions, cornichons and French bread.  It's a social exercise, where you're meant to be with friends and family, preferably after a big day of skiing and outdoor exercise, as this is not the most diet friendly meal.  That, and no one should be left alone with a wheel of cheese; we're just saying.  We had the real version though the first time in Verbier, Switzerland, which is one of the most challenging areas to ski in the world.  At a nice local lunch stop in town after a morning of ski lessons, we expected them to bring out the whole raclette setup, but instead, the owner came over with a half wheel of cheese and a blow torch, and went at it, until the cheese was brown and bubbling.  From there, he took a large knife and scraped the raclette onto our plates, filled to the brim with potatoes and sausage.  You never forget your first real raclette, and it was many years until restaurants stateside caught on and we were able to get a relatively authentic experience in NYC.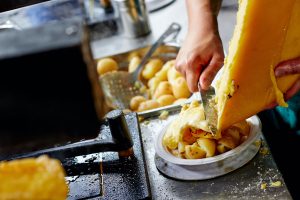 For this version, we suggest you take matters into your own hands, and recreate that Swiss experience at home.  This meal could not be easier, but returns high on the drama factor, and a pleaser for all ages and even the choosiest eaters.  Because we think everyone likes bread and cheese.
Serves 4
Ingredients 
1/2 wheel of Raclette cheese
3 pounds of roasted tri-color baby potatoes
2 pounds of your favorite charcuterie selection
1 1/2 jars of Cornichons
1 jar pickled onions
2 loaves French bread
Directions
Preheat oven to 350 degrees.
Set out the raclette, at least 2 hours before serving so that it comes to room temperature. The magic of this meal is the presentation, so in the center of your table, create a beautiful spread of the charcuterie, potatoes, cornichons and onions so that everyone can easily access the ingredients to make their own combination to taste.  We like using large wooden cutting boards of varying heights and it makes it more rustic and social.  The second part to a successful raclette night is breaking out your creme brûlée torch, because part of the enjoyment is the drama of the presentation.  In two large shallow cast iron skillets, cut off the top rind of the raclette, and melt in the oven for about 12-15 minutes.  Seat everyone at the table, with plenty of wine and beverage, and place the raclettes on an elevated surface at both ends of the table.  With your blow torch, brown the raclettes until bubbling, and have guests partake immediately.