You've Got to Have Sole
Christine Drinan, Founder
Until we go branzino only for the upcoming summer season, Dover sole is our go-to fish this winter into spring. Because it's simply the best fish, and even if you don't cook, we have the recipe that will make you look like Julia Child. We'd like to introduce you to Dover sole Romanesco and potato, with Cognac peppercorn cream sauce. Yes, this dover sole recipe is even better than it sounds.
I am a creature of habit, and every Tuesday, my grocery delivery arrives with my case of Essentia Water, super sweet blackberries, organic heads of cauliflower and Dover sole. I get weekly orders for our recipes on Galavante from Eataly, the Lobster Place in Chelsea Market and staples from Whole Foods, but no one does Dover sole like Fresh Direct.
When I eat Dover sole at restaurants, I am rarely impressed with the preparation.  I never thought to make it at home, because it's not common to find.  Dover sole is maybe the easiest fish to make.  I look forward to every Tuesday and the rendition of the Dover sole recipe I'll make at home that night.
Dover sole is a thin, yet meaty fish, so it takes less than 8 minutes to cook, and you have a gourmet meal.  This recipe is a little more involved not because of the fish, but because of the romanesco, which is first boiled then roasted, the mashed potatoes, and the cognac cream sauce.  The result is a next level, Michelin restaurant meal, especially with the presentation.  The Dover sole is wrapped around the romaneso, the potatoes serve as a thin bed for the dish and the Cognac sauce ties it all together.
Serves 4
Ingredients
Dover Sole
1 1/2 pounds Dover sole
3/4 cup Gluten-free flour
A dash of Paprika
Maldon salt to taste
2-3 tablespoons Olive oil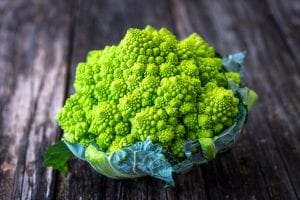 Roasted Romanesco
1 large head Romanesco
3-4 tablespoons Olive oil
1 tablespoon sea salt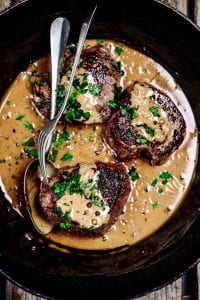 Cognac Cream Sauce 
1  1/2 Shallots, finely minced
2 tablespoons olive oil
1/4 cup white wine
1 1/2 cup heavy cream or half and half
1 1/2 tablespoons whole black peppercorns
1/2 cup cognac
Fleur de sel to taste
Garnish
Edible flowers
Parsley
Directions
Pre-heat oven to 400 degrees.
In a large pot of very salted water, bring the romanesco to a boil then reduce heat to medium and cook for about 25 minutes, until the romanesco is tender but not mushy.
While the romanesco is boiling, start your cognac cream sauce.  This can also be made the day before.  In a medium sauce pan, heat the olive oil over medium heat, then add in the shallot and cook until translucent.  Do not brown.  After about 3 minutes, add in the white wine until completely evaporated.  Add in the peppercorns and the cream and reduce heat to low and cook uncovered until the cream is reduced by 1/3, about 10-15 minutes.  Add in the cognac, and continue to simmer on the lowest heat another 10 minutes.  Season with salt and set aside.
Once the romanesco is soft but not mushy, place it on a baking sheet and liberally add olive oil until lightly coated.  Sprinkle the salt and roast in the hot oven for about 25 minutes.
Prepare your mashed potatoes, where you can check out our recipe on Galavante here as well as our video tutorial.
When the romanesco and potatoes are just about cooked, start your Dover sole. On a plate spread out the flour, paprika and Maldon sea salt.   Heat a large skillet and add the olive oil on medium high heat, warming for about 1-2 minutes.  You'll have to work quickly; coat the Dover sole liberally with the flour mixture and add immediately to the skillet, presentation side down.  Brown the fish over medium heat, about 3 1/2 minutes until nice and golden.  With a fish turner so you don't break your fish, flip and continue to cook uncovered another 3 minutes until the fish is cooked through.
Separate the romanesco from the stalk in whole crowns, as this will serve as the center of your dish.
Warm your cognac cream sauce, but do not boil.
On warmed plates, create a thin circular layer of the pommes puree and top with about 2 tablespoons of the cognac cream sauce.  Add a stalk or two of the romanesco to the center of the plate, enough so that you can wrap one filet of the Dover sole around it.  Add a little more of the cream sauce to the plate, outside of the potato, sole and romanesco presentation and garnish with flowers and parsley.  Serve immediately.