Tiffany will always have that old school glamour factor and it's recently been updated for their grand re-opening of the Landmark 5th Avenue location. Because, though Tiffany is a timeless classic, the new Tiffany Landmark shows that it can still wow with a stunning makeover. The star-studded opening party brought in some of the most famous celebs to view a Katy Perry performance.  Of course, the famous diamonds were equally front and center. Beyond glamorous parties though, The Blue Box Café — the restaurant in Tiffany by Daniel Boulud, no less — will welcome guests again. So, here's to a summer filled with Breakfasts at Tiffany's.

The Blue Box Café
The full renovation of Tiffany brings a new wow factor to the store. Before you make your way to the restaurant in Tiffany, you'll weave through theatrical diamond-filled showrooms. With a 186 year legacy, the brand shows off a gallery of jewels with interesting histories. All of this is build up to set the mood for an Audrey Hepburn-inspired breakfast at Tiffany's at the reopened Blue Box Café.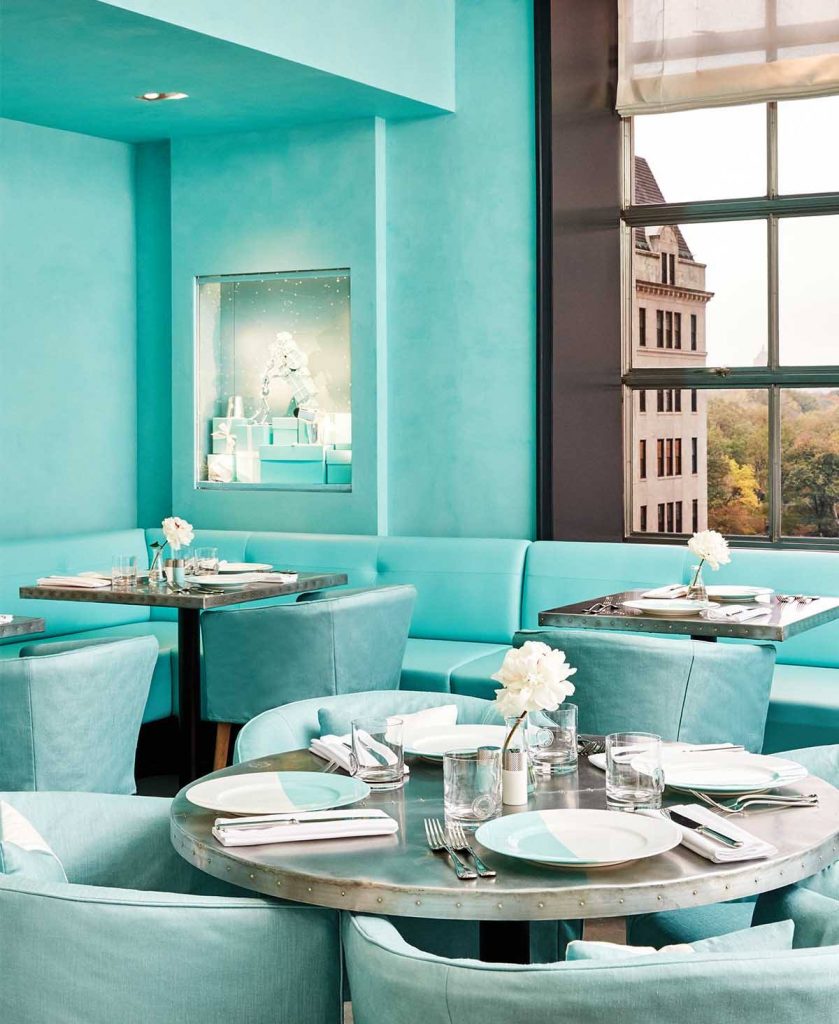 The Blue Box Café gives the Tiffany experience, even if you don't make a more lasting purchase. The restaurant in Tiffany has Daniel Boulud, a Michelin-starred chef, at the helm. Boulud creates a movie scene-worthy menu of brunch and breakfast favorites. For breakfast, tea and coffee are served alongside croissants with Nutella, truffle eggs or a bagel stack. You can also opt for a fancy avocado toast or a buttermilk waffle. Lunch options offer a choice of soup or salad to start, followed up by an entrée of salmon, salad, or a sandwich. The afternoon tea offers scones and clotted cream, as well as select finger sandwiches and a range of decadent sweets.
Though we don't have eyes on the restaurant in Tiffany just yet, we know it's entirely signature blue. To come will be a newly renovated bar area and new art decorations as part of the Blue Box Café.
Opening Day
On May 22, the renovated Blue Box Café will reopen to the public. The restaurant at Tiffany is inside the renovated Landmark Tiffany location on 5th Ave. You're a hop, skip and jump away from Rockefeller Center. Reservations can be made on Resy starting May 15th.
Related Articles:
Tiffany Reopens NYC
The Met Gala 2023
Sophia Richie's Wedding