It's pretty amazing how much money we've saved over the past 14 months, since dinners out 5 nights a week were no longer on the agenda. That's why this summer, we're feeling that toes-in-the-sand is the right approach to the Hamptons. This luxury Hamptons house rental is beachfront, and it's up close and personal.

The House
Luxury Hamptons house rental doesn't cut it.  "World-class estate" doesn't even really begin to cover it. So how about "10-bedroom, 8,000 sq. ft. masterpiece with en-suite baths and an outdoor shower" as a start? This beauty of a house is a high-tech, postcard-perfect oceanfront Hamptons pad. If you're renting this for the cool $1.5 mil for the season, you've made it in life.  You won't need to leave, except for maybe the occasional dinner out in the Hamptons.  The scene of course is part of the experience.  Oh, and also of course, a stop at the Clam Bar. No matter what house you're in, all roads lead to a seafood shack on the side of Highway 27.

Those Views, Though
Every luxury Hamptons house rental needs a view.  An oceanside sundeck and dining area make perfect spaces for entertaining. The views of the coast define picturesque, with the house design leveraging the seascape. From the heated infinity pool and spa to the second-story deck for lounging, the house has views of white sand beaches all day and sounds of the ocean all night.
A House Meant for a Party
The entertaining space on the deck, in the dining room overlooking the water and in the family room are made for crowds. You will have no problem feeding them, either. There's a full state-of-the-art kitchen with every toy, meeting the needs of a Michelin-starred chef. Inside, a home theater and wet bar cater to soirees. If you must catch up on emails (something has to pay for this), there's a private office with stunning bay views. Working from home never looked so good.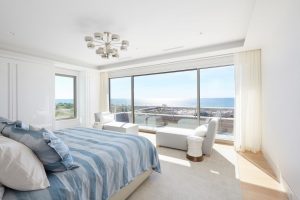 Dollars and Cents
A luxury Hamptons house rental comes at a cost.  A true oasis on the most-coveted East End, this house is worth dropping the $1.2 mil to rent for the summer. But if you're not looking to go quite that far off the deep end, the Hamptons is still the place to rent this summer. We can hook you up with a home that is Hamptons summer-worthy. Message us at travel@galavante.com.