It's time for a weekend getaway, and the drive itself can be as beautiful as the destination. There is some good stuff that has opened up within driving distance of New York City, as well as some old favorites. Fall is in the air and now is the perfect time to get in the car and catch the last of the leaves changing. Here are three New York City weekend getaways for taking in fall and all its glory.

The Getaway: Glenmere Mansion
Why It's Special:
If you only have a weekend, this is the New York City getaway that brings Italy practically to you. At Glenmere Mansion, you will feel like you're in Tuscany without even leaving the state. The bonus is, it's one of the closest New York City weekend getaways, clocking in around 70 minutes by car from Manhattan. The road trip is darned pleasant, even in traffic, and it's even better once you arrive. This is not the first time we've written about Glenmere Mansion. It's impossible to talk of a New York City weekend getaway without mentioning Glenmere almost immediately.
With grand marble, columned porticoes and curated gardens, the villa has an unmistakably Italian ambiance. But because you're in the Hudson Valley, you have a view of the Catskills. So at Glenmere, you get the best of both worlds. First you experience a Tuscan escape that's nearly as close as a car ride to JFK. Second, you get a beautiful Northeastern natural environment — especially during the fall when the leaves are changing colors.
As for the hotel, it is more like a home than accommodations. The spa is world-class and has an authentic Turkish hammam. The dining also hits the spot every time. Chef Daniel Boulud considers it the best hotel in North America; he even got married here. If you can get a reservation (it's tough), it's a weekend that's a world away but still close to home.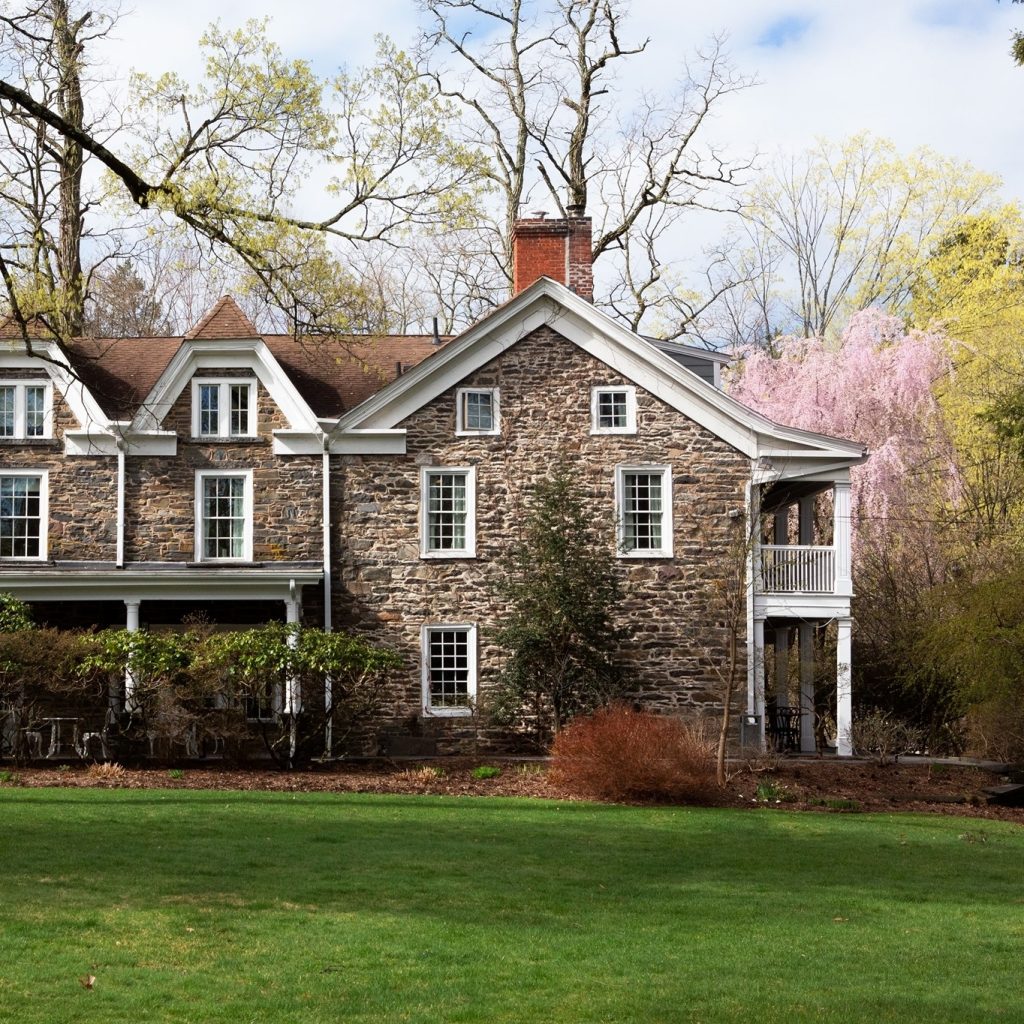 The Getaway: Hasbrouck House
Why It's Special:
If you're looking for a New York City weekend getaway that's in a quintessential bed and breakfast, Hasbrouck House is for you. It's low-key with just the right amount of elevated luxury. Think super-comfortable beds, excellent breakfast and warm service. The updated inn is in a part of New York that's so beautiful, you won't think it's the same state. Nearby Stone Ridge Orchard has stunning trails and apple picking in the fall months. Also, a short distance away are beautiful wooded trails and conservation land. At this time of year, the warm sun and chilly air make walks and bike rides perfect. And of course, the leaf peeping is spectacular.
Oh, and you're not sacrificing anything accommodations-wise for the A+ experience in nature. The chic 18th-century Dutch colonial mansion has been recently revamped and combines a traditional inn with a cooler, more updated vibe. Case in point: not-to-be-missed craft cocktails that up the modern factor.
No two rooms are alike, and each is thoughtfully decorated. And it won't break the bank or require you to reserve a year in advance. We're going to do a whole feature dedicated to Hasbrouck House later this season, so stay tuned.
The Getaway: The Point
Why It's Special:
When there's a waiting list this long for a hotel that doesn't even have cell service, you know it has to be good. But actually, that's the main draw. This cabin-in-the woods-style boutique hotel has everything you need to feel like you're "roughing it," from rustic fireplaces and quilted blankets to a traditional log structure. However, slumming it is the last thing you'll be doing. The adults-only grounds feature breathtaking indoor-outdoor living spaces with views and patios that lead out onto the lake. This time of year, the water isn't yet frozen, and you can still take romantic boat rides, while the fall colors reflect onto the water.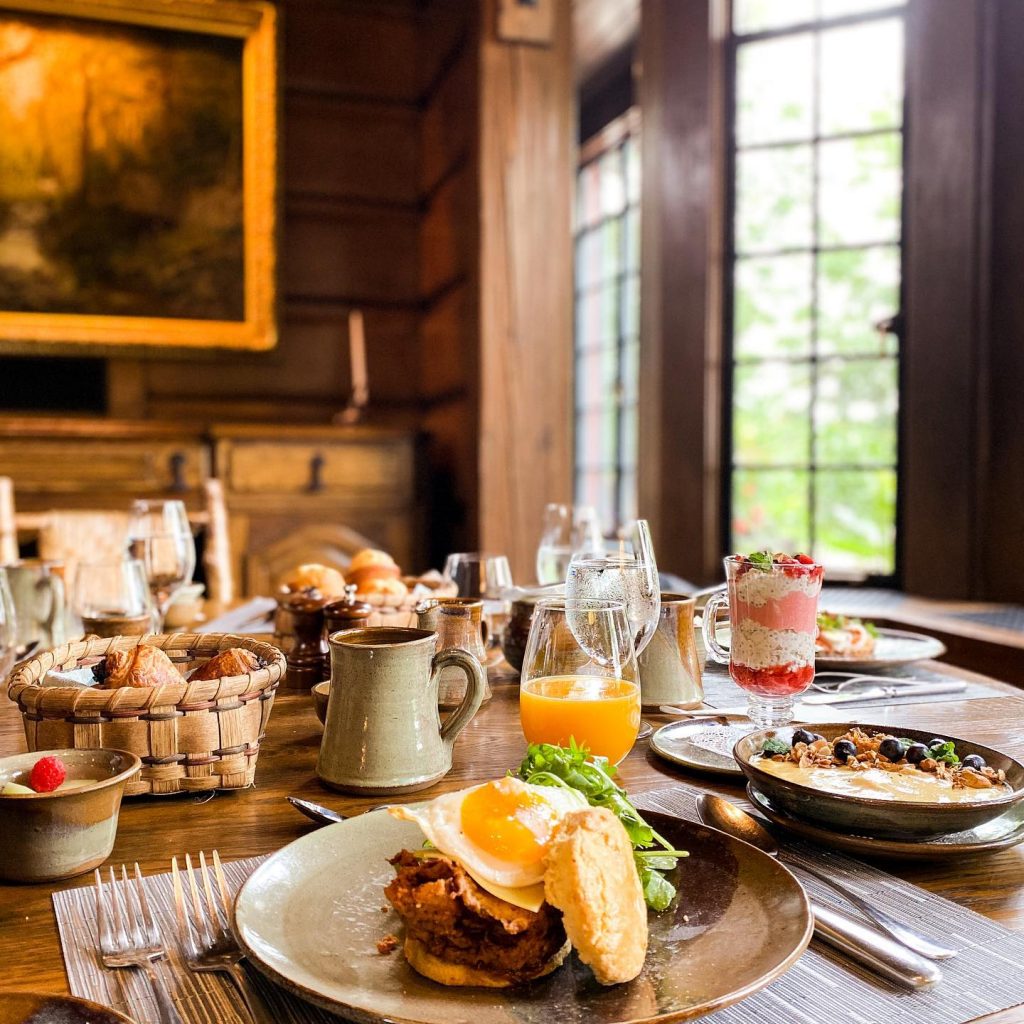 It's not a surprise that The Point is one of the buzziest hotels right now. The Gilded Age rustic decor bring guests back to a simpler time, but not without the opulence. The food also gets our seal of approval. Breakfast and lunch can be a la carte and casual, but dinner is no joke. All guests gather in the dining hall for a meal that is months in the making.