For the real skiers, it's tough to beat ski-in, ski-out, and even tougher to beat Jackson Hole, whose slopes are known to challenge even the most seasoned. And for the après skiers, Teton Village and the town of Jackson have plenty to keep everyone busy. The Four Seasons does its thing and is the place to go for the off-the-beaten, yet high-end skiing path this winter.
Where it's located:  The Four Seasons Jackson Hole is in the heart of Teton Village, at the base of the ski lifts.  Teton Village is about a 15 minute drive from the town of Jackson, which if you've never been, for context, is not where the ski is at. Teton Village raison d'etre is for ski, with a few notable restaurants and mainly ski gear shops.  The Four Seasons location is the gateway to powder and back country skiing.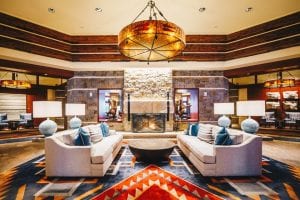 The Rooms: Luxury ski lodge vibe, and what you would expect and have come to love about the Four Seasons.  The mountain-side rooms give you prime view of the lifts and the ski action, but actually the FS is set within the valley so even the non-mountain facing rooms have views of the mountains.  Standard rooms are generously sized with fireplaces and many with balconies, even if you decide to book an entry level.  Suites though make a difference for more extended stays.
The Amenities: Their COVID game is strong – from daily temperature checks to social distancing throughout the property to limiting outside guests – this is exactly how you want a hotel to operate during these times. Restaurants are open as is outdoor heated seating so while it's not business as usual and raucous apres ski, it's still an experience that gives you a taste of pre-pandemic life.  Restaurants and drinks do close early though, so check the latest when  you arrive.  The spa and gym are open, so make  your appointments when you arrive as overall the hotel is at reduced capacity.
Tips:  Make quick friends with the driver the Four Seasons will send you through a local taxi/car service company as Uber can take anywhere from 10 minutes to never to arrive.  The town of Jackson has famed restaurants and bars where you will want to explore, as well as gems outside the main thoroughfares like in an area called the Aspens, which has a branch of Persephone, a must go-to bakery/restaurant and some local shops.