This year, especially, we all have to do our part to stay socially distanced until we're all vaccinated. Doing our part, though, doesn't mean we have to be holed up in the cold. The birds have it right — fly south for the winter. We're thinking Miami Beach. Warm weather. A lot of Vitamin D. And the place to stay that has its act together to keep us healthy and safe? That would be 1 Hotel South Beach.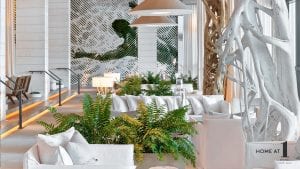 When arriving, your temperature is automatically taken, and once you're in the clear, the check-in process is seamless.  Before you know it, you're contact-free whisked up the elevator to your room, where these are the most generous for the value in South Beach proper.  Many have terraces overlooking the ocean, full kitchens and washer and dryers, which make the hotel a great option should you want to do a longer stay.  It may just be the place to decamp for February if you're in a colder region, as most rooms have their own living area and are ample if you have younger kids you want to keep close.
The décor of the hotel is serene neutrals, fresh green plants and an organic/nature vibe which puts you in a totally relaxed state of mind, thousands of miles away from the cold.  They have practiced reduced capacity in the hotel rooms, so the massive space feels empty, while still having enough people to make it interesting.  The rooftop has a must-dine restaurant, whether or not you're staying at the hotel.  Chef Ross blends Japanese, Peruvian and American cuisine where French fries pair perfectly with grouper ceviche and a double-baked lobster roll.  All the food venues at the hotel are destination-worthy, and if you do an extended stay, will be an extension of your own kitchen.
Then of course, you are on the beach, where the 1 has its own area with loungers and food and drink service.  Otherwise the pool grounds are  massive – it feels like three football fields with all the different tiered areas to relax.  There may be more posh addresses, but for design, rooms, service and food, the 1 Hotel is a tough value to beat.