NYC Celeb-Approved Spots
We'll let you in on a secret; even with 20+ years in NYC, and although we always play it cool, it is a lot of fun to celeb spot in the city.  From the rarified likes of Suite 200 at Madison Square Garden, to Soho House  – to getting coffee at the corner bodega, the rich and famous – they are just like us.  Sometimes.  So if you've ever wondered what the life of a celeb is like in NYC, here's a snapshot of a day in the life.  A very good life, that is.
9:00 a.m. Sant Ambroeus West Village 
Where does the richest man in the world get his caffeine fix when he's in town?  That would be Sant Ambroeus in the West Village, where Jeff Bezos and  a steady stream of models and impossibly pretty people queue up for some of the best cappuccinos and coffees in the city. This is as European as it gets, where you can sit for hours outside over coffees, affogato, avocado toast and plates of pasta where breakfast easily becomes late afternoon aperol spritzes at their outdoor tables.
11:00 a.m. Mzia Shiman Spa, Upper East Side 
Wonder how those models get their "I'm wearing no makeup" flawless skin?  The secret is the Skin Whisperer, Mzia Shiman, whose clientele is the top of the food chain in the world, where people fly in on their planes just to see her. For many years, Mzia was the aesthetician for the Victoria's Secret Fashion show, traveling with them all over the world to Shanghai and Paris give that glow to all 47+ models.
2:30 p.m. Soho House, Meatpacking District or Dumbo House
Private club Soho House still has it going on, and maybe even more so, where it's no surprise they have a 30,000+ waitlist still to get into the club.  Everyone from Bono, to Christy Turlington (sometimes together) frequents the no-photos club where what happens at Soho House, stays at Soho House.
7:00 p.m. Suite 200, Madison Square Garden
There's having access to your company's box at MSG, then there's having access to Suite 200, which is Jim Dolan, the owner of MSG's, private suite. It doesn't matter how much money you made last year, or how much of a BSD you think  you are.  If you are really someone special, you'll get invited to Suite 200, which is where all the celebs gather prior to the games for Jean-George catered food, caviar potato chips, sushi and Stags Leap before heading to their courtside seats.
10:00 p.m. Cipriani Downtown
If you're a supermodel in New York, your first date is usually at Cipriani Downtown.  All you need to do is walk by Cipriani and  you will wonder if there's a requirement to be beautiful to dine in this classic Italian restaurant.  The Italian Bar and lounge is reminiscent of the original bar in Venice and a trip here will make you feel like you're in Italy, but let's face it, no one really notices because you're here for the scene. If you really want to strut in like you're there to meet Pharrell Williams, (a known fan of the multiple locations), Downtown Cipriani in Soho is where Italian fare and casual bar classics meet cool.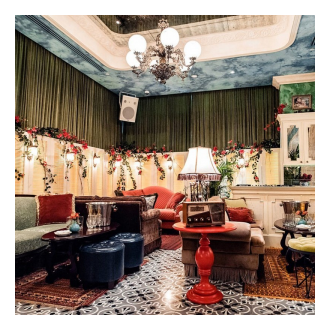 1:00 am Socialista 
Cipriani downtown might be one thing but Socialista, their private club upstairs, is a whole other ball game. We're even talking about a place where even those models at Cipriani we mentioned have trouble getting in.   Socialista is a private, eclectic, old Habana inspired club and where on a Friday or Saturday night, a night of debauchery includes dancing until 4am.  Because you are never too old for a good old night out in NYC.
The Special:  Saturday Night Live 
Then of course, there is the ultimate experience, and that's being in the audience of SNL, where once again, this is not an experience you can buy.  It's one where you have to know someone, and likely be sleeping with someone to get invited to the SNL afterparty.  We're just kidding about the latter; sort of.  This is a bucket list experience even for the most long-time New Yorkers.