Well 2020, it's been an interesting year. You've tested our mettle, and we like to think we've risen to the task. But everyone needs to recharge, and we're not talking a simple mud wrap and cucumber mask, though that would be nice. We're thinking a hardcore detox, for both our minds and bodies, because frankly, we've been eating way too much cake. These top wellness retreats are the real deal. When you leave, you'll be on your way to the best version of yourself. But don't worry; you won't be roughing it, and no, you won't get expelled for sneaking in wine.
Vivamayr Altaussee Medical Center
Located in the picturesque Austrian town of Altaussee, this top wellness retreat is a health center based on Modern Mayr Medicine. (Don't worry if you don't know what that is; we had to look it up, too.) The cliff notes: This protocol is based on the four principles of rest, cleanse, train and substitute.  The goal is to integrate and practice each principle individually for a period of time. The methods combine science and holistic medicine, in the stunning setting of the Alps and Lake Altausee.
A Typical Day:
A healthy gourmet raw breakfast, followed by a medical assessment.  You individualized treatment protocol can include everything from acupuncture to stress tests to emotional detoxification.  Along with standup paddle boarding, massages and cooking classes, for a well-balanced stay.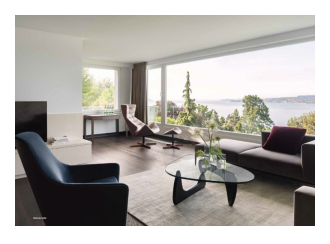 Buchinger Wilhelmi
These guys may not have invented fasting, but they've been doing it for over 100 years, since the time of their founder, Dr. Otto Buchinger. They have a  holistic approach, where the Buchinger Wilhelmi focus is on therapeutic fasting and personal medical care. This makes one of the top wellness retreats because it's pretty hardcore.  You fast to cleanse your mind and your body and to restore your health. Their pillars are conscious nutrition, physical fitness and spiritual inspiration.
A Typical Day:
Get ready to be hungry; this is not for the faint of heart. You get unlimited amounts of mineral water and are offered herbal teas, freshly made vegetable consommés and organic pressed fruit juices. The day you arrive, your fasting begins with a light vegetarian meal, followed by a digestive rest day. After you complete the fast, you gradually build up your nutrition again over a period of four days. If fasting isn't your thing, they have a special healthy, organic menu while you partake in a specialized exercise and emotional health program.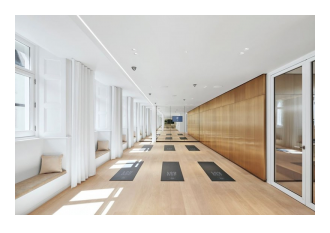 Lanserhof
With spas throughout Germany and Austria and the newest addition in London, this is the most modern luxe of the hard-core European detox centers. It's for the beautiful environment this makes one of the top wellness retreats in the world.  We especially love the London location in The Arts Club. Their premise is naturopathy meets modern medicine, in a luxurious environment.
A Typical Day:
The day at Lanserhof begins with a beautiful, leisurely breakfast overlooking the scenery, as all their spas are in stunning locations. On your first day, you get a full medical assessment and decide from there what you want to focus on. They have a stress program, called burnout therapy, that's designed to recharge you emotionally and reduce your stress level. Exercise, detox treatment, massage and beautification are also on the agenda.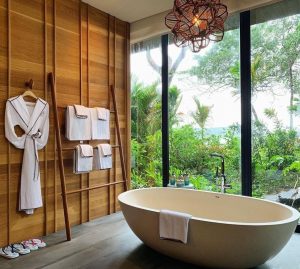 Six Senses Krabey
On a private island in Cambodia, the Six Senses Krabey is more wellness center than hard-core detox.  It's for those who want a secluded location, healthy delicious food and the option to have a drink, guilt-free, with no one judging. The fitness center is impressive, with aerial yoga and real vinyasa classes (not the light ones that most resorts serve up).
For fun, there is also an apothecary where you can blend your own natural beauty products.  The star of the show though is the signature Six Senses Wellness assessment. Their proprietary machine, which uses similar technology to an echocardiogram, pretty much sees into your physical soul. You'll get the basics like your BMR, body fat percentage, heart rate and other vital stats.  The wellness screen also detects vitamin deficiencies and overall well-being.  You'll get a full assessment, which is scored from 1% to 100%. This treatment saved our lives, not once but twice, by flagging some health issues.   You'll change your lifestyle for the better, which is the point of the top wellness retreats.
A Typical Day:
Their program is built on six pillars: sleep, eat, spa, move, mindfulness and grow, which pretty much sum up your day. You sleep in a super-comfortable and understatedly luxurious room, you eat a healthy gourmet breakfast, sign up for some aerial yoga, meditate, walk around the island and take some time for yourself. Their renowned spa has a whole suite of treatments, so you'll be getting a lot of quality time on that massage table. Rinse and repeat for one of the more enjoyable detox options out there.
Shou Sugi Ban House
In the Hamptons and within driving distance of NYC, Shou Sugi Ban House is a retreat that offers a weekend away from your beach house. Not that it's not fun to be in the mix when in the Hamptons, but Shou Sugi Ban House is meant to take you out of the everyday through a comprehensive holistic wellness program. Meditation, therapeutic body work, exercise, holistic living and nutrition are the pillars of their program, and you can do as much or as little as you want to detox and unplug.
A Typical Day: 
A long walk on the beach in the early morning hours, a leisurely tea and then choose your own adventure. You can do a morning yoga class followed by meditation, a long breakfast of plant-based Michelin-level dishes, and a serious session of spa treatments to work out that stress. They offer special day retreats for those who already have a house in the Hamptons, but the Japanese aesthetic is luxe enough to make this a perfect overnight getaway.