If you've traveled to Napa Valley then you've no doubt heard the names Philippe and Cherie Melka on people's lips. Napa is famous for its wine production and world-class vineyards. So it comes as no surprise that people from all over the world choose to visit this part of California. If vineyard tours and wine tasting experiences aren't enough to convince you to visit, the scenic landscapes will be. And don't forget about the guided horseback trail rides either.
If there's a rock star winemaker in Napa, it's hands-down Philippe Melka. He's had his hands in the top cult vineyards in the Valley, so naturally he needed to start making his own wine. The eponymous label, which just may be our favorite of them all, is in partnership with his wife, Cherie, another, you guessed it, rock star.
Standing out in the wine crowd can be a big task. But Philippe and Cherie Melka know a thing or two about what it takes to be successful in the business. We caught up for a Napa minute with this powerhouse winemaking couple.
Interview with Philippe and Cherie Melka
GALAVANTE: Where are people going that's better than Napa?
Philippe Melka: At the end of the day, it's difficult to find a place where food and wine are at such a high level anywhere else. People that move want to go to the countryside, live with a low population and no neighbors, like Idaho and Colorado. For us, Napa is home.
GALAVANTE: The fires in Napa Valley in the fall of 2020 were very unfortunate. We were heartbroken to hear you were affected. I have a feeling though, that what's going to come of these vines, these ashes, is going to be extraordinary.
Philippe Melka: We have to come back stronger and more powerful. And I think on a side note, it's a very interesting time for Napa Valley. You see that on international labels, they really start to be more excited about what's happening here. The big challenge was Bordeaux. The brand name Bordeaux was so strong and overwhelming for all the other wines in the world, so you started to really see people very intrigued by Napa Valley and I think it's a plus. It's really going to help us be successful in the end.
GALAVANTE: Whenever I have people taste your wine, I always have them saying "this doesn't taste like just another California wine".
Cherie Melka: The French flare to the California fridge. It's another challenge; it helps us to progress. This very difficult time has helped us make important decisions and helped us look into the future. Like a kick in the butt to think long term and visualize Napa Valley in 20 years from now.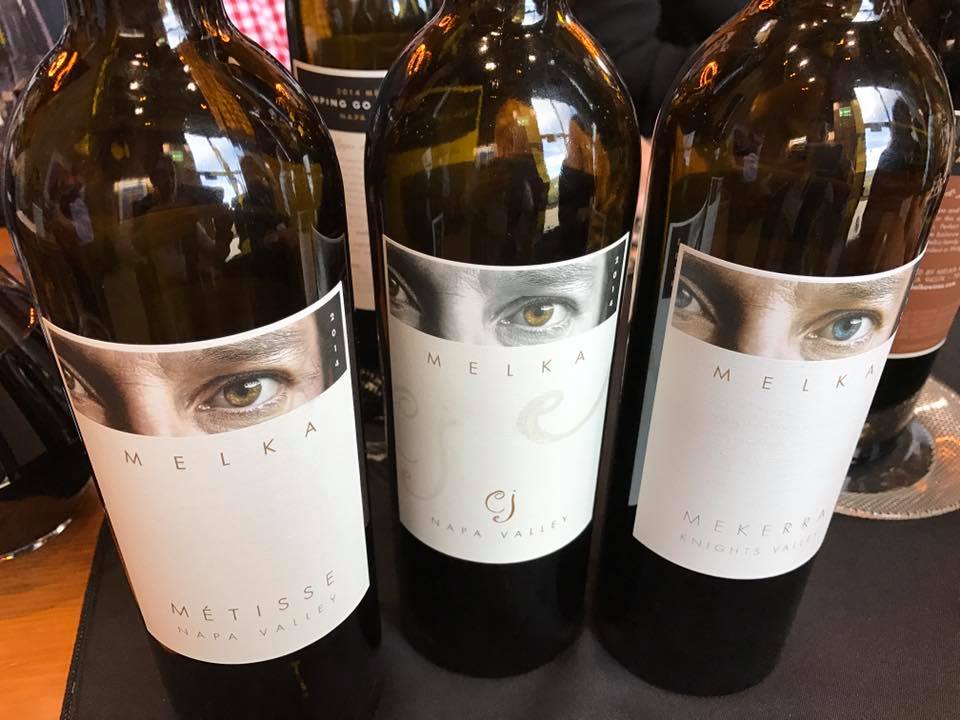 Cherie Melka: For us, it gives us an opportunity to reevaluate the vineyard that's on the estate. We had talked about potentially replanting it; now we have to. We can now change the architecture of the vineyard and how it fits on the property, maybe even expand it. And also we piecemealed this property, with the residents and the winery. This time has forced us to rethink the way water is distributed, and that's good. We can look at our systems and make them even more efficient and purposeful.
GALAVANTE: There are so many people that look up to you both as winemakers. Is there anyone that you have looked to for inspiration or as a mentor, as you were starting your own vineyard?
Cherie Melka: Absolutely. My go-to is always Ridge Vineyards' Paul Draper. He was the first one who hired me. I was in medical microbiology and he took a chance on me, and I learned so much under his tutelage. Not just from a wine chemistry standpoint, but also winemaking, tasting and evaluating.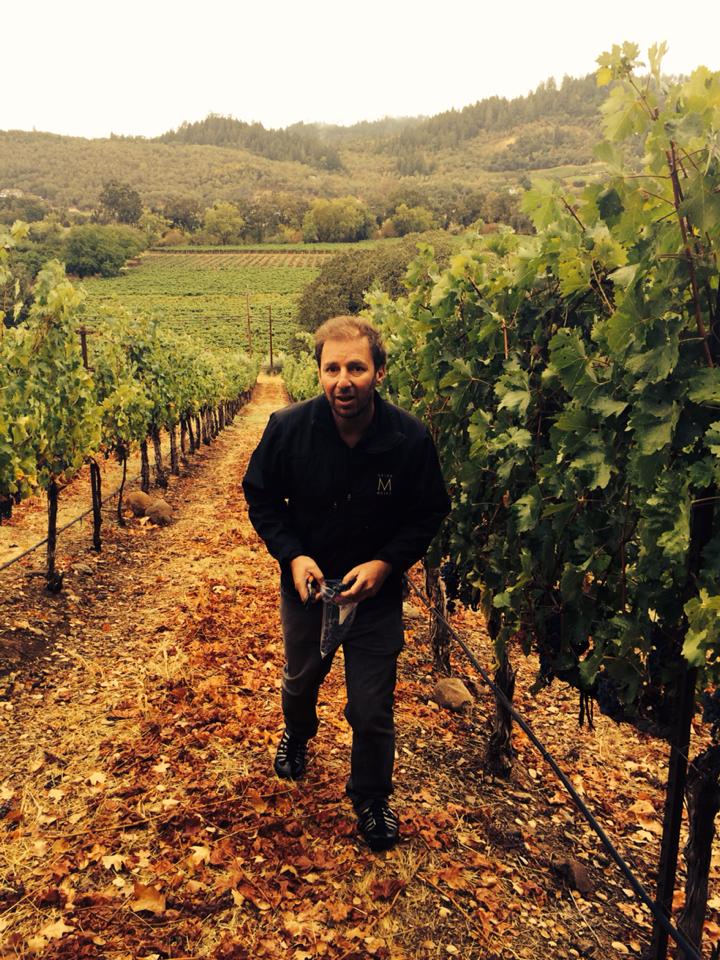 Philippe Melka: He was also a mentor to me. You don't find people who spend their career in one place, especially in the U.S. He spent basically his whole career at Ridge Vineyards, which is very unique. He went to Stanford and his education was philosophy, and I think that shows you that you can be a very talented winemaker coming from all kinds of backgrounds. Personally, my foundation of winemaking was from the wax company. That's really the company who hired me at the beginning and brought me to the U.S. and Napa Valley, so I will never forget that. And I think that especially being French and really thinking that Napa Valley had that potential was very avant-garde, back in the early '80s. So I thought, you know, I love being part of the first French generation in Napa Valley.
GALAVANTE: Have you really been in Napa since the '80s?
Philippe Melka: Yes, Domino was founded in 1983, and the first commercial release was in '84. And they really started to make way in '85. '87 is where my favorite vintage comes from them. I first came in '91, which was a blessing because Bordeaux in '91 was one of the worst vintage of the century, I would say. And it was one of the best in Napa Valley.
GALAVANTE: '91, '93 and '97 were stellar years in Napa, I didn't realize it was so bad in Bordeaux.
Philippe Melka: They had frost and rain, and it was basically their 2020 for winemaking. Those folks have taught me what my background has always been, that the grapes are the star of the show. You have to have a great knowledge of vineyards and vineyard management and understanding the climatic conditions of each vintage to really make great wine.
GALAVANTE: Besides France, are there regions of the world who have inspired you, or unusual regions that make you say, "Wow, I can't believe they make such good wine here"?
Philippe Melka: Honestly, every time we travel, we always find some amazing wine all around the world, because of course people more and more want to really invest money into this business. That brings better science and better expertise to reach their goals, which are always very high. We always find incredible wines around the world. Personally, I always have a little flair; it's not only about the wine but about the people and the landscaping and the tradition. I always like Margaret River in Australia. It puts all the things I like in life together in one place, and the wines are terrific from there. It's really a home run every time I go there.
Cherie Melka: And for me, it's the same type of philosophy. It's really about the place, the culture and the food, not only the wines. It's all over Italy for me. Sardinian wines and others way up north. It's so diverse throughout the entire country. So I've always had a soft spot for Italian wine.
GALAVANTE: Are you both going to get on an airplane at any point in the near future? And when you do get on an airplane, where are you going?
Cherie Melka: He's been to Australia and New Zealand, and I have not. I've really only done a couple of countries in the Southern Hemisphere. So, I would want a great trip that's really a good chunk of time for Australia and New Zealand. I think that would be my next one, but first and foremost, it's going to be family, France. We haven't seen those guys in a year and half, and we usually go every year. So definitely go back to France first.
Philippe Melka: We actually booked a trip in Hawaii because we always go in January. It's kind of a family tradition. It feels like we need to reset, and it always helps us to get ready for the new year. Because we work in Chile, Canada and Australia, so we might have to decide if we have to go back after a year and a half. We just started a project in Mexico as well. That's work but that's fun. At the end of the day, those places are amazing every time. The people are amazing as well, and we really enjoy those projects.
GALAVANTE: Those projects are collaborations. What projects does Melka have in the pipeline?
Philippe Melka: It's mostly on the consulting side. And hopefully Melka will become more international. As you know, we now have a label from in Bordeaux. For right now, the consulting is trying to help those folks with their wine and the labels they want to create. We usually limit it to a small-scale project, and usually we test it with some resorts and we can spend time there as well.
GALAVANTE: I didn't know you were doing that!
Philippe Melka: Yes, you see more and more resorts want winery onsite. You know, Napa Valley Reserve did it, and we were some of the first. We see there is really a good business sense. Many resorts are starting to want wine programs as well.
Cherie Melka: It's a unique concept because obviously there are so many other regions and labels that people know, but isn't it awesome to have their own label on the wine list. I think it makes great business sense.
Philippe Melka: And they have the creators membership for wine and food in general. They also have organic fruit and vegetables that they grow onsite as well, so they really try to keep those people coming. And people are more and more excited about eating and drinking well. It all works out.
GALAVANTE: Congratulations on those projects! What's next for Melka Estates once you take your well-deserved vacation?
Cherie Melka: If we can, get back on airplanes and visit the folks who have been supporting the brand. We miss those types of visits. Going to Texas [where] we've got a lot of accounts. Big wine lovers there, and they love the brand. It's a trip we take every year, and you're sitting down with people and tasting the new vintage with them. I'm hoping that we're going to be able to do a little bit of travel. It's easy to talk with these folks via Zoom or on the phone, but there's nothing like sitting down and really talking about vintage and sharing a glass of wine with them. I think the project that we're going to do is to turn this fire devastation into something really interesting and really reevaluate the vineyards we have here, how we can design it even better. It will be a good project.
Philippe Melka: We always want to have a moving business. Maybe create new labels, some wines we come across when we travel. And we want to re-create it somewhere in the U.S. We also want to bring our kids into the business. It might take a little longer, but that would be great.
Cherie Melka: They're good brand ambassadors, I'll give them that. They go by their local shop and talk about the brand. If we keep flying, that will keep our son in the business because he's a pilot.
GALAVANTE: It's a dream for anyone to have their own vineyard. To me, that's the endgame. You are doing it so you can have something like what you both have built.
Cherie Melka: We really hope to pass it down to the next generation.
GALAVANTE: One more question: bucket list. You guys travel all over the world, is there any destination that you guys have said, "You know what, it's not about work, this is the destination we need to go"?
Cherie Melka: We actually took care of one a couple of years ago. We went to Peru and the Galapagos islands. It was one of those ones, you never know with environmental changes if they're even going to allow people back in the Galapagos, given how much tourism there is. So we were really happy that we did it.
Philippe Melka: We are outdoor people, so talking about Australia. We are trying to see the Great Barrier Reef. We like culture, so we want to be able to obviously find places around the world where there is a lot of culture. It can be food, but something to visit, something to reflect on.
Cherie Melka: I've always wanted to go to Istanbul and Greece.
Philippe Melka: Definitely a bucket list.
GALAVANTE: I can't wait to see where you guys go next. Both with the Philippe Melka projects and on your travels.
Now that you've heard from two winemaking rock stars, we're almost positive that you'll want to sample their wine (if you haven't already). Buying a bottle is nice, but a wine tasting experience at Melka Estates sounds even better. And we definitely know which one we'd rather do.