You love traveling the world, but your skin — well, not so much. So, your regime for home and travel is critical for maintaining your fount of youth. Luckily, we found a new skincare line that may just be the answer. First, it impressed us because it's from Switzerland, the land of medical wellness clinics. And second, it's more than skin deep. This new line of Swiss beauty products is based in science. Here's the preview of Intuisse.
Intuisse Swiss Beauty Products
As we get older, we realize that skincare is essential. All of the damage from the sun, toxins, and stress accumulates in our pores. A good serum and moisturizer should be as essential as your sunscreen — which is to say essential period. But not all skincare is created equal. In fact, good skincare can be hard to come by. Enter Intuisse, the sustainable Swiss beauty products that harness the power of NAD+, a powerful cellular solution to aging. Honestly, these products should be prescribed.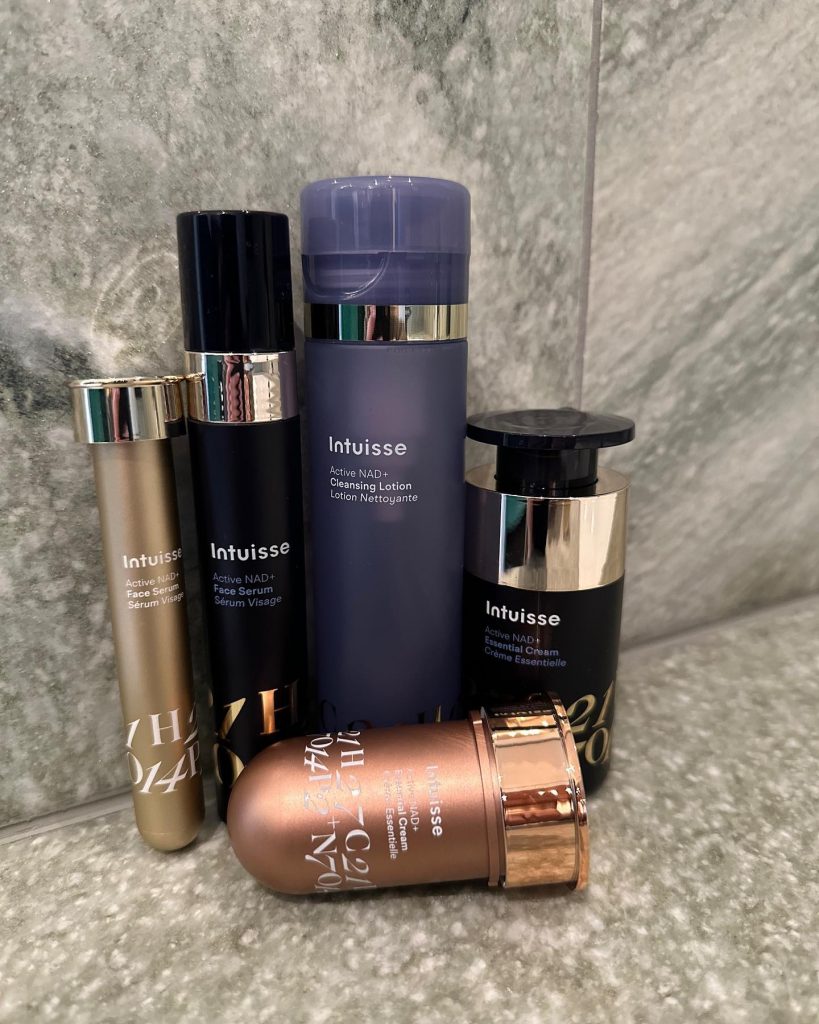 What's the secret?
Science. And marine plankton. These Swiss beauty products actively change the way cells in your skin behave. Researchers behind the products discovered that aging happens after cell function loss. When cells are healthy and young, special enzymes called nicotinamide adenine dinucleotide (NAD) coenzymes facilitate cell metabolism, converting food into energy. When we age, these enzyme levels lower, and cells start to discolor, lose shape, and wrinkle. The liposomal technology in Intuisse products penetrates deep into the skin to deliver NAD+ enzymes directly beneath the epidermis to improve cell functioning.
Intuisse products are not only designed with scientific methods in mind but have also been tested by leading researchers in cardiovascular physiology and dermatology. These are the kinds of products you can trust will actually make a difference.
The Review by our Beauty Expert: Does it really work?
Swiss beauty products may just be magic elixirs. I'm not typically a product user who buys into novel technology. But after a month of testing the products, I can't deny that they are good. Although at the price point they are set, they should be. The serum has a light feel that goes on the skin easily. There are also no overwhelming fragrances, which is important to me, as my skin is easily irritated. I also love the refillable packages which reduce plastic waste and save a little cost when repurchasing.
Without knowing much about the products, I began using the moisturizer and serum morning and night after washing my face. A few days after beginning my new routine I started to get compliments about my skin which has never happened to me before. I'm not kidding — I could immediately tell that the effects were better than other products I have used. My skin actually looks more hydrated and plump, right after I put it on, and throughout the day after it has soaked into the skin.
I like a dewy look, so I wear the serum as my skincare and makeup. I have not felt like I have needed to cover anything up since using this product. The healthy, glowy, effect of the serum disguises redness and scarring that I've had since my teenage years. I'm not kidding, I feel like my skin has a new lease on life.

Related Articles:
Aman Skincare Arrives
Glow naturally with Tata Harper's Website