When the leaves start changing, and the days are no longer scorching, it's time for a family getaway. Somewhere beautiful where it's outdoorsy enough to find activities for even the most reluctant nature-lovers, and luxury enough for the whole family to be comfortable after a full day's worth of soaking in the fall. We've outlined just the places.
Hudson Valley, NY
Stay at: Mohonk Mountain House
Only a two-hour drive from New York City, lies the ultimate family playground of the Hudson Valley. 'Family-friendly mountain activities' is the definition of the destination: the Victorian castle is surrounded by 40,000 acres of pristine forest. From row-boating, paddle-boating, canoeing, kayaking, and all other activities on the lakes, to rock climbing, mountain biking, archery, and hiking, Hudson Valley has all the fresh air and mountain adventure your family can handle this fall. Mohonk also offers authentic farm-to-table cuisine, and a an award-winning spa (parents need time off too).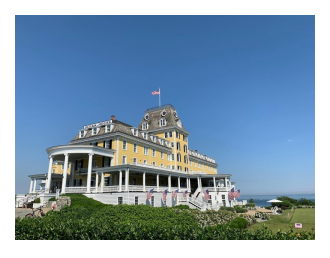 Watch Hill, Rhode Island
Stay at: Ocean House
Watch Hill is an idyllic vacation spot that's less crowded than the Hamptons, and easier to reach than Nantucket – but, without compromising any of the classic perks. From hikes through Napatree Point (which is also a wildlife preserve, and a resting area for migratory birds), to riding the Flying Horse Carousel, the oldest working carousel in the country, this historic destination has a laundry list of activities for the whole family. And, the Ocean House sprawling estate not only captures the beauty of the region, but is also equipped with endless amenities, a private beach, and a Center of Wine and Culinary Arts where you can snag a class or two while your children are occupied.  
Barnard, Vermont
Stay at: Twin Farms
Located about an hour-and-a-half from the nearest commercial airport in Burlington, this place is as secluded as they come. Fall time is also synonymous with blooming apple trees and flaming lilies at Twin Farms – so the whole setting is undeniably beautiful. Besides all activities that revolve around the 300 acres of forest, meadows, and ponds, Twin Farms offers a private Bee Tour through which children can learn about the "pollen to pallet" process, as well as canoeing, bicycling, fly-fishing, swimming, tennis, hiking, and everything else that is remotely outdoorsy.   
Yosemite National Park, California
Stay at: The Majestic Yosemite Hotel (The Ahwahnee)
The Ahwahnee is specifically designed to be at arm's length from Yosemite Falls, Half Dome, and Glacier Point – all places that are quintessentially postcard-worthy during the fall. This, however, doesn't mean that the hotel itself cuts any corners. Located smack-dab in the middle of Yosemite National Park, the hotel is known for it's stunning interior and architecture, and has served as a long-time destination of royalty and presidents alike. As for fall-time activities, Yosemite may just be the mecca of them all. In other words, have your kids name it, and you can probably do it.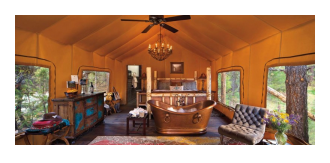 Greenough, Montana
Stay at: The Resort at Paws Up
Nothing says fall family vacation like staying in 37,000-acre private cattle ranch in the heart of Montana. Accommodation ranges from Safari-Style Tents to private Luxury Homes. But the family activities are where The Resort really shines – from archery, arena lessons, ATV tours, and canoeing, to cattle driving, dinner on the Wagon, fly-fishing, a tour of a ghost town, Go-Karting, hot air ballooning, and paintball, it's pretty much a given that The Resort at Paws Up has it all. And the fact that it's all just a little bit more beautiful in the fall, is just a healthy outdoorsy bonus.      
Lexington, Massachusetts
Stay at: The Inn at Hastings Park
Located about 15 miles outside of Boston, this boutique hotel is a stone's throw away from the best of historic New England towns – Lexington, Concord, Cambridge, the Boston area communities, and everything in between. For even the most reluctant US history buffs, Lexington is a must-see destination regardless of the season– but in the fall, it's all especially beautiful. Guests are able to visit Walden Pond, where author Henry David Thoreau once lived, take a trolley tour of historical sites in the area (such as taverns and battlefields), and visit every museum and landmark remotely related to the Lexington Battle Green, which is also known as the beginning of the American Revolutionary War (the first shots were fired just steps away from The Inn). The Inn itself is modern, luxury, and very family-friendly.