It's no secret that travelling to Tel Aviv, Israel, is one of the best decisions you could make this year. The culture, the people, the history—there's no need to twist anyone's arm. In fact, the Abu Hasan hummus alone would be worth the trip across the world (it's seriously the best you'll find in the Middle East). But now, there's a second reason to jump on that trans-Atlantic flight: The Jaffa hotel.
Design
Just outside Tel Aviv, The Jaffa offers its guests one of the coolest experiences. It's in this old, 19th-Century historic building that once housed Jaffa's French Hospital – it's truly the first luxury hotel of its kind. Architect John Pawson, when collaborating with Ramy Gill in the creation of this heritage hotel, intended to keep that rich historic feeling—but with some contemporary updates, of course.
The Details
And since it would take way too long to talk about The Jaffa's 4,000-year history (yes, that's right), let's focus on the present. You have all the modern luxuries you could possibly want from this 5-star hotel.
Amenities
The rooms are everything you could want and more, the fitness center is top of the line, and the 4,500-square-foot L. Raphael Beauty Spa is the perfect place to decompress after a long day of visiting the city. On top of all the traditional services you can imagine, The Jaffa spa offers their renowned Oxygen, Ultra-Gravity, and Beauty Diamond treatments.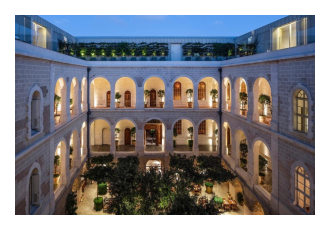 The Food
But we haven't even talked about the best part, yet: the food. If you find yourself hungry at The Jaffa, you're in luck. You've got a couple of options. Right under our noses, the guys running The Major Food group recently opened a few new locations, and two of them are at The Jaffa. Don Camillo and Golda's Delicatessen offer Italian and authentic New York cuisine (respectively). But they both take advantage of the heavenly Mediterranean ingredients, creating a truly unique dining experience. When it comes to one-of-a-kind food, these guys definitely know what they're doing.
So, yes, there's always been plenty of reasons to visit Tel Aviv. But now, thanks to The Jaffa Hotel, there's simply no excuse not to.
FAQs
Q: Where is the nearest airport?
A: The Jaffa is 24 km (15 miles) from Ben Gurion Airport.
Q: When is the spa open? 
A: The L. Raphael Beauty Spa is open daily from 9a.m.-7p.m.
Q: Is there an onsite hot tub? 
A: No, the Jaffa does not have a hot tub. However, it has an outdoor pool with a pool bar for guests to enjoy.
The Jaffa Information
Address: Louis Pasteur St 2, Tel Aviv-Yafo, Israel
Phone number: +972 3-504-2000
Map: