What is the only state in the US that was once an independent nation, is located in the tropics, and comprises more than 145 volcanic islands? Those distinctions belong to Hawaii, which while obv a part of the US, in many ways is unique and like its own country (see note above). We've ventured 48 hours on planes, trains and automobiles to get to places not nearly as beautiful as this state. Therefore, we're bringing you the best of the best of the lesser traveled islands of Maui and Kauai.  This is  your travel guide to Hawaii.

When to Go
Now.  Run, don't walk.  This may be your only chance to work from Hawaii in your lifetime.  The pandemic significantly decreased the number of tourists on the islands, which means a few good things.  You'll have the beaches almost to yourself, there is availability basically everywhere and prices have not skyrocketed.  Also, uou can enjoy a more "local" Hawaiian experience. Hawaii's weather is pleasant year-round, so no need to time a trip around hurricane season . Book a one-way ticket, pack your laptop and jump on the next flight.
Good For
Anyone who wants a change of scenery and can work virtually. Early risers if you are working on East Coast time. Beach lovers, golfers, explorers. Between its six islands that allow tourists, Hawaii has something to offer everyone.
What to Do
Maui
Every travel guide to Hawaii involves renting a jeep and exploring the island's amazing beaches. Some of our favorites on the island include Ka'anapali beach for snorkeling with turtles. Another great spot is Kapalua Bay for pure boogie boarding fun in the waves.  Also Makena Beach (also called Big Beach and Little Beach) is another major highlight in every guide to Hawaii.
Hike the impressive Haleakala National Park at sunrise or sunset for spectacular views of the island from the clouds. For a more leisurely stroll, the Kapalua Coastal Trail provides lovely views along the ocean and through beautiful properties, including the Ritz-Carlton Kapalua.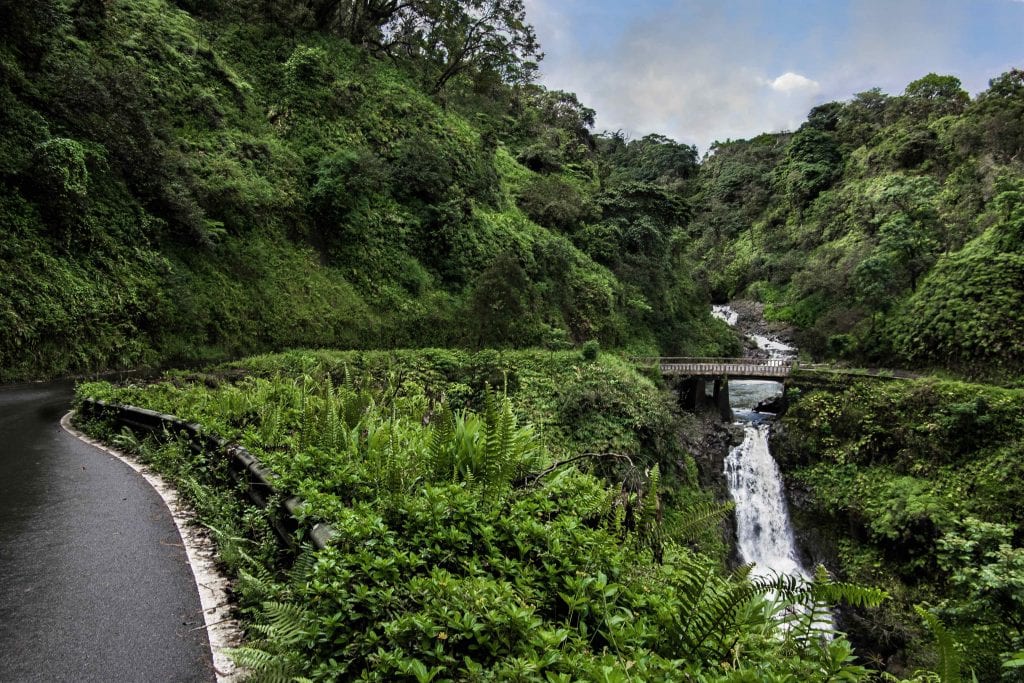 All Roads Lead to Hana 
Another highlight of Maui is the famous Road to Hana. Along this unique winding highway in through Maui's wondrous rainforest, you will pass countless waterfalls, drive along cliffsides with astonishing views of the ocean.  You'll also pass over 50 one-way bridges and navigate more than 600 curves. On the Road to Hana, the journey is the destination, so take your time and stop often. Visit Honokalani Beach (i.e., the black sand beach) and Kaihalulu Beach (a.k.a., Red Sand Beach) along the way. Also make sure not to miss Seven Sacred Pools at Ohe'o.  For a beautiful walk, see the Pipiwai Trail, with its peaceful bamboo forest and lush tropical gardens.
Where to Stay on Hana 
There are not many options for overnight stays in Hana, but the Hana-Maui Resort (recently acquired by Hyatt) was one of our most memorable stays on the island.  One of the selling points is its remote oceanside location. The property is a former sugar plantation converted into a luxury hotel. It feels like a luxurious summer camp for grown-ups, in the best possible way, and we love it.
Kauai
If you are looking for a remote location to disconnect from it all (except your computer), Kauai is where you should go. After being closed to tourists for the vast majority of the pandemic, Kauai is slowly reopening.  The green island has never been so lush.
Like a few famous residents (e.g., Mark Zuckerberg), we settled on the North Shore as a base. From there, you can take full advantage of the world renowned Na Pali Coast (Kalalau) Trail, one of the most stunning and challenging trails in the world.  It takes two days to complete, thus requiring an overnight stay in the park. For a family-friendly version, opt for the shorter day hike instead. Make sure to stop in Hanalei, a quaint town with a few restaurants, surf shops and a lovely farmer's market.
The Beaches
On all the top beaches in the U.S. lists, you will always find a beach in Hawaii.  Beaches on Kauai are pristine, with white sand and crystal clear water. The waves can be quite large in the winter months, so always be cautious. Once your work day is complete, go spend your afternoon on Hideaway Beach, Donkey Beach, Tunnels Beach or tiny Baby Beach. Most likely, you will share the beach with only a few locals.
One thing to note: Kauai has one main road that circles the island. However it doesn't go all the way around, so you will have to drive back and forth every time you go explore. If you're driving west, you will be rewarded with views of the "Grand Canyon of the Pacific": the Waimea Canyon. Past the military rocket launch testing facility all the way to the end of the road on the west is a remote beach.  This beach is accessible only through a pothole-ridden dirt road — Polihale Beach.  However it's worth it; Polihale Beach has to be one of the most isolated beaches in the world.

Where to Eat
The travel guide to Hawaii is not complete without food. Here's where to get your fix for Hawaiian delicacies and specialties like poke bowls, loco moco and yes, spam.  Don't miss the fried rice, malasadas (Portuguese doughnuts), shaved ice, saimin, acai bowls, banana bread either.  Then of course there's short ribs and poi, as well as local pineapples, starfruit and papayas.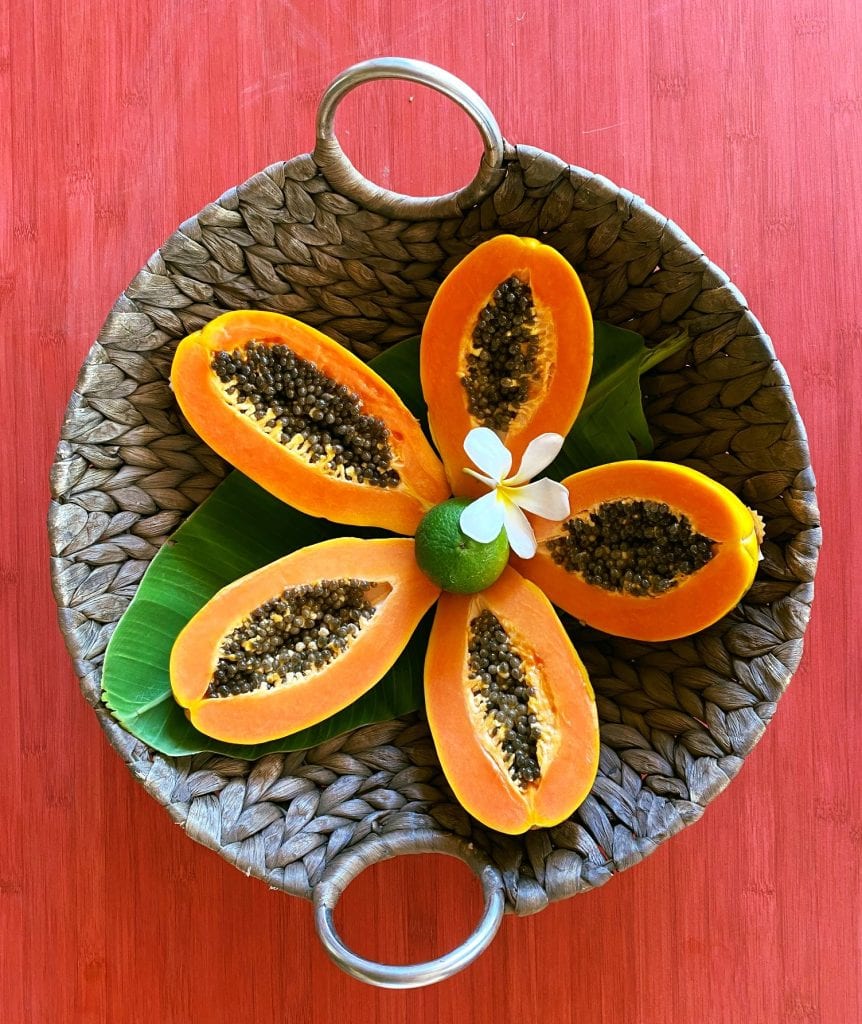 Maui
Paia Fish Market: Casual go-to for a simple but well-executed plate of local fish, rice and slaw. You will likely go here more than once.
Merriman's: Fine dining with a view. Prix fixe menu. Reservations are a must. Go early to enjoy the view, including the sunset at dinner.
Mama's Fish House: Perhaps one of the most expensive meals on the island. But after eating home for a year, you most definitely deserve it, and it's delicious. Money well spent. Reservations are a must.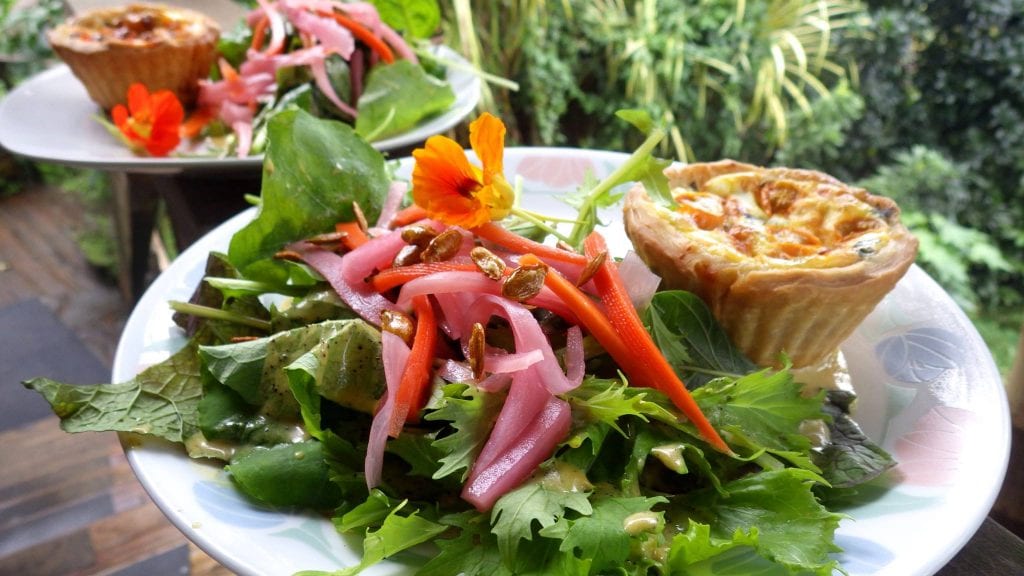 Belle Surf Cafe: Organic cafe with good coffee, beach vibes, and healthy food options like acai bowls, ahi coco and smoothies.
Hana Farm: The perfect lunch stop on the Road to Hana. The lunch plates are the best, and you can get banana bread for the road, too.
Kumu Farms: Visit the farm to buy delicious local, organic and non-GMO produce like pineapples and papayas, and also local artisan products like honey, macadamia nut butter and papaya jam.
Gazebo Restaurant: This gazebo-style restaurant serves generous portions of brunch favorites like macadamia nut and pineapple pancakes with coconut whipped cream, or fried rice with spam and eggs. Expect a long line and wait, even during the pandemic.
Tin Roof: Located in a parking lot behind a small mall, this unpretentious tiny counter prepares delicious Hawaiian and Asian-influenced meals featuring saimin, pork belly, kimchi and mochiko chicken.
Kauai
Bar Acuda: Bustling restaurant serving locally sourced tapas and cocktails. Reservation highly recommended.
AMA: Bar Acuda's sister restaurant with pretty outdoor seating and a selection of saimin and noodles.
Hanalei Bread Company: The place to go before hitting the beach for a good coffee and breakfast, or for picnic provisions. Lots of great bread, pastries and sandwiches.