Alfred Portale is the grand-daddy of the New American cuisine movement. He was the exec chef who put Gotham Bar and Grill on the map more than three decades ago. That's longer than most marriages…so an accomplishment in itself. But Portale wanted his name on the door, and he got exactly that with his eponymous new restaurant. So how does Portale measure up to the other downtown Italian restaurants? Here's the review.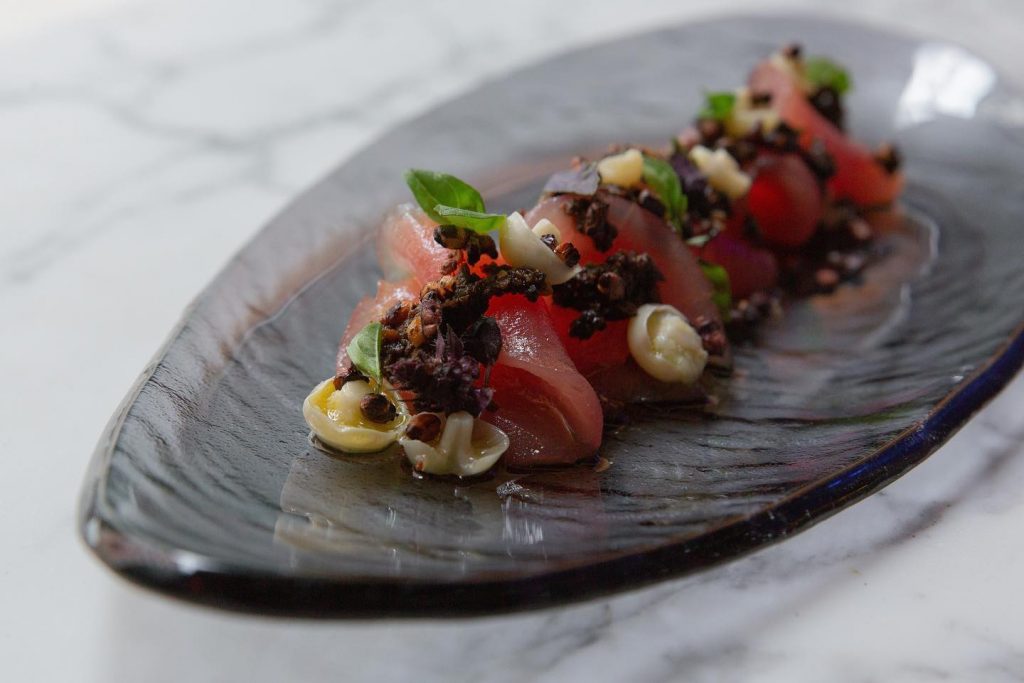 Overview
Gotham was never the same after Alfred Portale left its kitchen. I mean, the guy had a Michelin star, earned five rave reviews from the NY Times, and won three James Beard awards. He's legitimately one of the most-liked and respect chefs in the industry, and it's 100 percent merit. But after 34 years at the helm of Gotham, he departed for greener pastures. It took a pandemic for him to open his new venture, the eponymous Portale. And it couldn't be more different from Gotham.
Atmosphere
There's a whole lot of heart in the vibe of Portale. And if you're wondering where the grownups eat in New York City, one recurring answer is "at Portale." Elegant people ranging from late thirties to sixties pack the dining room each night. The decor, like the people, is grown up as well. The design is a mix of marble table tops, exposed white brick walls, and sleek chairs. The kitchen is visible from the dining room, and it's neither too loud nor too quiet. Portale hits all the right notes in terms of vibe — pretty cool for a restaurant that's meant to be an elevated neighborhood spot. Portale is overall an attractive place, and it has a nice bar scene that is as much about food as it is about drink.
Food
The people who dine at Portale may treat this as a neighborhood spot, but they're serious about food. The food is the kind of cuisine that you could eat every night. Some evenings you'll indulge in pasta, which is one of Portale's strong suits. The pappardelle with lamb ragu shines, and so does the bolognese with black truffle.
Then there are the crudos and the chilled frutti di mare. I like that you can eat healthy here, without any FOMO. Normally there's just one strong fish on the menu, but all three — the ora king salmon, the European bass, and the halibut, are all way above average. That's why it's a restaurant for everyday, where in this case, your meals are made by one of the best chefs in the city.
Service
The service is Michelin-inspired with a neighborhood vibe. The maître d' and hosts are all pros, all the time, but add an element of engagement and friendliness. If you make yourself a regular, they'll recognize that and treat you with some extra TLC. This happened to the gentleman dining solo next to us that evening. This is a place where you would aspire to be on a first-name basis with the team.
Overall: 8/10. A solid neighborhood restaurant; we hope it stays around as long as Gotham.
FAQs
Q: What makes Portale noteworthy?
A: The food is the type of cuisine one could eat every night, ranging from indulgences to healthy options. Add in the seasoned pros on the service team, and you'll want to make Portale a regular dining spot.
Q: When is it open?
A: It is open 5-8:30p.m. Sunday, 5-9:30p.m. Tuesday-Thursday & 5-10p.m. Friday-Saturday. It is closed on Mondays.
Q: What is the rating of Portale as per Galavante?
A: Galavante rates this restaurant 8/10 and hopes it becomes a staple in the neighborhood.
Portale Information
Address: 126 W 18th St, New York, NY 10011
Opening hours:
Sunday                5-8:30p.m.
Monday               Closed
Tuesday               5-9:30p.m.
Wednesday         5-9:30p.m.
Thursday             5-9:30p.m.
Friday                  5-10p.m.
Saturday             5-10p.m.
Phone number:     9177810255
Map: