This isn't a new restaurant, but oldies and goodies need love, too. It's also a cool concept that pairs your seven-course meal with your favorite song — played on vinyl, no less. That's legit. The courses can range from caviar sushi to fried monkfish, but all are bites made with care. And even better is the cost of the tasting menu: $65, not $250.

Overview
Tokyo Record Bar is the sister restaurant of Air's Champagne Parlor and dinner party concept Niche Niche. It's actually located in Air's basement, down some really steep and narrow stairs. My piece of advice before starting in on the details — do not wear heels. This is not a dress-up place anyway; it's more effortlessly cool casual. When you do arrive in the dining room, which you would expect to be restaurant storage, you'll instead find a bright, fun, cheery, music-filled space.
Like Niche Niche, the concept is a communal dinner party. You sit with your own peeps, but menus are prix fixe and the entire restaurant is served together throughout the evening. There are two seatings during the week, at 6:30 p.m. and 8:30 p.m., and an extra 10:30 p.m. seating on the weekends. Before the pandemic mess, that 10:30 slot would turn into a DJ set and à la carte menu until 2 a.m. For now though, the dining room goes quiet a little after midnight. Air, upstairs, is shut down by midnight as well.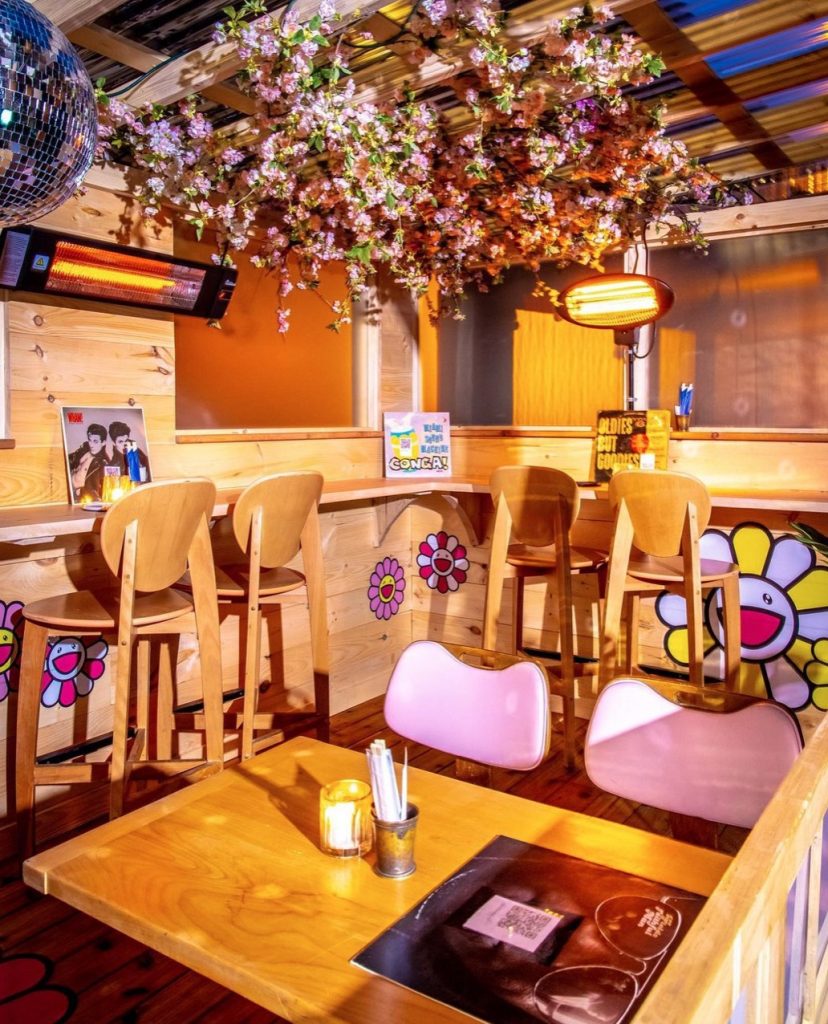 Atmosphere
In three words: whimsical, energetic, fun. You have to experience Tokyo Record Bar yourself to fully get it. The dining room is intimate, with only 12 seats or so, and you're all in it together from that first glass of bubbles, or whatever your choice of sake, cocktail, or wine is for the evening. Each seating is timed to an 90-minute meal experience, paired with a playlist. The big picture is that the essence of Tokyo isn't only about the food, or only about the service. Instead, it's the sum of the individual creative components.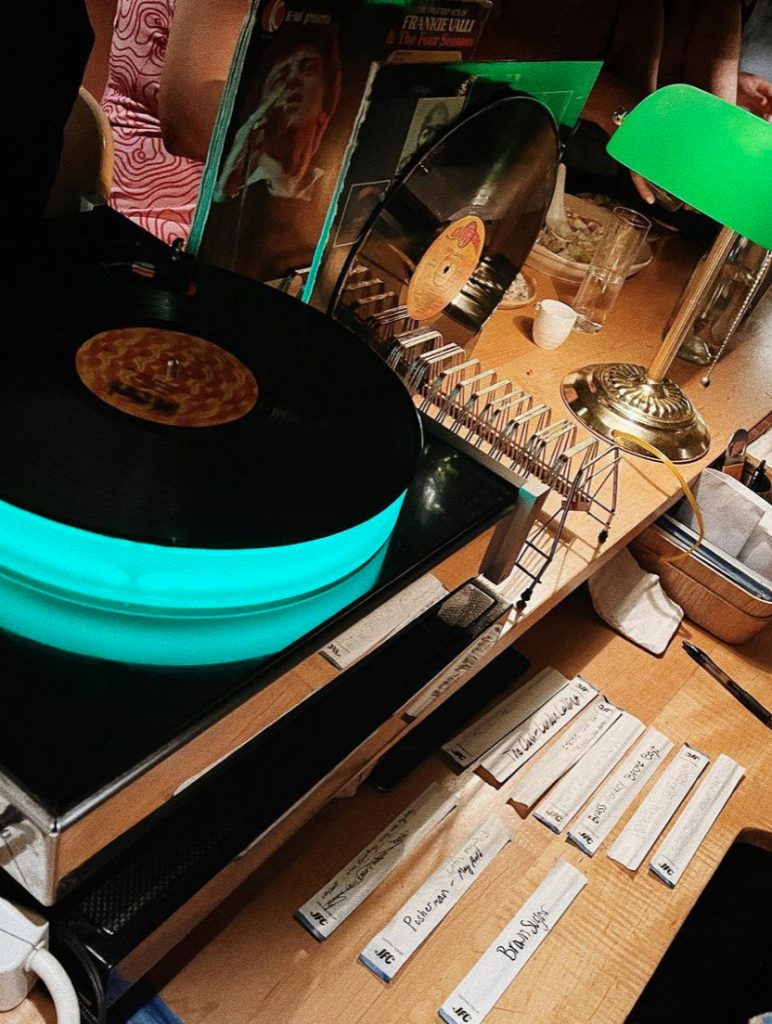 The night kicks off with an eccentric and energetic host. Consider the host the crowd starter who gets everyone pumped for what's to come. The first thing you do when you arrive is go through the song menu. You write your requests on your chopstick sleeve and songs are played over the 90-minute meal. Records start from the 60s and go all the way through the 2000's. I requested Little Red Corvette, which pretty much summed up the energy level in the room.
Music plays loudly but the team have done a great job on the acoustics of the room. You have no issues at all hearing your dinner companion. Or, unfortunately, on my night, the couple next to me having quite the public row. Even with that, it was still a fun and a unique concept that I enjoyed being a part of.

Food
For a place that is prix-fixe only, Tokyo Record Bar's kitchen is actually very accommodating on dietary restrictions. You can go vegetarian, pescatarian, fad diet du jour, or straight-up chef's choice. The food is good. But to level-set, you're not here for the food. At Tokyo Record Bar, you're here for the experience. With that said, food is made like it's elevated home cooking, and you can watch your meal being prepared in the open kitchen.

A Preview of the Bites
The night starts out with some small bites, like pickled cucumbers and spiced popcorn. You move on to oysters; then, on my night, a fluke sashimi, which was perhaps the best course of the evening. The waitstaff previously served black caviar as part of the menu, but nowadays, it's a separate supplement. It doesn't break the bank though to order it though, with options between $50 and $90. No matter which caviar you choose, it's served with homemade potato chips and sour cream. I could have ended the meal there happily, but had six more courses to go.
Next came a Japanese pancake that was almost like a tamale. It was filled with shrimp and corn, and topped with Bonito flakes, shaved scallions, ginger, and a touch of sriracha and Japanese mayo. It was as filling as it sounds. Not something I would order again, but fun to try.
After that came an eggplant with a tempura topping and crunchy peanuts. Next arrived the main course, which was steak frites. (But, in my pescatarian case, I had fluke fish and chips.) All were solid but they're not going to earn a Michelin star anytime soon. It didn't matter; the music was fun, and the dining room had good energy.
For dessert that evening, the Tokyo Record Bar kitchen made a homemade "white chocolate chip and nut chocolate cookie," served with milk. Then comes the signature pizza as a riff on tasting menus that leave you hungry at the end. There's no chance of that here as portions are overly generous, so most people take the pizza to go. It makes a solid breakfast the next morning.
Service
Warm and welcoming service is the cornerstone of the Tokyo Record Bar experience. Even if someone on the team is having a bad day, it's not allowed in the theater that unfolds throughout the night. The crowd-starter host sets the tone with an announcement for the night. From there, he or she (and one other wait-staffer) are on the floor seamlessly playing DJ, host, and server for the evening. They're pleasantly nice to everyone — and make sure the drinks keep flowing.
Overall: 7.5/10
It's a fun experience at least once. I'm not rushing to return but I would with out-of-town friends or to do something different when the mood strikes.
Related Articles
Hancock St. Review
Dame Restaurant in NYC
The Commerce Inn Returns 
FAQs
Q: Is Tokyo Record Bar open for lunch?
A: No, Tokyo Record Bar is only open for dinner. There are fixed seatings at 6:30, and 8:30 p.m., plus at 10:30 p.m. on weekends.
Q: Is Tokyo Record Bar good for families?
A: Absolutely not. The dining room is down a very steep staircase in the basement that leads to an intimate room. There are only 14 seats or so and this is firmly an adult dining experience, start to finish.
Q: Does Tokyo Record Bar have vegetarian options?
A: Yes. There's a vegetarian and a pescatarian menu, and the waitstaff takes your dietary restrictions into account.
| | |
| --- | --- |
| Saturday | 6:30PM–12AM |
| Sunday | Closed |
| Monday | 6:30PM–12AM |
| Tuesday | 6:30PM–12AM |
| Wednesday | 6:30PM–12AM |
| Thursday | 6:30PM–12AM |
| Friday | 6:30PM–12AM |