You may not know it, but The Great Migration is on your bucket list. There is something majestic about over 1 million wildebeests and zebras traversing through Kenya and Tanzania each year. It's like a safari – an already incredible lifetime trip – but totally next level. This is the trip that will change your life.
Witnessing the Great Migration is an experience of a lifetime. It is one of the most awe-inspiring natural events on the planet. Each year millions of animals follow the rains and migrate through Africa's Serengeti-Mara ecosystem to find food. It is the single biggest terrestrial mammal migration in the world and a testament to the miraculous source of life that the ecosystem provides. You can follow along by moving between different luxury lodges, tented camps, and hotels, but you'll need some expertise. That's where Singita, an ecotourism and conservation company comes in to provide both an authentic and luxurious experience. Here is your guide to the Great Migration and all the best places to stay along the way.
What is the Great Migration?
The Great Migration is the movement of huge amounts of wildebeest, zebras, gazelles, and other grass-feeding mammals as they follow weather patterns that lead them to food. During their long journey, they traverse anywhere from 600-1,200 miles on foot over the course of the year. Their travel patterns are often predictable and include many momentous events like mating rituals, calving, deaths, and other hardships along the way. Being that there are so many animals moving out in the open they attract a large number of predators like lions, cheetahs, leopards, and hyenas. They must avoid these predators while crossing crocodile-infested rivers, fighting off diseases, avoiding injury, and enduring fatigue, all so that they can survive to do it again the next year. The whole cycle of life plays out before your eyes and it's a miracle to watch.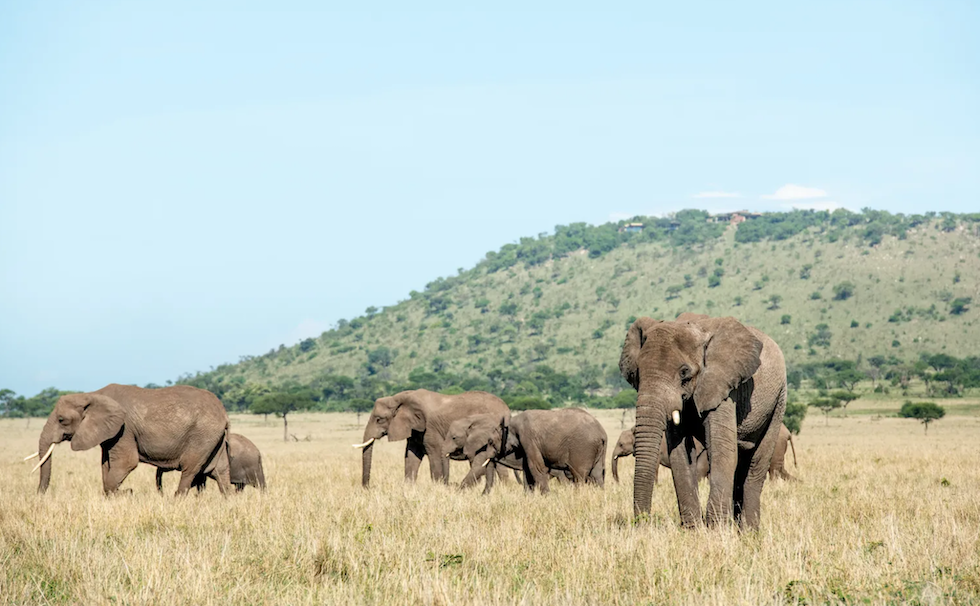 When and Where is the Great Migration?
The common misconception of the Great Migration is that it happens during one time period within the year. However, it is actually a year-long event that sees millions of animals moving through parts of Tanzania and Kenya in a cycle. From January to March, they move from the Ngorongoro Crater up into the Eastern part of the Serengeti National Park. They continue on through the Serengeti from April to July. Eventually, they move into Kenya's Masai Mara Game Reserve from August to September and then head back down to Ngorongoro Crater in the fall. Although this is subject to change depending on the year's weather patterns. Because of the ecosystems they move through you can often see other animals like elephants, giraffes, hippos, buffaloes, ostriches, and many more species along the way.

Singita
Singita is a luxury ecotourism and conservation brand that is committed to preserving, protecting, and sharing Africa's wilderness. It originally started almost a century ago when a 30,000-acre area of land was transformed into the Sabi Sand Reserve in South Africa to protect its species. Since then, Singtia has progressed to spanning four different countries including South Africa, Tanzania, Zimbabwe, and Rwanda. It now has seventeen different lodges and camps that allow guests an immersive up close experience of Africa's landscapes and wildlife. Singita is known for its luxury accommodations and pristine service, with the money from each booking going towards conservation. It primarily focuses these efforts on protecting and nourishing Africa's biodiversity, wildlife, ecosystems, and community. This has made it one of the more respected and appreciated safari brands in the region.
Singita's Lodges and Camps
Singita attracts tons of travelers each year to witness the Great Migration. Move between their different lodges and camps as you follow along and marvel at the beauty of the landscape and wildlife. Here are four accommodations in Tanzania perfect for watching the event unfold while having a luxury experience.

Singita Faru Faru Lodge
The Singita Faru Faru Lodge overlooks a busy watering hole on the Grumeti River. It evokes the spirit of an African safari with its artisanal decor and palette. Their suites are air-conditioned and include your own deck and large picture windows to bring in the wilderness. The lodge also includes a dining room, plenty of outdoor seating, bonfire areas, two pools, a fitness center, and a spa. You can enjoy their game drives or safari walks to see the Great Migration up close or take a hot air balloon up in the sky for a bird's eye view. In addition, you can take visits to the local community, have wine experiences, and visit anti-poaching observation posts.

Singita Explore Camp
The Singita Explore Camp offers the authenticity and thrill of being in the wild while also providing a luxury-tented experience. They have six one-bedroom tent suites that feature luxury furniture and amenities. You'll get to dine under the stars, cool off in their transportable plunge pool, and enjoy meals prepared by the chef. It is particularly optimal for seeing wildlife and going on game drives with an experienced guide.

Singita Mara River Tented Camp
The Singita Mara River Tented Camp is situated along a river bend in a remote part of the Serengeti. This area has one of the highest concentrations of wildlife in the Serengeti which makes it ideal for witnessing the Great Migration. It has six luxury tents that accommodate up to sixteen people including two family options. The contemporary design includes natural fabrics, canvas, stone, leather, and local artworks. Their en-suite bathrooms feature a tub that has a viewing window so you can enjoy the ambiance. In addition, there is a pool at their main camp area as well as spaces for seating and dining. This is the perfect place to witness the coveted river crossing that takes place.

Singita Sasakwa Lodge
The Singita Sasakwa Lodge is surrounded by grasslands, forests, and winding river valleys that are along the migratory route. The lodge is built in the style of an Edwardian manor and features antiques, bespoke furniture, and artisanal artwork. Out of all the options this one is closest to a luxury hotel experience. It has ten luxury cottages that range from one to four bedrooms and include private verandas and plunge pools. The lodge's public areas consist of a dining room, lounge and bar, library, fitness center, spa, pool, garden, and billiards room.

Offerings
Your once-in-a-lifetime African adventure to see the Great Migration awaits. Book through Galavante to get personalized itineraries and expertise when planning your trip.
Related Articles