What do you get when you cross what is perhaps the most impressive hotel portfolio in the world with one of the most unspoiled places to safari in Africa? You get the Singita Pamushana Lodge. It's remote and off-grid – so travelers who have graduated to the 'expert' category, this spot should be on your radar.
Located high up on a sandstone ridge, the Singita Pamushana Lodge consists of eight elegant suites (each one comes with a private plunge pool), set in one of the remote parts of Zimbabwe's southeast. But the al fresco dining, breathtaking views, and the award-winning spa all pale in comparison to the private safari experience.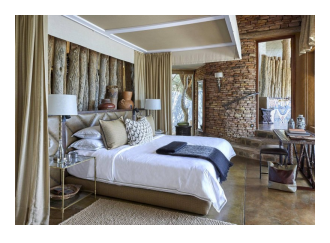 The Malilanwe Reserve boasts one of the highest concentrations of the endangered black rhinos in the world. Any safari experience you can picture can be arranged at Singita Pamushana. The Baby Safari focuses on baby elephants, lions, cheetahs, leopards, rhinos, and giraffes; the Safari Savvy is a learning experience through and through; the Stargazing Safari is a nighttime experience that allows for you to lose yourself in the Milky Way; the First Time Family Safari is tailored specifically towards children; and we haven't even mentioned the Honeymoon Safari, the Safari Sommelier, the Guided Walk Safari, and countless other experiences.
Most importantly, there is no other safari quite like this one. Besides the fact that it's exciting, rugged, and spans across 130,000 acres of the Malilangwe Wildlife Reserve, Singita is also a conservation company that feeds 20,000 children every day, thanks to this Lodge. They don't talk about saving the planet: they actually deliver.
FAQs
Q: Where are booking enquires made?
A: For booking enquiries, guests can reach out to the reservations team in Cape Town, South Africa.
Q: Is there an outdoor pool?
A: Yes, the main lodge has a swimming pool for guests to use. Each guest suite has its own private infinity pool as well.
Q: Is the lodge kid-friendly?
A: Yes, activities offered for children include arts & crafts, swimming, fishing, cooking lessons, stargazing, board games, and more.
Singita Pamushana Lodge Information
Address: Singita Pamushana, Malilangwe Reserve, Chiredzi, Zimbabwe
Phone number: +27 21 683 3424
Map: