It's summertime, which means you're in a European vacation frame of mind. You know exactly which beach clubs you'll hit up in Mykonos, the tables you'll dance on at L'Opera in St. Tropez, and where your favorite DJ will be playing in Ibiza. But what if you were to dial it down, or even better, combine your summer debauchery with a hands-down place that ups the romance factor? Well, then you'll find yourself on the Amalfi Coast. Because if you don't already have #amalfigoals, you will with these top hotels, and especially these Amalfi Coast views.
When it comes to staying in Amalfi, location matters. Whether you have your sights set on the romance of Capri or the accessibility of Greater Amalfi, you need the perfect home base. Covering the most sought-after areas of the coast, here are our favorite hotels in Amalfi. 
Oetker Collection's Hotel La Palma
Location: Capri
When deciding to add another property to their portfolio, Oetker Collection looked no further than the oldest hotel in Capri. Formerly known as Locanda Pagano, Hotel La Palma sits at the heart of the island, with easy access to desirable sites such as the Grotta Azzurra (the Blue Grotto) or the iconic Faraglioni rock formations. The property is equipped with 50 rooms–including 18 suites– each offering its own private balcony or terrace. Then there's the spa, which has three treatment rooms, a sauna, a steam bath, a fitness center, and an ice shower. Clearly, there's no shortage of ways to kick back at La Palma. Guests can also enjoy Da Gioia, La Palma's private beach club. Located on Capri's southern coast with a view of the Faraglioni, the club offers all-day dining, as well as a private beach available for up to 8 guests.
Scalinatella
Location: Capri
Scalinatella is for romantics. Location-wise, it's just close enough to Capri town's main square to be a part of the action, but secluded enough to feel like a true getaway. Formerly a private villa, the hilltop property has a boutique charm, with a total of 30 rooms, suites, and villas. Scalinatella also boasts not one, but two panoramic swimming pools– both facing the sea– along with a poolside snack bar and private, in-room wellness services.
JK Place
Location: Capri
Capri may be a surprisingly lowkey, understated island, but JK Place is anything but that. The grandiose property takes the natural beauty of the Gulf of Naples and elevates it tenfold, if that were even possible. Located on a relatively tiny island, space is admittedly limited. The spa and gym are small but get the job done, and the ocean view is an added bonus. Luckily, JK Place opens up its guests to experiences beyond the limits of the hotel property. Professional guides are available for exclusive activities such as boat tours of the Amalfi coast, Vespa rentals, and helicopter tours.
Capri Palace
Location: Capri
Capri Palace is a massive, full-service, true luxury hotel. If you can deal with its location in Anacapri – more of a lowkey village feel, less glitz and glam than Capri itself – then it's definitely worth a stay. The property offers a vast choice of rooms, varying in style and size. Capri Palace is perhaps best known for its award-winning medical spa, Capri Beauty Farm. It's easy to see why with its wide range of holistic treatments and staff of doctors, therapists, dieticians, beauticians, and chefs. But if you're just looking to chill out, there's room for that too. Plenty of it. Guests can also enjoy a large outdoor swimming pool, a private beach club just within reach of the Blue Grotto, and private speedboat and helicopter transfers.
Belmond's Caruso
Location: Ravello
Caruso is set on its own peak, towering over the coast, and relatively removed from other properties. You might think a former 11th-century palazzo could feel a little stuffy, with its grand architecture and historical art collections. But in true Belmond fashion, Caruso brings comfort and style to the luxury hospitality scene. You'll find plenty of ways to enjoy your stay here, whether it's basking at the infinity pool or taking a boat service down the coast. All fifty rooms boast of a private outdoor space spanning from smaller terraces to large gardens and the majority include ocean views.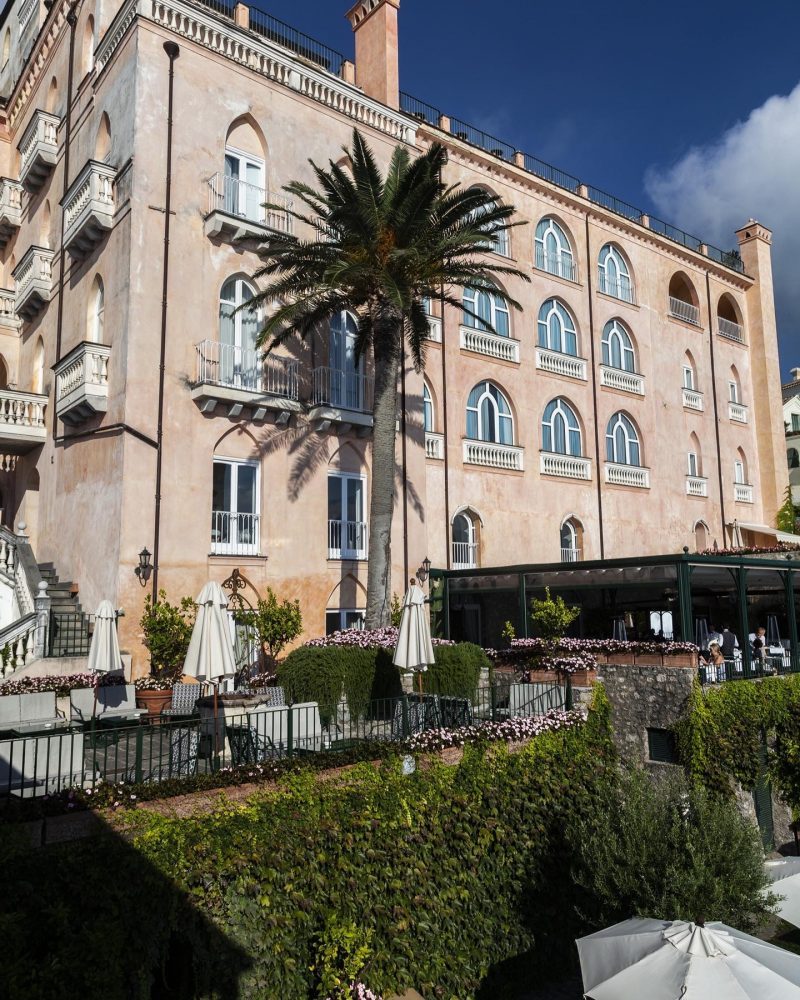 Palazzo Avino
Location: Ravello
Palazzo Avino is yet another private villa-turned-luxury hotel. Sensing a theme here? Originally built for an Italian noble family and eventually reopened as a hotel in 1997, Palazzo Avino leans into its royal history in a big way. Its 33 rooms and 10 suites sit atop the medieval village of Ravello, overlooking the coast and its picturesque towns. Service is paramount here, with a ratio of two employees per room, limousine and helicopter services, and 24-hour room service. Palazzo Avino's Clubhouse by the Sea, a beach club 15 minutes from Ravello, is also available to guests, along with a complimentary shuttle service to and from the hotel.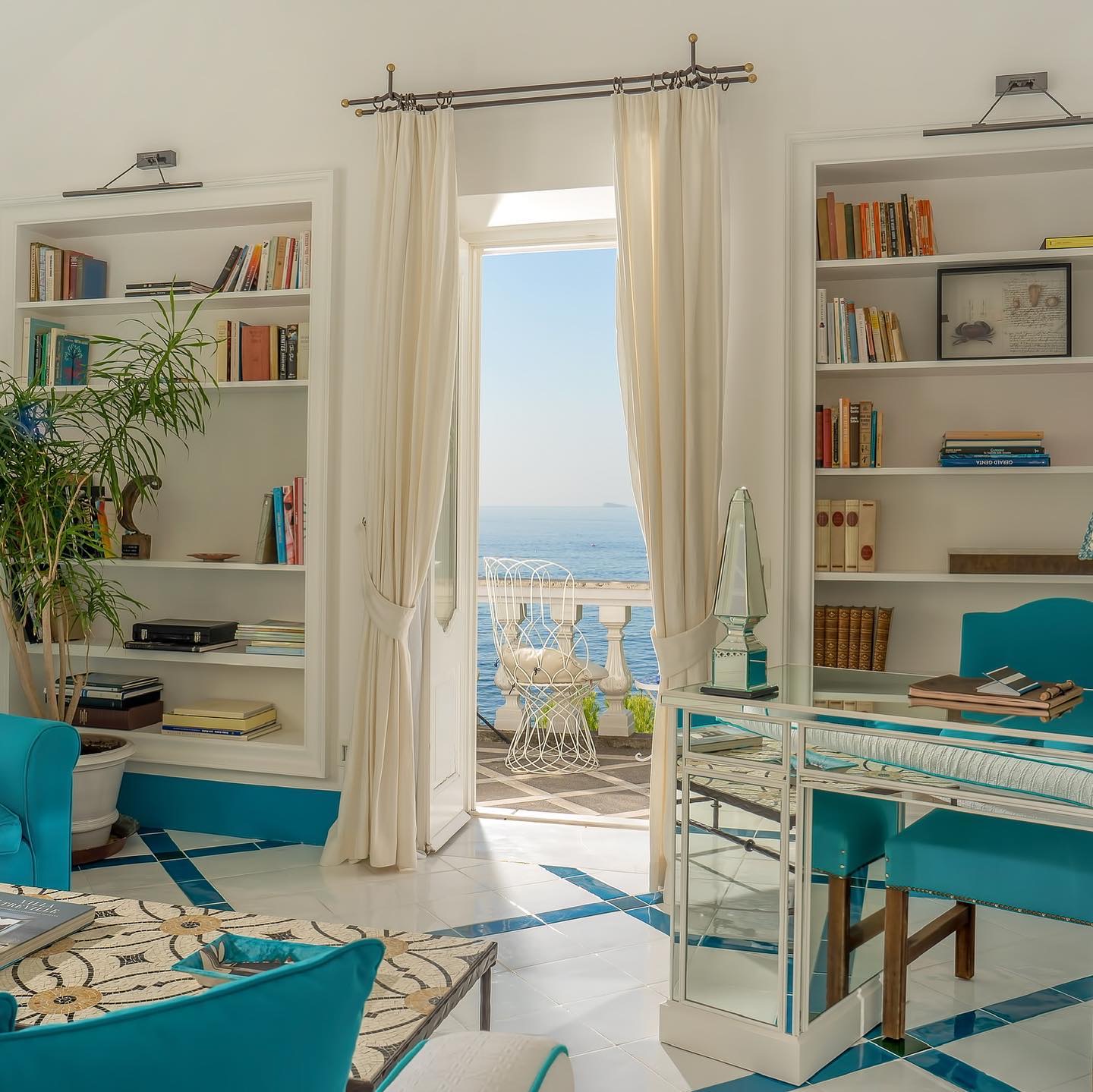 Villa Treville
Location: Positano
Built into the cliffs of Positano, the views from Villa Treville are unparalleled. With just 16 rooms spread across 4 villas, a quiet, old-school charm sets the property apart from others in the area. So do its restaurants and bars– a collection of intimate spaces designed for holistic dining and socializing. At Villa Treville, spa treatments can also be enjoyed in the privacy of your room, or amid their many outdoor spaces. And for a day trip to the laid-back Laurito Beach Club, hop aboard Treville Positano's traditional wooden boat, a ten-meter-long Apreamare classic. Or bump it up a notch with the hotel's private yacht, accommodating up to 12 guests with 6 cabins and a variety of social and dining options.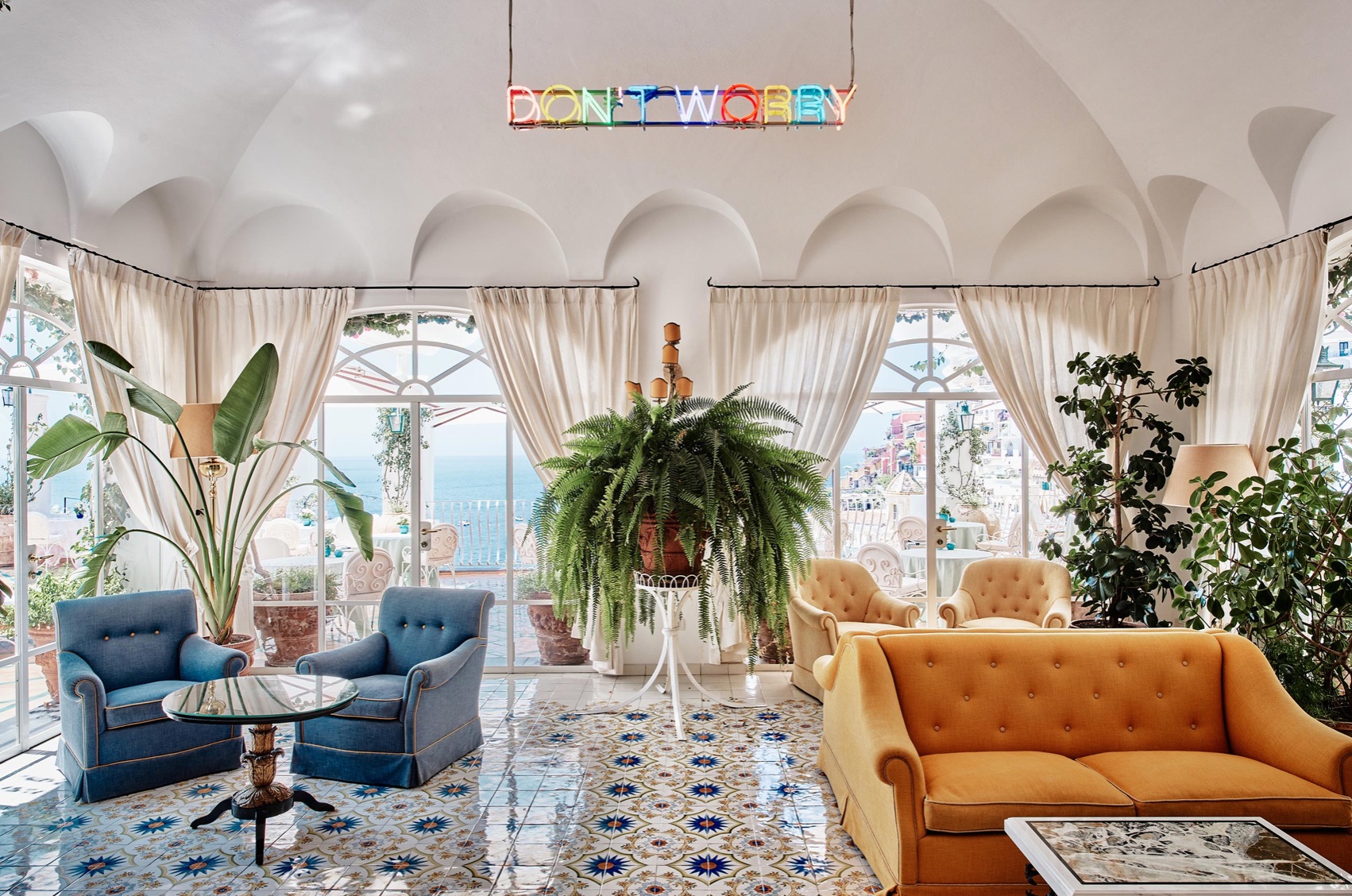 Le Sirenuse
Location: Positano
Le Sirenuse is a classic choice for your Positano getaway, and it's easy to see why. Only a 10-minute walk from the beach, the hotel is very accessible, but just secluded enough to provide a retreat from Positano's swarm of daytrippers. Le Sirenuse also houses one of the coast's top dining spots– La Sponda– known for having an atmosphere that's just as fun as the food. All 58 rooms are bathed in that prized Positano sunshine, with plenty of perks included in your stay. Honorable mentions include pilates and workout classes, guided trips to the fish market accompanied by professional chefs, and boat rides to seaside villages.
Il San Pietro
Location: Positano
Il San Pietro is a family-run affair and the kind of place you come to for some true peace and quiet. Carved into the cliffside and completely surrounded by views of the Amalfi Coastline, the hotel boasts a wide range of rooms to choose from, most of which include private terraces. Offering something for everyone, guests at Il San Pietro also have access to an exclusive beach club, freshwater swimming pool, ocean-side tennis court, and a complimentary two-hour cruise along the coast. For active vacationers, there's also a state-of-the-art indoor/outdoor fitness center, where half of the gym sits under the property's lemon orchard. Post-exercise, book a massage at the spa or cool off in the Turkish Bath.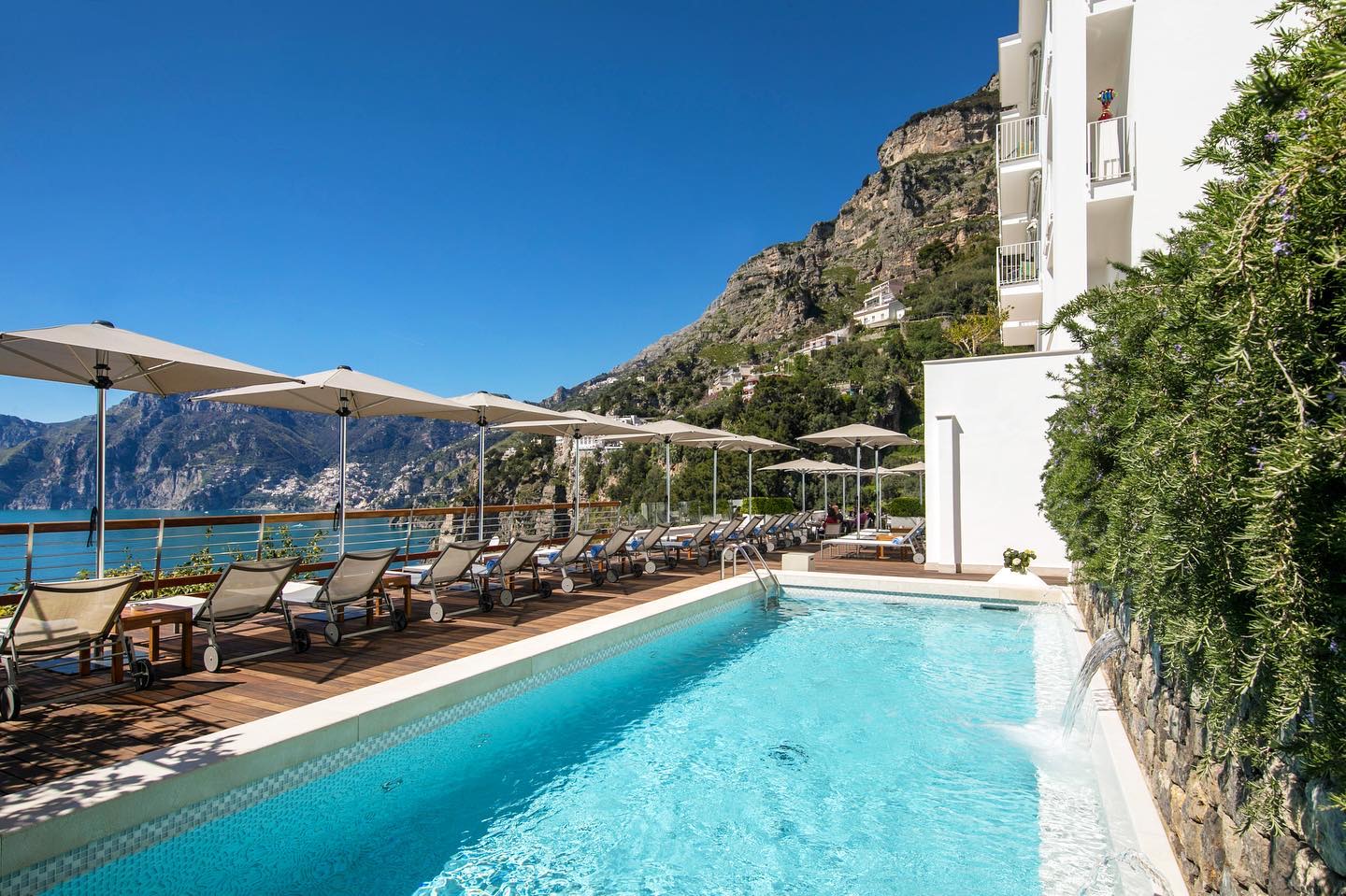 Casa Angelina
Location: Greater Amalfi
A boutique hotel sat between Positano and Amalfi in the village of Praiano, Casa Angelina is definitely the outlier of this list. Instead of the traditional, opulent Italian aesthetic, the property opts for a more modern, minimalist approach. Think sharp lines, bright white exteriors, and contemporary design. It's a unique choice for an Amalfi property, but certainly a smart one– contrasting the rugged beauty of the coast with its stark aesthetic. As for your stay here, stylish rooms (varying in size and offered amenities) echo the same white-washed glamor as the rest of the property. Wellness experts are available at the spa for consultations, and guests can choose from a range of packages offering quintessential Italian experiences. Whether you're looking for a culinary-focused getaway, a romantic escape, or a wellness retreat– Casa Angelina has something for you.
Monastero Santa Rosa
Location: Greater Amalfi
This 17th-century monastery-turned-luxury hotel sits within the fishing village of Conca dei Marini, also located between Amalfi and Positano. Location-wise, it's a strategic home base for hopping around Greater Amalfi and all the charming towns it has to offer. And as far as luxury properties go, pretty much everything about Monastero screams glamor. Terraced gardens, a heated infinity pool, sunrise yoga sessions, a massive spa, boat excursions to Capri, and tours of local vineyards– this place has it all. The rooms, all named after local herbs used by the former nuns themselves, were converted from the monastery cells into twenty unique suites. The decor leans into the grandiose, ecclesiastical theme just enough– boasting hand-picked antiques, fine Italian linens, and vaulted ceilings.
Related Articles
The Amalfi Coast: Your Bucketlist Destination