MISA
Why we like it
Just because traveling is second nature to us, doesn't mean that the planning part is second nature too. The itinerary, the destination, the luggage, all of that needs to be thoroughly considered. As does the wardrobe we choose to pack. That's why we love MISA. It's not only a chic feminine brand, but it also has some of the best style pieces for travel on the market.
Overview
The brand embodies its late founder Shadi Askari-Farhat's style. And style she had. Launched in 2016 in Los Angeles (an acronym for her daughters' names), MISA is an homage to global travel, art, and design. The signature feminine silhouettes in airy fabrics means that the clothing items won't get wrinkled on the plane or in your luggage, and the romantic prints and bold color combinations make the wardrobe pieces chameleons to anything else you may choose to pack.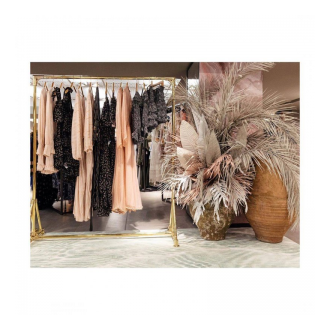 What to know
All items are handmade in Los Angeles, and there's a reason. Everything from the woven dresses to the knitwear and accents transitions seamlessly from day to night, from business to casual, and from home to travel.