When LVMH, the Paris-based luxury empire opens a hotel in their hometown, expectations are high. But, as they do with their clothes, bags, and shoes, it looks like they will not disappoint.  This is not a so-French-it-hurts hotel, though. Instead, it's modern, contemporary and young. The Cheval Blanc Paris is unique from their other properties, which include St. Barths, Courchevel, St. Tropez and the Maldives.  (Essentially a bucket list of luxury destinations).   Yes, it has the chic contemporary vibe like the other hotels, but we would say it's even more modern and fresh.  Set in the old La Samaritaine department store, this project is  a 16-year labor of love. Here's a first look at the Cheval Blanc Paris.
Overview 
The new Cheval Blanc Paris is on the Right Bank, with prime views of the Seine.  It's also walking distance to the Louvre, and teetering in heels distance to late nights at the
Costes
. The  72 rooms are amply sized with floor to ceiling windows, and expertly designed mineral and stone furnishings. The top tier rooms have grander amenities .  By grander, we're talking a private 40 ft swimming pool.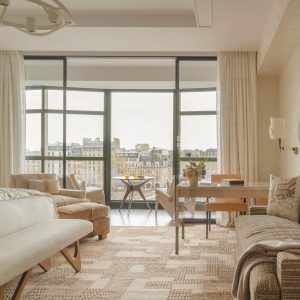 Food & Wine
Foodies will rejoice as the hotel features not one, but four restaurants.  World-renowned Michelin starred chefs, Arnaud Donckele and Maxime Frédéric lead the charge.  The 7th floor of the hotel is designated exclusively to their culinary extravagance.  Four restaurants is a statement to make in the competitive food space in Paris.  Clearly Cheval Blanc Paris wants their hotel to be more than a place to rest your head.  We'll have the full review on restaurants in a future issue.
Time to Spa 
Those whose idea of luxury includes facials and massages will be thrilled with the first ever Dior spa. And, a 100 ft long swimming pool with Seine views is another major perk.  You probably didn't expect anything less from LVMH.  Cheval Blanc Paris may just be part of your Paris go-to hotels.  We'll come back though with the full report on our visit this winter.