Guess what?  Weekend trips are back. And St. Barths is 10 out of 10 times a good idea.  Good weather?  Check.  Beautiful beaches? Yes.  Excellent food?  The best.  And now there's a new hotel in town, literally.  Hotel Barriere St. Barth has taken up residence, right in the town of Gustavia.  Here are the broad specs.

A Grand Dame is New Again
Le Barriere group, which includes the Majestic in Cannes, is keeping it all in the French family.  In late 2019, they opened an outpost of Le Barriere St. Barth, in the old Carl Gustaf hotel.  The opening was just in time for COVID closures, so we thought we would give this one another look.
The location makes Le Carl Gustaf  a unique hotel experience from the other beach or deserted isle properties in St. Barths. The hotel is in the heart of the bustling town Gustavia.  This means Hotel Barriere St. Barth gets you right in the middle of the action with shopping, restaurants and nightlife.  It also gets you the best views in St. Barths, as you overlook the Caribbean and the port town.  Set high up in the hills of Gustavia, Hotel Barriere St. Barth lends itself to the famed Caribbean sunsets, of the original hotel.  Except now, it's received the much needed major face lift, to push the Le Carl Gustaf into the luxury category.

The Specs 
This is the most intimate of the luxury hotels, with just 21 rooms.  Its hillside locale means that each rooms has a sea view of some sort or other.  The basic tier rooms run about 583+ indoor square feet plus 450 square foot + terrace.  This makes Le Carl Gustaf rooms one of the more generous in size at the entry level.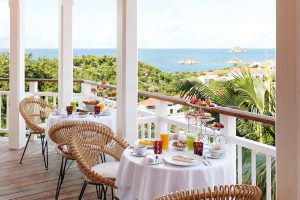 Like its sister properties, the restaurant and bar are a Fouquets, with a decidedly St. Barths spin.  The restaurant has a wrap around terrace, to take in those sunset views and evening lights of the town.  Lunch is an unheard of value in St. Barths, at 45 euro for two courses.  Brunch is a St. Barths reasonable of 75 euro and is a feast, that can include a truffled ham bagel or a unique wahoo fish tartine.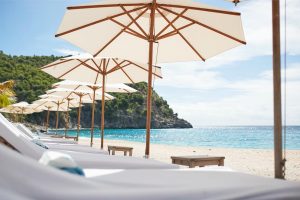 Shell Beach
For their water and beach access, Le Carl Gustaf is in residence on Shell Beach, with beach club Shellona.  The space was the beloved Do Brazil, except now the food also got an upgrade, with a Greek theme.  Shellona has been the buzzy hangout in recent seasons, and as a hotel guest, you get priority on the loungers and tables.