Dirty French NYC is a bistro located in the Ludlow Hotel on the Lower East Side. Although it has been around for at least six years, this New York bistro never fails to impress. 
The signature welcome dish at Dirty French NYC is so delicious that we don't know how we lived without it this long. Trust me, try their herbed flatbread with fromage blanc and you will feel the same way. 
Pandemic baking just doesn't cut it for us anymore and Global French cuisine from our own kitchen doesn't seem right. So, we think it's time to let the experts at Dirty French take over.
Dirty French NYC overview
We should say that Dirty French is in the distinct style of Major Food Group, which is headed by Jeff Zalaznick, Mario Carbone and Rich Torrisi. If you haven't been already, Carbone is another of their restaurants that we enjoyed dining at.
Dirty French NYC is sophisticated and versatile; it is a great place to visit if you want to have a good time with great food. It is perfect for groups and birthday celebrations as it has spacious dining booths. There are elegant vintage style wooden chairs and tables for dinners for two or smaller groups. Dirty French portions are plentiful so it is a good option for people who love their food. The bistro is open for breakfast and dinner seven days a week.
You can book out Dirty French for large private events or smaller gatherings can book the second floor private dining room which seats 60 guests. 
The Food 
Dirty French NYC uses modern techniques and bold flavors in its food which is based on classic French bistro dishes. It's honest comfort food turned up a notch. 
From the welcoming bread gesture to the beautifully presented classic comfort food, this bistro is a treat.
Hot and cold breakfast options include classic pancakes with lemon or Avocado Tartine. 
Some of the best dishes on the dinner menu are the starters. There's a unique take on Oysters Bourguignon with the oysters cooked in a garlic herb butter. Mushroom Millefeuille is impossible-to-replicate at home and consists of finely sliced mushrooms with butternut squash and red curry. Dirty French's salad is just not salad either. You must try the French chèvre salad with sunchokes, kale and pear that can be ordered as a light meal.
The main course dish, roast chicken and crepes for two, is mouthwatering. The chicken is prepared in multiple ways using both dark and white meat. It's a pleasant delight as you wrap the chicken in crepes and eat it with copious side dishes such as Pommes Louis or Haricots Asiatique.
Alternatively, you can choose blackened snapper with roasted peppers or steamed black bass in a white wine sauce. There is something for everyone on this menu.
There is an extensive wine list and a good range of cocktails at Dirty French. Hotel guests are lucky that there is a restaurant of this quality inside their hotel.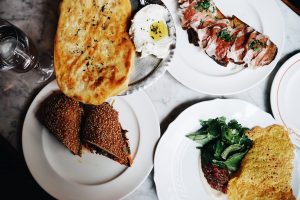 The Scene 
Dirty French is always lively and diners are guaranteed a fun night out. It represents the neighborhood well with its informal dining room, mismatched vintage China and just a touch of grit. 
Reservations for Dirty French NYC
In pre-Covid times, the bar was always full and reservations were a challenge. The bistro may not be back to these heady days just yet but you will need to make a reservation in advance.
You can book your table one month in advance but booking is online only.
Overall Rating: 7.5/10
If you enjoyed reading about this NYC hotspot, check out these other NYC restaurants.