What do you get when you take a private island, mix it with an authentic, unspoiled culture, and add the best luxury hotel provider on the planet? You get Six Senses Krabey Island.
The Rooms 
As you would expect from a Six Senses property, Krabey Island's rooms are spectacular. In signature Six Senses Style, they are totally high tech, up-to-date, and quintessentially luxurious. Private plunge pools, beachside views, and the most comfortable mattresses you've ever slept on because, after all, sleeping is wellness too.
Dining 
And when you've woken up from your cat-nap (or your second or third cat-nap) of the day, you'll get to treat yourself to some world-class dining. Order anything on the menu and you'll quickly learn one thing: healthy can taste exquisite too. And, you can enjoy long, romantic dinners without worrying about your beach body the next day.
Spa and Fitness
The beach at Six Senses Krabey Island is far from the main attraction. The real reason people escape here is for the healing benefits. It's one of the the most advanced wellness centers that the Six Senses has to offer—which is not to be taken lightly. This resort makes you healthy from the inside out. They offer traditional Cambodian wellness treatments like the Khmer or Abhyanga massage, which make you feel ten years younger. And once you're young at heart again, they've got plenty of options to make you look 10 years younger. We recommend the 24k Gold Age-Defying Facial – there's nothing else quite like it.
A Transformative Experience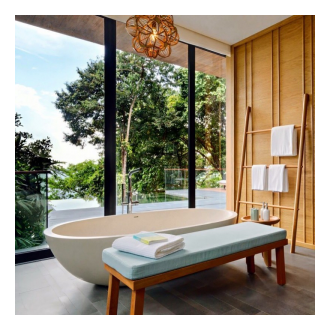 The wellness center at the Six Senses Krabey makes the list for one of the best around.  The goal isn't only to have a weekend transformation. The wellness staff's goal is to get you on the path to your best self.  They have ample activities designed to teach you how to live right. The facilities include a first class fitness center, morning yoga in the pavilion, detox programs, and daily meditations. And these are just a few of the practices you'll bring back home with you.
The key differentiator that separates the Six Senses Krabey is their comprehensive wellness screening report.  This is not surface level; the report provides an in-depth analysis of your health and a road map to better living. From the basics of your body weight, fat mass and blood pressure, to your immune response, stress index and insulin resistance, this is no fluff report. Major lifestyle changes for the better will come out of your stay at Krabey.
 Your mind, body, and soul will all thank you for it unanimously for the ultimate wellness experience at Six Senses Krabey Island.
FAQs
Q: Does the hotel offer Wi-Fi?
A: Yes, every room has wireless internet connection.
Q: What are some of the water sports activities for guests to try? 
A: There is complimentary snorkeling, kayaking, stand-up paddle boarding, and surf skis.
Q: How do guests arrive at the hotel? 
A: It is a ten-minute ride from Sihanouk International Airport to the resort's mainland reception spot. After that, it is a 15-minute water ride to the private island.
Six Senses Krabey Island Information
Address: Koh Krabey Island, Ream Commune, 18000, Cambodia
Phone number:   +855 69 944 888
Map: