St. Barths' hotels have been through the wringer over the past few years. First the hurricanes; then, after a full rebuild, the pandemic. But 2023 is looking good, and St. Barths is better than ever. (If that's possible, because it was pretty darned good before.)
Maybe that's because St. Barths is the idyllic getaway that you dream of in the dead of winter. Perhaps it's because of the people-watching; during certain times of the year, there are more celebs than non-celebs on-isle. Here's looking at you Leo, + the supermodel du jour. But at its core, St. Barths is one of the most beautiful islands in the Caribbean. The pristine beaches, top restaurants and beautiful places to stay are why St. Barths is always a good idea.
Each of St. Barths' hotels has its own distinct personality and DNA. This is the list of the best of the best St. Barths hotels. 

Rosewood Le Guanahani
The Vibe
The Rosewood Le Guanahani is a sprawling 18-acre resort on its own private peninsula. It's both secluded and luxurious, which makes it a top choice for families or larger groups aiming to de-stress.

Overview
The accommodations have a tropical feel, with brightly-colored interiors and ocean views. The Rosewood Le Guanahani has two pools, a fitness center, and a spa and wellness facility. For dining, head to the Beach House. With the size of its land, and a beach that's essentially a private and full-service spa, Rosewood is the St. Barths hotel that's a full-on resort experience. 
Eden Rock — St Barths
The Vibe
Eden Rock — St Barths, maybe the most glamorous hotel on St. Barths, is where you'll find top celebrities and the best people-watching. But it doesn't feel pretentious; the team at Eden Rock — St Barths welcomes everyone with the same warm hospitality. Over the years, the hotel has welcomed the likes of Greta Garbo, Howard Hughes, Princess Lee Radziwill, and Leonardo DiCaprio. It is the place to see and be seen.

Overview
Eden Rock — St Barths has a prime location in the St. Jean Bay that means guests have access to the beaches and the harbor. At the harbor, it has a selection of yachts for rent. Then, of course, there's its location, within walking distance to Nikki Beach, where we know you have your favorite table to dance on.
Additionally, its close proximity to the nearby village also is great for strolling by the shops, boutiques, and restaurants. Eden Rock — St Barths' own restaurants are run by none other than renowned chef Jean-Georges Vongerichten. His cooking is enough of a reason to book this resort. We have three words: crispy rice sushi. Though it's on his menus around the world, this dish tastes extra good on St. Barths. 

Cheval Blanc
The Vibe
Cheval Blanc is the St. Barths hotel that attracts a New York City crowd escaping the cold slushy Big Apple winters. With rooms directly on Flamands Beach, you get views of either the turquoise blue ocean or the tropical gardens.

Overview
Besides indulging in the spa, swimming pools, and yoga programs, you can get a personalized list of activities and excursions. Similarly, the Carte Blanche culinary program is perfect for picnics, island adventures, beachfront barbecues, even breakfast in bed. Of course, you also have a selection of restaurants to visit — La Case by Jean Imbert is a favorite for Caribbean fare. 

Le Toiny
The Vibe
The alums of Eden Rock set out to create a different experience when they re-booted Le Toiny. Set on a remote part of the island, staying at this intimate hotel feels more romantic and secluded. Out of all the St.Barths hotels, this is one of the best options for couples looking to stay away from the scene.

Overview
Le Toiny offers 22 standalone villa suites with one or two bedrooms. Each suite has its own terrace, private pool, and ocean-facing views, giving you the utmost privacy. 
Tucked away on a hidden beach is Le Toiny's Beach Club. It is only accessible by private shuttle and has a bar, boutique, and swimming pool.

Le Tropical
The Vibe
A younger crowd is often found at this stylish boutique hotel in the heart of St. Jean Bay. It has a unique atmosphere, because it hosts events like fashion shows, art exhibitions, live music, and DJ sets. Like Eden Rock, it is also within a stone's throw of Nikki Beach. In fact, Nikki Beach is actually the beach for Le Tropical.
Overview
Le Tropical's layout and decor are inspired by both the French Riviera and 1950s Palm Springs. There are 23 rooms and suites with panoramic views of the island. The swimming pool, located in the midst of the lush tropical garden, is the place to be. Le Tropical is pet-friendly. For guests traveling with kids, there are nannies and babysitters available on request. 
You know the food here is good, because behind Le Tropical is the team at Bonito, a long-time St. Barths favorite. At Le Tropical, Romi, the hotel's main restaurant, features Indonesian cuisine.  Expect a variety of tapas, satays, and tropical cocktails; this make the restaurant a recommended destination even if you're not staying at the hotel. 

Le Barthélemy 
The Vibe
Le Barthélemy is a one of St. Barths' best values. It's less sceney and more low key — optimal for a laidback, authentic St. Barths experience. The staff make you feel at home, and you'll feel as if you've finally found your own private oasis.
Overview
There are 44 rooms and suites, with notable features like drop-down screens that transform the individual terraces into private nooks. Le Barthélemy is family-friendly and has 16 rooms that can be connected. In addition, the hotel provides baby beds and changing stations upon request. Chef Vincent Gomis and his wife, sous-chef Marie Cécile Gomis-Alexandre, run Amis St. Barths, the on-premise restaurant. They serve gourmet French and Mediterranean fare in addition to hosting wine tastings and cooking classes. 

Hôtel Barrière Le Carl Gustaf
The Vibe
Hôtel Barrière Le Carl Gustaf sits on a hill overlooking the island. It is close to the heart of downtown and has more of a city vibe than a beachfront resort one. This option is for those looking to hit the town and visit cultural sites versus lying on the beach.

Overview
There are 21 rooms, suites, and bungalows spread across the colonial property. Le Fouquet's is a French brasserie, open from breakfast to dinner in an elegant old colonial villa. Shellona is the second restaurant and beach club, located on Shell Beach. There you can find chef Yiannis Kioroglou serving Greek and Mediterranean fare. In addition to the spa, fitness center, and yoga studio, the hotel provides free e-bikes to explore the city. 
Related Articles
The Guide to St.Barths
St.Barths is Always a Good Idea
The Rosewood St.Barths Arrives
The Top Restaurant Guide
St. Barths is a French territory, so you know the food is going to be good. But it's actually more than good; it's the best food in the Caribbean. Restaurants bring their A-Game. The tabs are not for the faint of heart, but alas you're on vacation. This is the list of the best restaurants in St. Barths.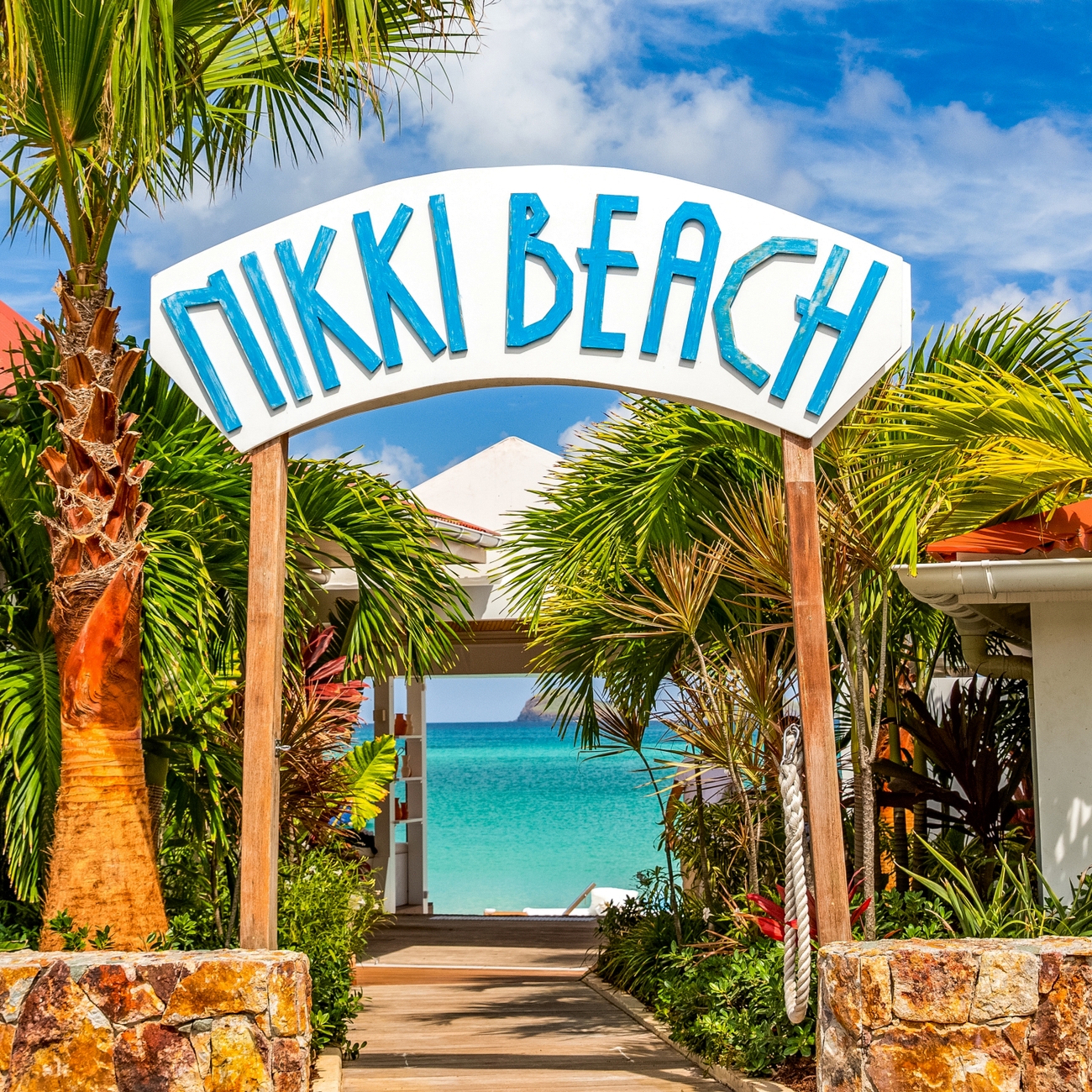 Nikki Beach
One of the most popular beach clubs on the island.
Nao Beach
Includes a restaurant, sun beds, and DJ sets.
Gypsea Beach
A bohemian beach club that specializes and BBQ and rum cocktails.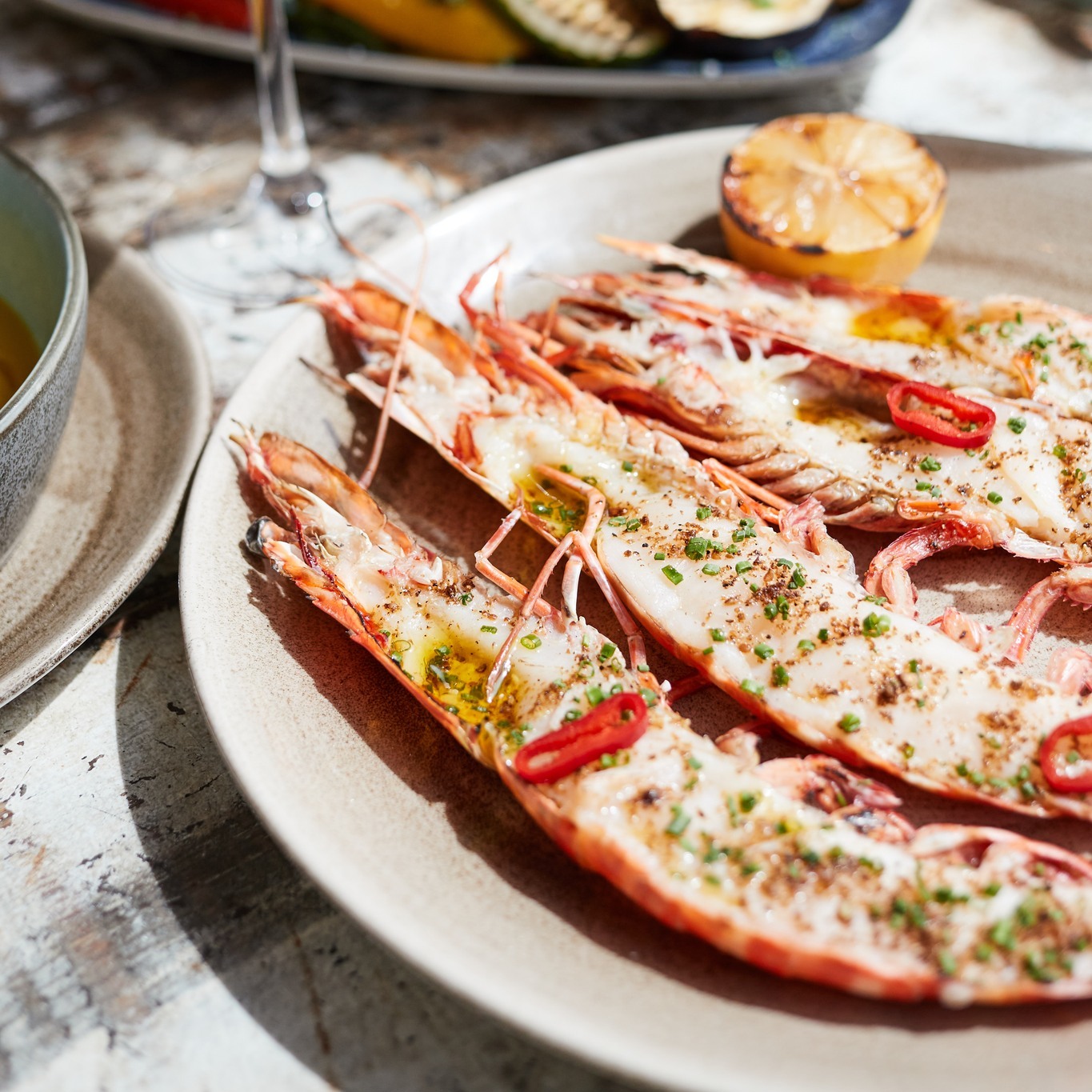 Shellona Beach Club
A beach club and greek restaurant with a Mediterranean vibe.
Le Rivage
A beach club serving Italian cuisine with the best pastas and pizzas.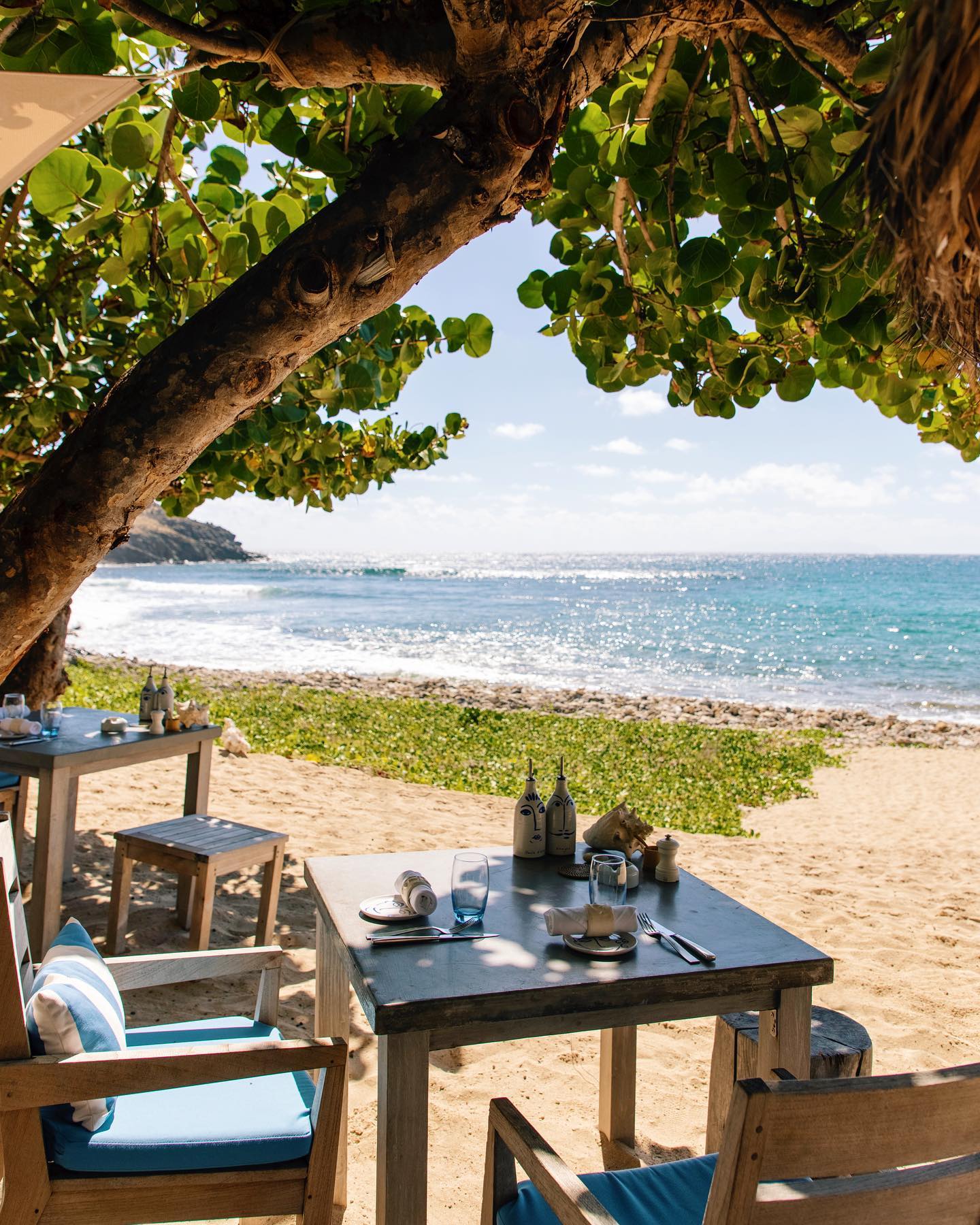 Le Toiny
Le Toiny's beach clubs serving seafood and salads on the sand.
La Cabane
Cheval Blanc's beach club.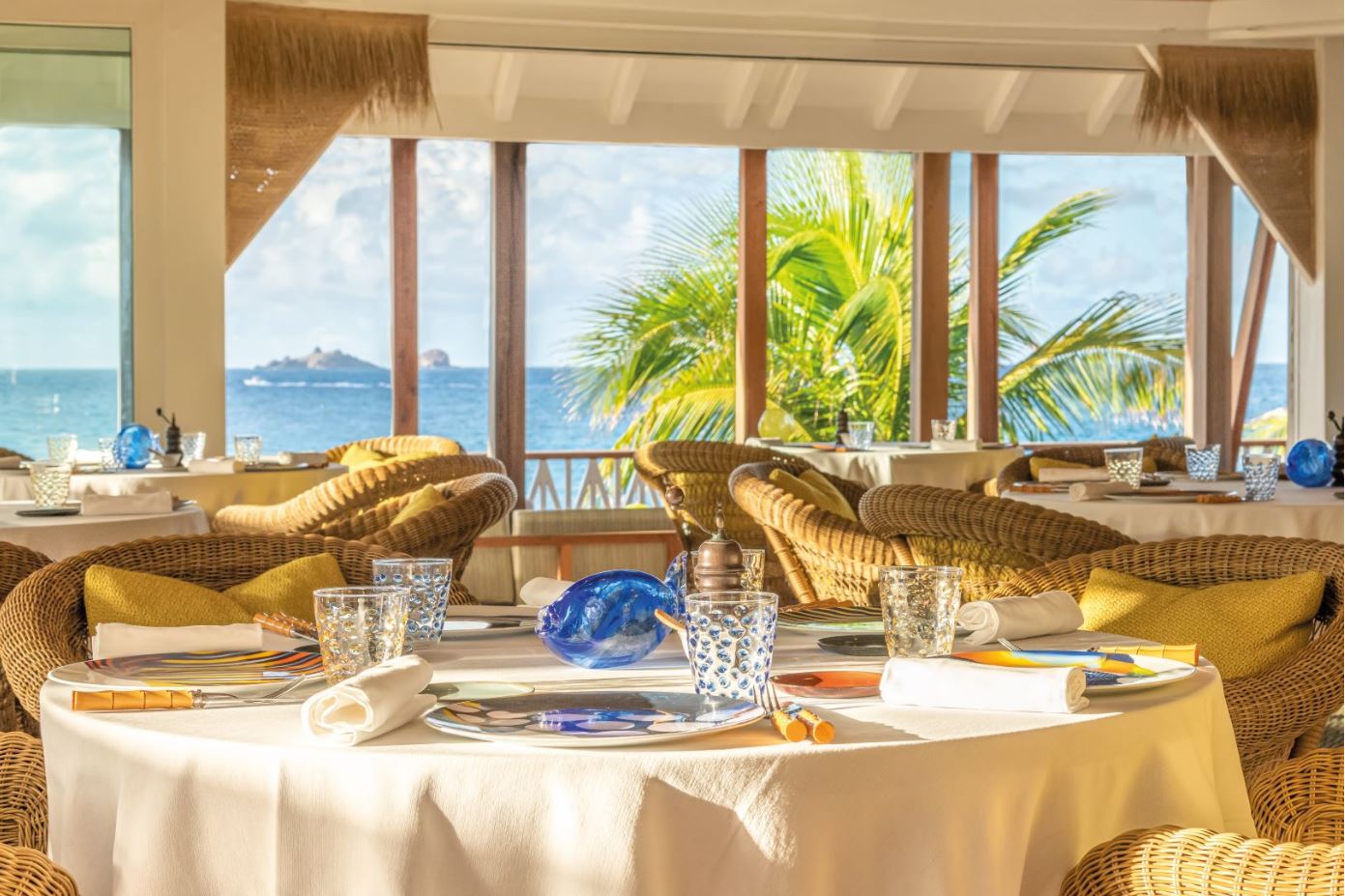 La Case
A great lunch spot in Cheval Blanc.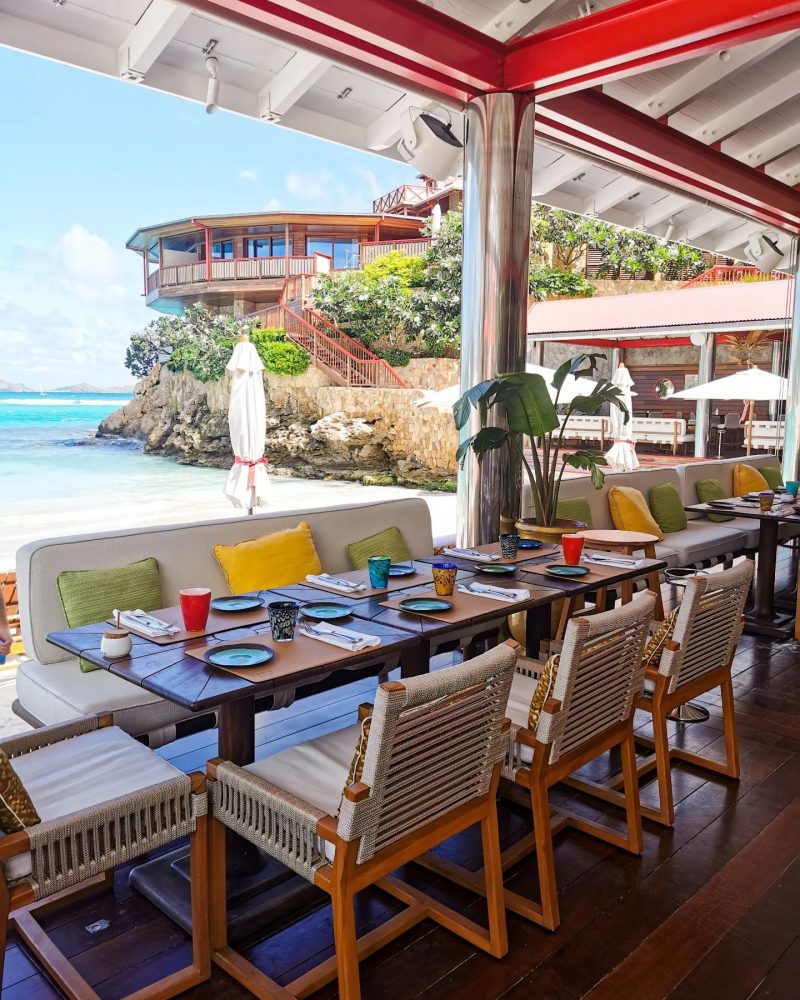 Eden Rock's Sand Bar
Sand Bar
The main laid back restaurant of Eden Rock.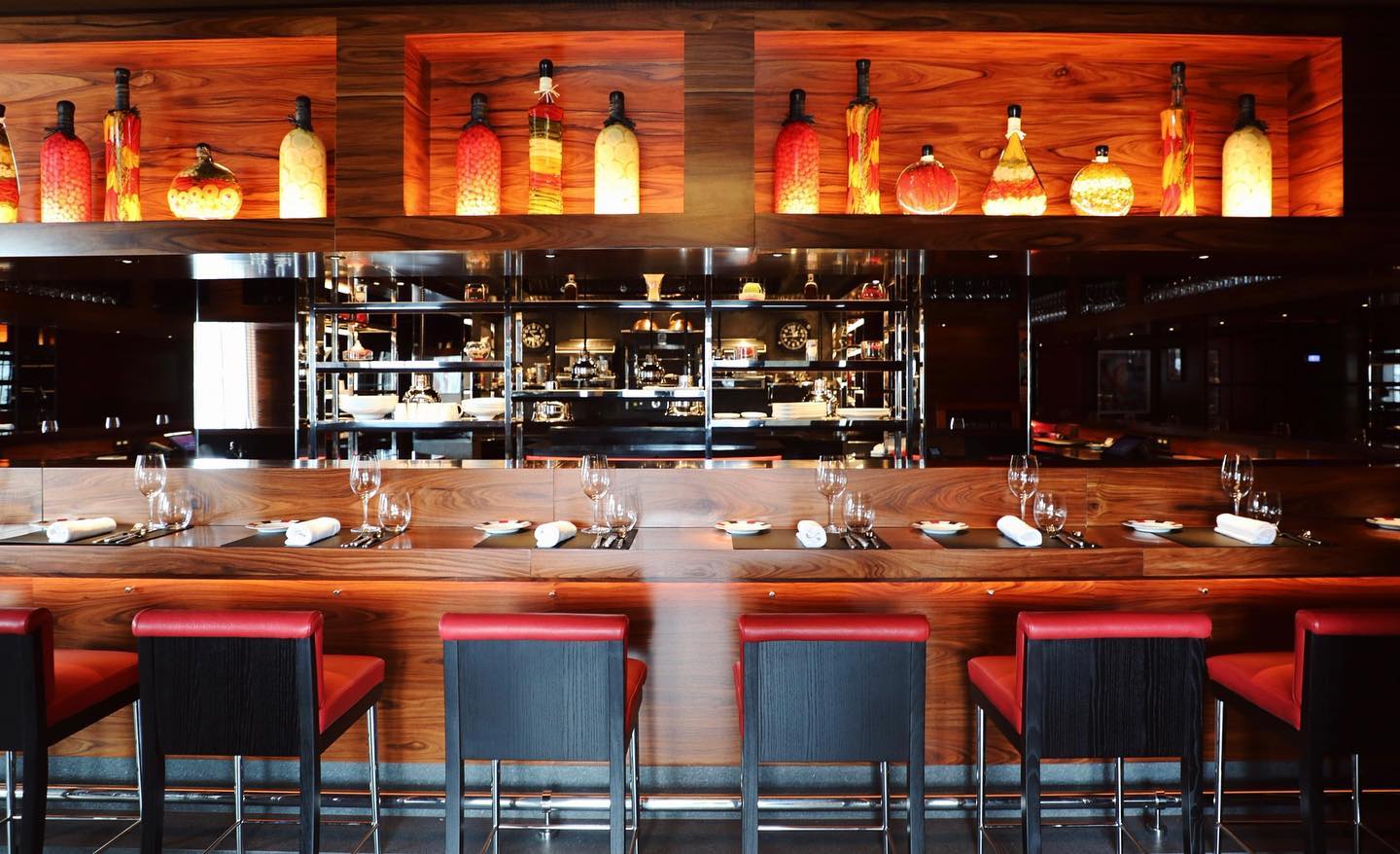 Atelier Joël Robuchon
Famous French Restaurant with outposts around the world.