No matter how much you travel, or the funds you have in the coffers, there's still excitement when you check into a hotel and there's something extra. In this case, these are the hotels that go above and beyond on their hotel toiletries. In fact, they're so good, that at least in one case you may head to the Monoprix to buy a suitcase to your swag home. These are the hotels with the best toiletries, that are (almost) a reason in themselves to stay at the hotel.

The Hotel: Cheval Blanc Paris
The Toiletries: Cheval Blanc Paris Private Label

Overview
The hotel-branded products have been designed by master perfumer, Francois Demachy, formerly of Dior. You may not know this man by name but you know him by scent. As far as hotels with the best toiletries, Cheval Blanc may get the gold medial. Visiting Cheval Blanc is kind of like going on an extended beauty and skincare shopping spree. Of course, there's also the suite named L'apartment with 7 bedrooms and the private 41-ft swimming pool, so a stay at Cheval Blanc has other large perks. Large really is the name of the game here, as all the toiletries come in full sized bottles shaped like the hotel. For those who carry-on their bags, plan to buy an extra suitcase to take home these products that you can only get as a guest of Cheval Blanc Paris.

The Hotel: Kempinski Summerland, Beirut
The Toiletries: Salvatore Ferragamo

Overview
A lot of times you don't want to smell like your hotel products, but the Salvatore Ferragamo line made for the Kempinski Summerland in Beirut are an exception. The Kempiski brand Convivio scent is woody, with lighter notes of bergamot, grapefruit, carrot seeds and jasmine, to name a few. Kempinski is known for their European elegance, and their toiletries carry the theme with Ferragamo's quiet luxury.We love when a scent works well for masculine and feminine, where the toiletries take on the vibe and chemistry of its wearer.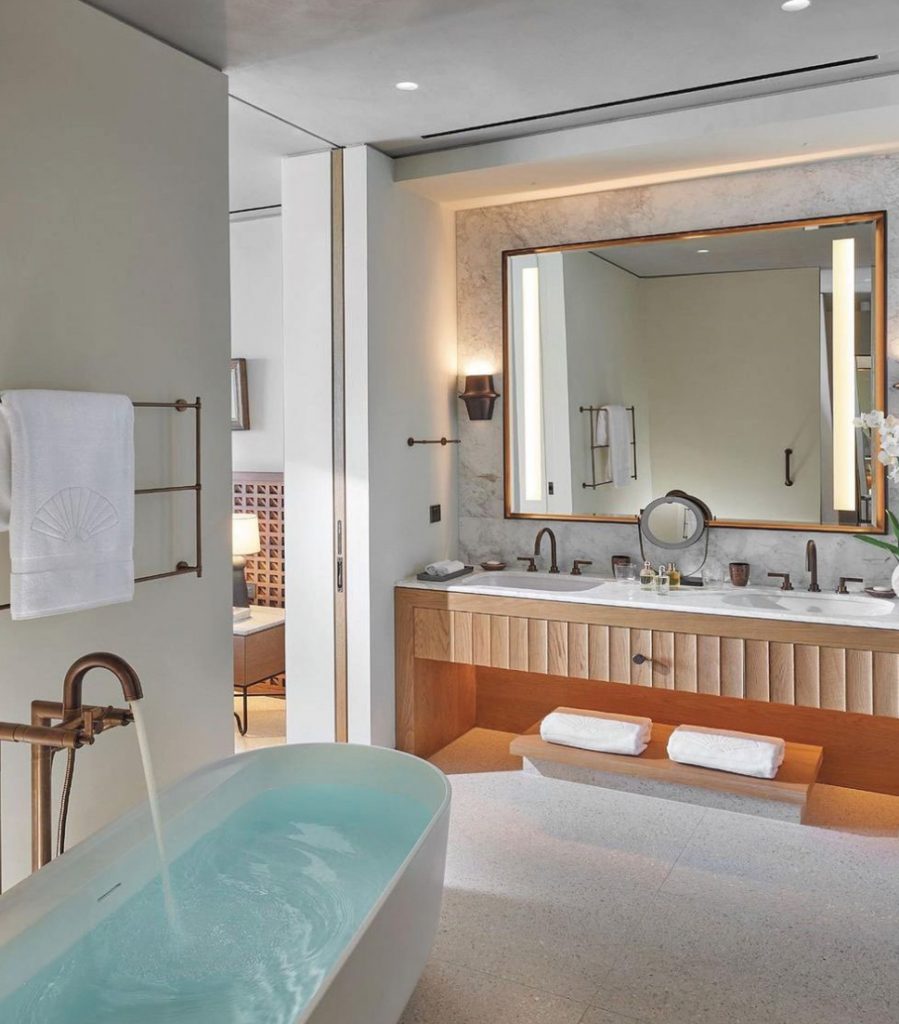 The Hotel: Mandarin Oriental Costa Navarino
The Toiletries: Ortigia + Diptyique

Overview
Diptyque is one of the most luxurious bath products, so naturally you'll find them at the Mandarin Oriental hotels. Nowadays the Mandarin Oriental stocks their bathrooms with full size refillable Diptyque products to lessen the use of single use plastics and promote conservation.But they still give you a little love in the form of travel size lotions and soaps you can take home. The Mandarin Oriental Costa Navarino has bonus toiletries too, from Sicilian brand Ortigia in the Florio scent.  And so you don't miss out on the full experience, MO has a partnership with Diptyque that qualifies Fans of MO members two free candles with any purchase.
The Hotel: Bulgari Paris
The Toiletries: Bulgari

Overview
Long before Bulgari started popping up in cities all around the world, they've had their travel line of toiletries. You can also find the Bulgari products in amenity kits on airlines, including Emirates. With their hotels, they stock you full of all the Bulgari goodies, from shampoo, conditioner, lotion and body wash. The scent comes in either white or green tea, and in a range of small-scale products. They also have beautiful amenity kits in the rooms with wooden brushes, combs, shave kits, and toothbrushes. And yes, you absolutely should take all of them home with you when you leave.

The Hotel: Aman Resorts
The Products: Aman Private Label

Overview
Aman started as the most exquisite hotels in the world. As if world domination wasn't enough, they branched out into lifestyle too. This means that Aman now creates everything from bath and body products and a new skincare line. They also have leather goods and bags, yoga gear and ready to wear clothing. In other words, you can have Aman every day, all the time. You won't necessarily have the Aman bath products that they sell in the spa and online in your room. However you can arrange to purchase the full-size for your stay.

The Hotel: Soho House Istanbul
The Products: Cowshed + Soho House Private Label

Overview
Last but not least on the list of the best hotel toiletries in the world, is the OG. Soho House hotels are renowned for their Cowshed products, as they fill your entire room and shower with the chance to try several of each. For example, in your shower are full size refillable products, with at least 3 shampoos, several conditioners, exfoliators, and bath gels. This smorgasbord gives you a chance to sample what products you like best, and order them for home later.
Recently Soho House came out with their own face skincare line. When you stay at the hotel, you get deluxe samples of face wash, moisturizer and other goodies. This is in addition to the travel razors, lip balm, condoms and other essentials that they stock in your room.
Other Articles You'll Like