I know this sounds off-the-wall but my luckiest day of the year for as long as I can remember is May 9th. There is consistently something significant that happens on this day that becomes a windfall for me. May 9th also falls around Mother's Day, and happens to be my mom's birthday as well, because in life, there is no coincidence. So, this year is always a special time of year for me, and the time for all of us to say to our own moms, "Thanks Mom, for all you do".
A Shoutout, To All the Moms Out There
Thank goodness there is Mother's Day, because Moms – you deserve an entire lifetime of thanks, not just a day. I look at my friends and family with children, and I have mad respect and admiration for all moms do for their kids. Today the expectations of parenting are higher than ever, and certainly different from when we grew up. Moms (and Dads too, of course) provide so much opportunity for their kids to find their passions. There's all the dance, sports, violin, language lessons, and pretty much every activity under the sun, so that children have a leg up to succeed in life too. A special shout out for any mom who commits to hockey or ice skating, because that's next level. You essentially give up sleeping in for 18 years once you go down that rabbit hole of 6am ice times every weekend.
Moms keep the house going, help with homework, manage extracurricular activities, play dates, and make the meals, all before 8am. Beyond that, many work full-time, and not to mention, keep things going with the other parent in the house. Quite frankly, I'm exhausted, thinking about all Moms do. I think of the standards that mothers have to meet today, and I'm in awe.
To My Mom
In addition to all the Moms out there, I'd like to take this Mother's Day to especially recognize my Mom. Growing up in a suburb of Chicago, my Mom had to work full-time in order for our family to have a decent house, food on the table and a chance at education and better lives. As an immigrant, she had gone through more than 99.9% of my friends' Moms just to make it to the United States. It didn't stop there as she had to overcome so much more just to fight the grind everyday, working at a county hospital emergency room, in the City of Chicago.
When I grew up, my Mom didn't helicopter over me and set high expectations beyond going to state school. She didn't over schedule me in every activity under the sun. In fact, she just wanted me to sit still and chill out. I honestly don't remember her ever helping me with my homework.
Somehow though, I was always top of my class. I learned French fluently because I wanted to. In my career, I worked at arguably the top firm on Wall Street, and I have an Ivy League degree. I figured out navigating bullies and conflicts on my own, which are life lessons and perspective that gave me invaluable smarts on people.  I know 100%, the latitude I had growing up and the requirement to figure it out on my own, is what has brought me to a pretty kick a** place in life today. We don't end up who we are randomly as adults; our parents have a heavy hand on who we become. Most importantly, I learned by example. My Mom doesn't let the small stuff get her down, and when it does, she buys herself some shoes. It really does help make you feel better.

So, Thanks Mom
So, thank you Mom for always rising to the occasion. You still work every system so that it works out in your favor. Your example of resourcefulness served me quite well in places like Algeria where I talked my way into a 3 day visa, and Belarus when I should have been deported without the right papers, but got a once in a lifetime pass. You've showed me how a little humility and charm goes a long way, along with the determination to never take no, albeit elegantly, for an answer. And lastly, thank you for your witty, sharp and sarcastic humor, and also for your long legs. You passed these traits onto your granddaughter Genevieve too. At 80+ years old, you have barely a wrinkle, and you easily pass for your 60s. We're both pretty blessed to have your genes.

The Top Places to Take Mom
For all this Mother's Day talk, don't say it with flowers. Say it with travel. This month, we have the top places to take Mom on vacation, because we all know she deserves it. The reality is we won't have our Moms forever, and travel requires a certain level of health and mobility. Yes, we can get around a lot, especially when you have the right logistics for Mom in place. I know, because I took my parents to Italy for their 50th Anniversary, and having the full-time driver and amazing guides, made the trip seamless. The point is though, the time is now, to take Mom on that trip of a lifetime. We all know she deserves it.
All the Best,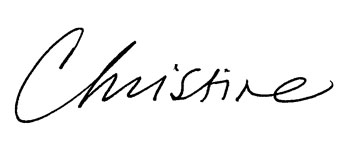 Christine Drinan, Founder
Related Articles
Top Places to Take Mom 
Seven Mother's Day Gifts for Mom 
Mother's Day Brunch in NYC