The holidays make me thankful for the wealth of special, seasonal events and enchanting experiences that present opportunities to savor treasured time with beloved family and friends, enjoy these magical moments, and make lasting memories. Of course, the true meaning of the holidays is not the biggest present or hottest holiday toy under the tree, but my kids aren't convinced otherwise quite yet. As for where to begin to find the hottest holiday toys without all the hoopla? Start here.
LOL Obsessed! Ultimate LOL Splurge: L.O.L. Surprise Winter Disco Chalet Doll House
Parents will love: The ultimate fun of watching the kids' joy in the unboxing and elements of surprise.
The L.O.L. Surprise Winter Disco Chalet includes 95+ Surprises. The wooden, multi-story, chalet-style house with six rooms and three stories has interactive features, like a chimney that snows, a real ice skating rink, a hot tub, a working ski lift, and 15 feet of lights to decorate the house, and furniture.
LOL Amazing Surprise: Follow the numbers to unbox the maze of surprises in an ultimate unboxing experience. Unbox 70+ surprises and 14 exclusive dolls. Includes two fashions store playsets and maze boxes that can be put back together to create a cityscape for your city kid.
Price: $216.99
Empowering Games for Girls: Who's She Game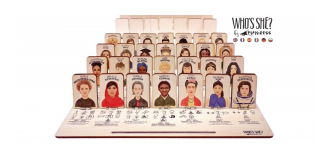 Parents will love: The games touting girl power and women's accomplishments with the message that girls can (and will) change the world.
WHO'S SHE? is a two-player tabletop game about courageous women who changed the world.Clever icons printed on the board give you a quick summary of their life stories.Who's She features women who had the courage to be different and take risks. Guess their identity by asking about their accomplishments, not their appearance, with questions like: Did she win a Nobel Prize? Did she make a discovery?
Price: $83.49 for wooden game
Animated Tech Toys: Juno My Baby Elephant    
Parents will love: The innovation and excitement of these new, interactive tech toys.
This animated baby elephant is super cute, with an animated trunk that allows Juno to kiss, pick things up, make adorable trumpet sounds, and even perform special trunk tricks. Give Juno her peanut and toy mouse accessories, as she interacts and plays with them.
Price: $99.99
Move To The Music: Jooki      
Parents will love: The magic of music and story time coming to life in new and wonderful ways.
Jooki is a smart, portable screen-free, high-quality music player that enables the magic of music to be shared with the entire family, including the youngest ones. Designed to be kid-proof, it's strong and safe, and contains smart parental controls. Instead of using a screen, kids use characters in the form of figurines to choose what music is played — enabling Jooki to reduce screen time for the kids while they enjoy their music and stories.
Price: $149.99
American Girl: American Girl Gift Trunk        
Parents will love: The classic dolls new spin and savvy on guiding and delighting today's girls.
American Girl introduces a brand-new, ultimate gift box experience—a custom curated doll collection filled with just-right items to fuel a girl's imagination and aspirations, along with a personalized, heartfelt letter for her from the gift-giver. Gift trunks come with nearly 50 doll options and two hand-picked play packs that include a story starter, plus an outfit and accessory that let girls play out the ending. The gift trunk also includes an introductory paperback book, ear piercing option for her doll, first year wellness visit for her doll at the American Girl Doll Hospital, AG Rewards™ bonus $10 reward, and free shipping. Plus, it all arrives in a beautifully-designed, signature berry keepsake box meant to store everything, so it lasts for a lifetime.
Price: Starting at $247
Puzzle Solvers: Lego Hidden Side Newbury Haunted High School          
Parents will love: Kids can build, play, rebuild, and have a scary good time with or without the AR app.
LEGO® Hidden Side is a creative building toy, tech toy and AR game all rolled into one. Kids can build a multi-layered model, then use a free interactive Augmented Reality app to hunt and trap ghosts. With 8 different sets and frequent updates, it's the bridge between physical and virtual play you've been looking for. With LEGO Hidden Side™, kids get the benefits of traditional hands-on, minds-on LEGO play, while experimenting with the exciting possibilities of technology.
Price: $129.99
Favorite TV Cartoon Characters: PAW Patrol Mighty Lookout Tower            
Parents will love: The pretend play, team work, and problem solving inspired by little ones' favorite small screen characters.
Standing at an impressive 2 and ¾-feet tall, this action-packed tower is the ultimate PAW Patrol headquarters. Place mighty Chase into the working elevator – as it lifts, sounds are activated and a badge and megaphone pop out on the side of the tower. At the top of the Mighty Lookout Tower there's room for all six of the Mighty Pups on the platform. Place each superhero pup on the spot that lights up with their uniform color. When trouble is spotted, push the buttons on the mission control panel to activate real lights and sounds, and hear Ryder give the pups a mission: the platform lights will blink, choosing the right pup for the job. Attach one of the included clips onto Chase and send him soaring around the tower, through the badge and down the mighty zip line. Open the trap door at the bottom of the Mighty Tower to drop Chase into his Mighty Vehicle (included) and push the lever to launch him straight into action.
Price: $99.99
Disney Frozen Ultimate Arendelle Castle Playset Inspired by the Frozen 2 Movie             
Parents will love: The endless imaginative, pretend play inspired by the new hit movie.
Inspired by Disney's Frozen 2, the Ultimate Arendelle Castle is a feature-filled fashion doll playset for young fans of the movies. Open the gorgeous gates and explore the castle's 4 floors consisting of 7 rooms. The Frozen castle is 5 feet tall and 4 feet wide and includes 14 accessories to fill it up, such as a piano, throne, banquet table, vanity, sofa, and more to play out fun scenes in each room. When kids push the button on the moving balcony, they can see a colorful light show inspired by the Northern Lights!
Price: $199.99
Crash Course: Hot Wheels Colossal Crash                
Parents will love: The show-stopping action and adventure for boys
New for 2019, the biggest boosted set Hot Wheels® has ever made, this track's layout is over 5 feet wide. It's packed with speed and boosted action to get your cars crashing and smashing. Double figure-eight design offers multi-player fun, lets you race lots of cars at once, and ups the potential crash factor. Use the levers to control the action. You can send your cars zooming through the crash zone on the ground or into the air for spectacular aerial crashes. Set folds up in a couple easy steps for easy storage. It's hours of competitive fun for Hot Wheels® lovers.
Price: $99.99
Sensational STEAM: Little Bits Music Inventor Kit                  
Parents will love: The fun of inventing, creating, and building using STEAM skills.
Build and customize your own rockin' guitar using littleBits electronic building blocks. You can also customize your own electronic musical instrument. Six templates and 12 activities are available with the free littleBits Invent App, as well as hundreds of community inventions for limitless opportunities to learn through play.
Price: $99.99