With our beloved Caribbean island growing stronger every day after the impacts of Hurricane Irma in 2017, the day has finally come that some of our favorite St. Barths properties are opening back up again. With that in mind, along with the holidays quickly approaching, it's time for us to outline our top St Barths hotel destinations for the family.
Le Guanahani
Le Guanahani originally opened in 1986, and has since established itself as one of the St. Barths havens of luxury and comfort. A destination for both active travelers to engage in adventure activities (of which most are child-friendly), as well as for those who simply  seek to enjoy the tranquility of the Caribbean Sea, Le Guanahani is equipped for it all. The newly-added Spa My Blend by Clarins is only one of many brand-new additions to what was already a pretty perfect family destination.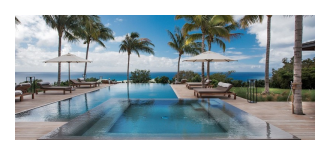 Eden Rock Villas
Eden Rock Villas combines the best of both worlds: you get Eden Rock hotel and room service, but you also have the entire home available to just your family. Any of their 143 villas interspersed throughout the island are going to be one-of-a-kind because anything Eden Rock touches turns to luxury service and staff. The villas come in three possible categories, all with 24-hour concierge services, and many with private butlers and personal chefs. Each villa has its own personality, and not one is more than 15 minutes away from the beautiful St Jean Bay of Eden Rock.  
This place is a cross between Parisian glamour and all the perks of a beautiful Caribbean getaway. Better yet, they're the official hosts of the St. Barth Gourmet Festival this year – and that's saying a lot. The French cosmetics brand Sisley behind the luxury hotel spa, the island's largest infinity pool, and the fitness center that overlooks the ocean are all the backdrop to the forty-two unique rooms. As for children, besides the ample beach and poolside activities (the pool has a shallow end), the restaurants come equipped with children menus, and all children under the age of four stay with their parents for free.   
Le Barthelemy Hotel and Spa
Because this hotel is on the smaller side, Le Barthelemy is a luxury homey experience. Sandwiched between a beach and a lagoon, the location alone is worth the trip. On-site, it's snorkeling, rowing, canoeing, fitness classes, scuba diving, waterskiing, windsurfing – you get the idea. In other words, if you can picture the waterside activity, it can be arranged. Besides the renowned Aux Amis gourmet main French restaurant, the hotel also features a rooftop bar, beach-service, a Coffee Corner, and the main bar. There's really something for all ages.
Related Article