What happens when you combine Japan and Greece? You get the new Nobu Santorini, which brings modern design to a classic destination. With 25 suites that all have views of the caldera and the Aegean Sea, Nobu is a serene white oasis. It may just be the best property in the Nobu portfolio. Here's the first look.

The Details:
Located 20 minutes from the Santorini airport, the 26th Nobu hotel, Nobu Santorini, will be another over-the-top, luxurious addition to the collection. Whitewashed to match the surrounding Santorini architecture, the property is set on 32 acres of Aegean coast. Inside, however, 246 rooms with five pool suites are sleek and chic to fit in with the the minimalist Nobu brand.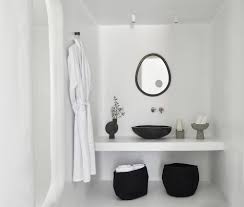 Of course, the Nobu Santorini property will feature a Nobu restaurant. The new Nobu is the first in the country, and the first sea-facing Nobu dining experience. Chef Nobuyuki Matsuhisa's most popular dishes get space on the menu; however, head chef Ricardo Marin is set to include global favorites as well as unique Grecian dishes that will be specific to Nobu Santorini.
A Nobu spa and fitness center has just been added, as well as a dual-level infinity pool. Jet-setters familiar with the Nobu lifestyle will find comfort in the brand's characteristic wellness retreat vibes, from the spa to the cushy white daybeds. But the Santorini hotel will also be abuzz with entertainment and activities designed to draw day-cation visitors. Located along the famous hiking trail that runs between Oia and Fira, the hotel spot promises to be a relaxing stop for active travelers.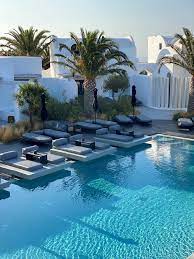 The Fine Print
While Robert De Niro's brand is known for creating decadent, Kardashian-endorsed experiences, Nobu Santorini intends to cater to travelers looking to experience Greece the way it should be done. The restaurant is highlighted as a standalone experience, and guests can spend the day at the pool.
We're excited to see how the impeccably maintained hotel performs against Santorini's competitive luxury-hospitality industry. Travelers are itching to ditch their COVID hideouts, and  Nobu should be an exciting destination.
FAQs
Q: Does the hotel offer in-room dining options? 
A: Yes, if guests want to spend their evening relaxing in their room, they can order their favorite Nobu dishes to enjoy from the comfort of their hotel bed.
Q: How far is the hotel from nearby airports? 
A: The Nobu Hotel is approximately 9.5 km (5.9 miles), or 15 minutes driving distance, from the Santorini Airport (JTR). From Athens Airport (ATH), the flight time to Santorini is approximately 35 minutes.
Q: When are the check-in and check-out times at Nobu Hotel Santorini? 
A: Check-in is at 3p.m., and check-out is at 11a.m.
Nobu Santorini Information
Address: 84700 Imerovigli, Imerovigli 847 00, Greece
Phone number:   +30 694 622 2772
Map: