One of the most underrated cities, both during the summer and year-round, is Vienna. And now there's another reason to visit the Imperial City. The Rosewood Vienna is opening its doors, and it's gunning hard to be the top hotel in town. Here's the preview of one of the best places to travel this summer.
Opening August 2022
This August 1, on the Petersplatz in old Vienna, the fifth European hotel in the Rosewood collection is set to open. The new place introduces two new restaurants, as well as a Rosewood spa and event space for up to 120 people. All the 99 rooms and 27 suites are unique in design.
A Throwback to the Belle Époque
Located in a historic 19th-century building, the Rosewood Vienna combines traditional Austrian design with European Belle Époque. Though the architects have preserved much of the historic charm, the top floor is transformed with a modern, light-filled dining room and brasserie. The private dining room and event space are equally windowed, setting the interiors against a dramatic backdrop of old Vienna. The views get better as guests make their way to the rooftop bar. It's clear that this will be a spot for cocktails amidst a rich, secluded vibe.
The brasserie will also feature a garden oasis and terrace. Inside, there's a new "show kitchen" that will offer a more casual atmosphere than the dining room. These carefully designed rooms will provide the detail that Rosewood hotels are known for.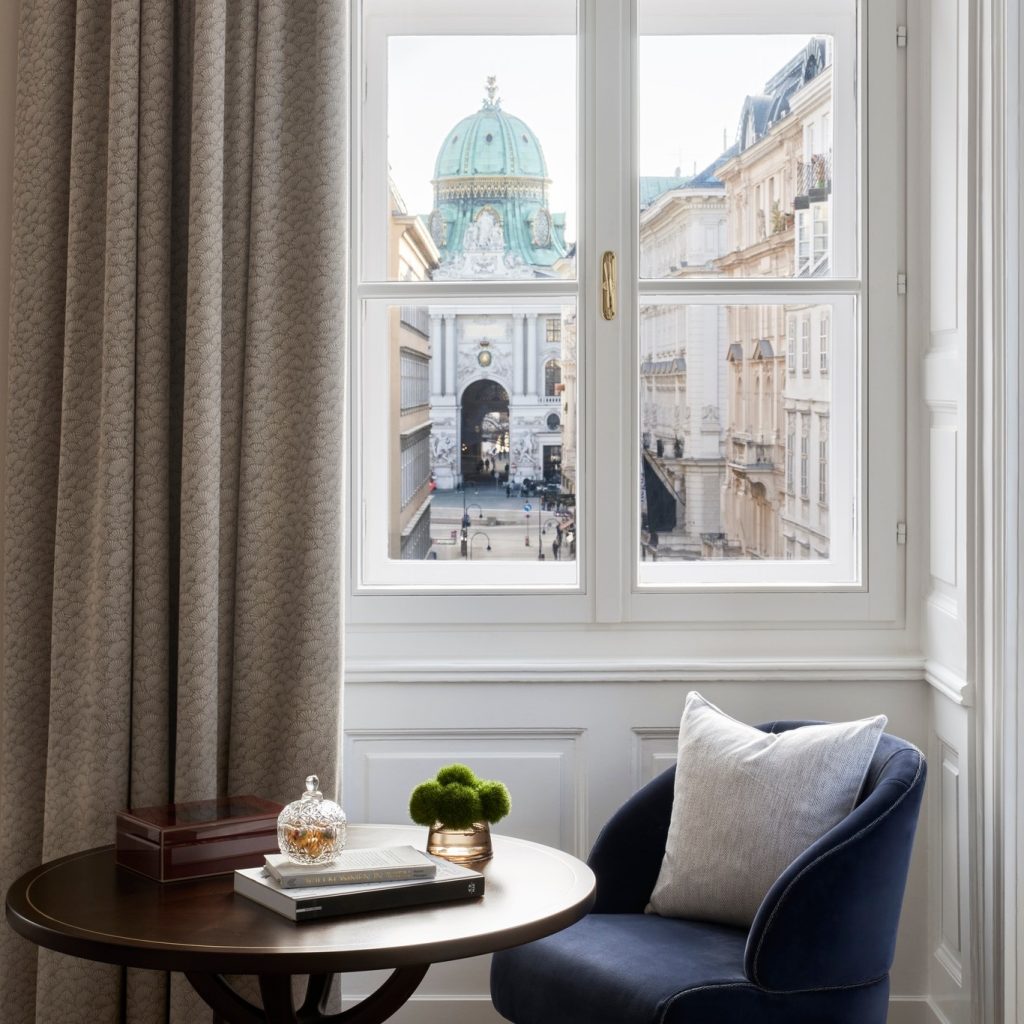 The Spa
The Rosewood Asaya spa features five treatment rooms and a state-of-the-art gym and hair salon. The addition of a social suite will elevate the experience for couples or friends looking to share a facial and a massage. Rosewood treatments are regarded as top-notch at all their locations, and the Vienna hotel is unlikely to deviate from that standard.
A Presidential Suite Fit for an Emperor
The main attraction, however, is the 1,800-square-foot Presidential Suite, which offers excellent views. The suite has several rooms, each decorated differently. The kitchen, dining room, and entertainment room make this a difficult place to leave.
Overall, the new hotel is set to embody Viennese charm. Visitors who choose Austria for its rich history, good food, and beautiful architecture should consider the new Rosewood as a stylish home away from home.
FAQs
Q: How many dining options does the Rosewood Vienna have? 
A: There are four on-site dining options. Guests can eat and drink at Neue Hoheit Brasserie, Neue Hoheit Bar, Garden Room, and Salon Aurelie.
Q: Is there Wi-Fi? 
A: Yes, the hotel has high-speed internet access.
Q: Does the hotel have a contact for reservations?
A: Yes, reach out via [email protected]
Rosewood Vienna Information
Address: Peterspl. 7, 1010 Wien, Austria
Phone number:  +43 1 7999888
Map: