For those who have not blown their entire vacation days already, Mykonos is prime this Labor Day through the beginning of October. And a new hotel just arrived in one of the most remote, untouched parts of the island. Welcome to Cali Mykonos, who call themselves the "authentic" Mykonos. This family run hotel wants to expand your horizons from the usual party scene.

The Details:
You know that Mykonos brings the party, which is always a good time. However, at its core, locals will tell you that dancing on tables at beach clubs is not the real Mykonos. So now there's a new hotel, that wants to introduce you to the whole other side, figuratively and literally. Cali Mykonos is a boutique hotel in the tranquil coastal village of Kalafatis. While there are nice hotels on island, this one brings a new take on luxury. First, it's  family-owned, so the service has that extra special care.
Second, its location is away from the party scene at spots like Nammos. (But don't worry, it's still only 20 minutes by car away). Their location means more experiences with locals, sweeping views of the Aegean Sea, and their own private beach. We know Cali Mykonos just opened, but early reports are there's a special authenticity and relaxation that distinguishes Cali from the rest of the pack.

Rooms:
Cali Mykonos has 40 luxury suites and villas up five bedrooms, which makes it optimal for families. Each room comes with its own private heated saltwater pool, which gets lots of use in the hot summer heat. If you're looking to celebrate something big, (or just roll with large entourage) book the three-level, 2,150-square-foot Cali Villa. The Cali Villa includes five bedrooms (each with its own private pool), and wraparound terraces for guests to soak up the sun and salt air.

Food and Drink:
Greece's first Michelin-star chef, Lefteris Lazarou, is the mastermind behind the Mediterranean and traditional Greek restaurant at Cali Mykonos. It's his first and only project on isle, and he's in it to bring a new standard of dining to Mykonos. As you would expect, the ingredients are all locally sourced, and the daily produce comes from an on-site garden. The menu trends high on seafood, but don't worry, they also have traditional lamb.
In addition, Cali Mykonos has an outdoor sushi bar, which offers light fare and cocktails. With its direct views of the Med, it's the place to see and be seen at sunset, which is reflected in the 140-foot saltwater infinity pool.

Boats and Cars:
The location of Cali Mykonos is one of its selling points, in this remote part of the island. But they know that you're going to want to get around the isle, and anyone who's been to Mykonos knows that transport is slim to none. There are just a handful of taxis on the island, absent another option. Therefore, Cali Mykonos's solution is the Cali Fleet. The Cali Fleet is a private luxury-boat service that brings you to neighboring islands in the Cyclades. You can also charter private yachts and helicopters to other areas of Mykonos. For a more traditional way to explore, you have luxury cars with drivers for the 20-minute drive across the island to the main town.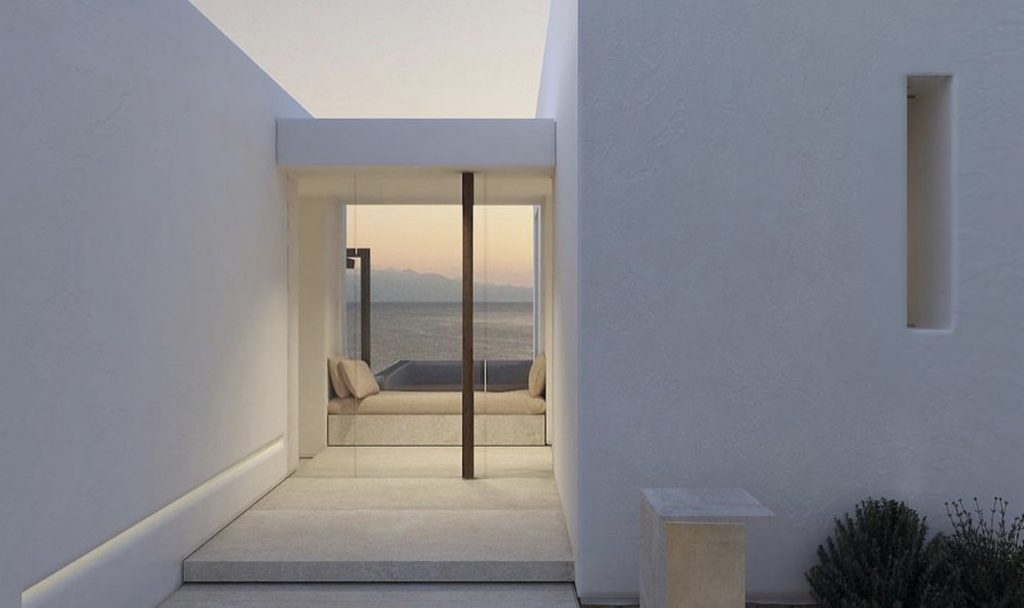 Wellness Amenities:
Don't forget your Lulus. Cali Mykonos has partnered with Athlesis, a popular fitness studio based in Athens. Athletes provides classes in its Pilates studio and gym, and also hosts morning yoga by the pool. Additionally, you can customize classes for group or private sessions in the gym, at the pool, or on your room's terrace.

Related Articles
The Mykonos List
A New Hotel in Mykonos 
The Best Restaurants in Mykonos

FAQs
Q: How close is Cali Mykonos to the beach?
A: Just steps. Cali Mykonos is right on the water and has its own private beach.
Q: When did Cali Mykonos Open?
A: After six years of planning, the resort opened its doors in July of 2022.
Q: How do you get to Cali Mykonos?
A: Mykonos airport is only a 15-minute drive from the resort.
Cali Mykonos Information: 
Address: Kalafati
846 00, Mykonos, Cyclades, Greece