There are some indelible outcomes of the pandemic, and Stretch Pizza is one of them. Some people got into the sourdough craze, but famed Chef Wylie Dufresne became obsessed with pizza. Yes, he's the guy from acclaimed wd-50 who made food that combusted, smoked and pretty much entertained you throughout the meal. He brought it down to basics though and became obsessed with dough. As we came out of lockdowns, he opened up a popup in Breads Bakery near Union Square. Now, there's a more permanent spot to get his buzzed about pizzas as well as a full menu of elevated comfort food. This is the review.
Atmosphere
Everything about Stretch is a slightly elevated version of the classic pizza parlor. By slightly this means that Stretch is clearly a casual restaurant, but there's a higher level of quality from start to finish in the experience. You are in a pizza joint though, so Stretch doesn't pretend like it's something it's not. The premium that they charge at Stretch naturally means the crowd is above average attractive, and there is a buzz that you know it's not just a random slice joint.

Food + Beverage
When a place is hyped up so much, like the original Stretch Pizza popup in Breads, it's easy to be disappointed. It's not like I didn't think the pizza was very good when they were at Breads, but many reviews postured like it was the second coming. At the permanent location of Stretch, my position stays the same. It's good, creative and interesting pizza, and I would return. However it's not the best slice you'll ever have in your entire life. Combinations like the Kernel which has corn, cojita cheese and cilantro, and an elevated mushroom with pumpernickel and muenster make you think. The couch potato with sour cream, bacon, potatoes and scallion is one of the signature pizzas since the beginning.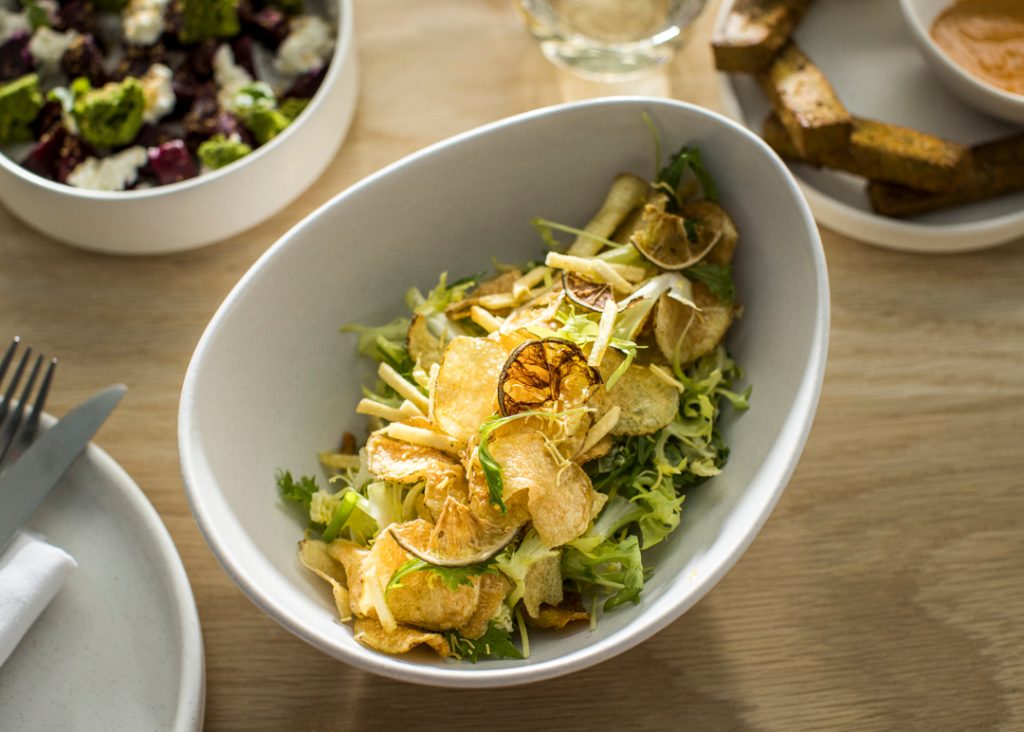 I will say that while the pizza is interesting, the appetizers sound more interesting than they really are. I'll go a step further and say that they have som much potential, but just miss the mark. The potato chip salad is essentially potato chips and lettuce. This dish could really make its mark if there were herbs, (which were non-existent but apparently should have been there) homemade ridged chips, a buttermilk dressing and a squeeze of lemon. Currently there are some dehydrated limes but they just don't add enough to the salad though they look cool. Same with the chickpea fries, which could use a zippier sauce and something to lighten up the dish overall. Hopefully they'll continue to improve the menu.
One of the notable aspects of Stretch that differentiates it from any of the top pizza places in NYC is that is has a full menu of cocktails. Often you miss out on the beverage aspect when you go out for pizza, but in this department Stretch delivers on execution. They also have soft serve for dessert, which is worth an order to round out your meal.

Service
Like the overall theme of a slightly next-level pizza place, the service is above average too. It helps that the team is into it. Servers are passionate about the food, and they're able to lead you through decisions on the menu with their knowledge base. As you would expect too from a Wylie Dufresne operation, Stretch Pizza runs like a well-oiled machine.
Overall: A solid 6.8/10 experience.
Stretch doesn't make our best pizza list, but if you're in the area a good option for a casual bite.
Other Articles You'll Like
Best Pizza in NYC
Stanley Tucci's Italy 
Greywind NYC
FAQs
Q: What are the hours of operation of Stretch Pizza?
A: Stretch Pizza's hours are as follows:
| | |
| --- | --- |
| Sunday | Closed |
| Monday | Closed |
| Tuesday | 11:30 AM–10 PM |
| Wednesday | 11:30 AM–10 PM |
| Thursday | 11:30 AM–11 PM |
| Friday | 11:30 AM–11 PM |
| Saturday | 11:30 AM–11 PM |
Q: Does Stretch Pizza serve more than pizza?
A: Stretch Pizza serves a full menu of casual appetizers, pizzas and desserts.
Q: Is Stretch Pizza good for families?
A: Stretch Pizza is a good pizza place for families, providing your children like more than plain pizzas. Stretch creates pizzas that have creative and unique toppings. They do have a basic cheese and red sauce but it's all elevated from your standard slice shop, so it depends on how picky your kids are.