We have to break it to you, but you may be missing out this holiday season if you're thinking the usual suspects from Christmas to New Year's at this point. Yes, we know how much you love you some Mustique, St. Barths, and Aspen. We have mad love for those spots, too. However, when one villa door closes, another one opens. We have eight places you may not have thought of for the holidays — from Dominica to Mauritius, and destinations in between. This is where to go for the holidays, and it's going to be your best celebration yet.

Location: Dominica
Where to Stay: Secret Bay
No matter where you call home, unspoiled Dominica is where to go for the holidays if you're into beautiful destinations. The premise of Dominica is the untouched and authentic off-grid Caribbean, so you'll want to stay at a place that embodies the essence of the island's undeveloped and protected land. That place is Secret Bay.
The secluded, five-star Relais & Châteaux property consists of all villas, of which eight are strategically scattered around the island. Each has its own plunge pool, as well as dedicated hosts, chefs, and guides. You also have access to a secret beach, hence the name of the resort. You get all this guilt-free because Secret Bay is completely sustainable and dedicated to maintaining its surroundings in the same way they were discovered. It's so sustainable it's Leonardo DiCaprio approved, as one of the famous guests who has stayed at the hotel. 
If you decide to step out of your seclusion for a bit, which we highly suggest, you can hike the rainforest and explore the lush vegetation of the island. By sea, you can experience some of the best diving in the Caribbean and whale-watch. When you're through with your activities for the day, Secret Bay's open-air restaurant, Zing Zing elevates local cuisine. 

Location: Mauritius
Where to Stay: Four Seasons
Some islands give you luxury. Some give you culture. Mauritius is the place, where you get it all. The subtropical island off the southeastern coast of Africa has perfect temperatures, pristine beaches, sapphire lagoons, and the luxury Four Seasons Resort. This December is a prime time to visit, and even better that Mauritius is a perfect last minute destination that won't fully break the bank. So yes, chances are on December 26th, you can make a game time decision to go to Mauritius. 

Location: Vienna
Where to stay: The Rosewood Vienna  
Vienna is the dark horse of prime destinations of where to travel for the holidays. The city comes alive with music, lights, Christmas bazaars, festivities, and grand balls, that are like a throwback to the 1800s. In fact, ball season kicks off in December, and yes, people do still waltz. There is nothing like going to a Viennese Ball, especially during the holidays.
The Rosewood Vienna just opened its doors, so there's a new luxury hotel option in town too. In the heart of Vienna, the hotel puts you right in the center of the action and in the oldest square in the city. Rooms and suites are spacious with luxurious baths with heated floors. And the Arany Spa is waiting for you upon your return to the hotel with pool, beauty treatments, sauna, and massage. A culinary surprise to seek out in the city that's popular at this time of year is Martinigansl. It's a traditional meal on most menus of Austrian restaurants and consists of roasted goose, potatoes, and red cabbage. 

Location: Chile
Where to Stay: Tierra Atacama Lodge
In case you forgot, it's summer in Chile this December, which makes it a prime time to escape for a lifetime trip to the Atacama Desert. As the driest place on earth, its topography gives you some of the bluest skies in the world, and brightest stargazing in the evening. In the Atacama, you'll find high-altitude lagoons, pink flamingos, and moonlike valleys. There's also the vast and remoteness of the Atacama, that gives you one of those profound life moments. 
Tierra Hotels' Tierra Atacama has high modern design, in the heart of the Atacama. All guest rooms are well appointed and have uninterrupted views of snow-capped volcanoes. Dining here takes advantage of northern Chilean cuisines and works around the challenges of a high-altitude location with skilled chefs creating fare that's light versus overwhelming. Think colorful salads, grilled meats, and Peruvian corn, finished off with a fine Chilean wine.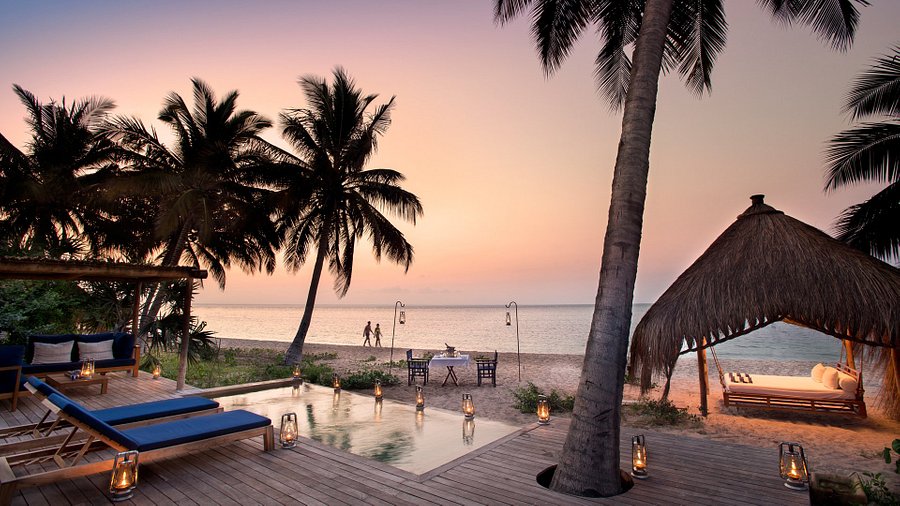 Location: Mozambique
Where to stay: &Beyond Benguerra Island 
If Mozambique isn't on your list for where to go for the holidays, it should be on your list for where to go for some of the most beautiful beaches in the world. Mozambique has it all; beauty, authenticity, culture and cuisine. Your days are spent experiencing castaway picnics with delicious food and swimming with horses — that's right, bareback in the ocean. 
The place to stay is at  &Beyond Benguerra Island. Benguerra Island is situated off the coast of Mozambique within a protected marine reserve called the Bazaruto Archipelago National Park. Think of it as staying at your own private lagoon. Rooms range from cabanas — good for couples — to villas that fit whole families. The latter have private timber decks, rim-flow pools, sun loungers, and private salas with hanging daybeds. 

Location: French Polynesia
Where to stay: The Brando
The Brando. The name of this place says it all, except this place is a contender. By private plane you access one of 35 private villas on the lost atoll of Tetiaroa. Marlon Brando himself was quoted as saying that Tetiaroa is "beautiful beyond my capacity to describe." This private island is truly the perfect holiday escape.  
Rooms here come in one-, two-, and three-bedroom villa sizes, with cozy sitting rooms, private pools, and the beach just steps away. These accommodations encapsulate serenity — you are in the middle of the ocean after all. And for activities, you're not just observing nature, you're right in it. Snorkeling is full-on immersion in underwater life. But there's also great stuff to do on land, such as bicycling and bird-watching.
When the day is done, Polynesian-inspired dishes take over for dinner. Vegetables and fruits are picked from the resort's gardens and orchards, and the latest catch comes right from the sea. And, the Brando's newest restaurant, Kaito Nakamura, takes you on a more unexpected journey of Japanese food and flavors.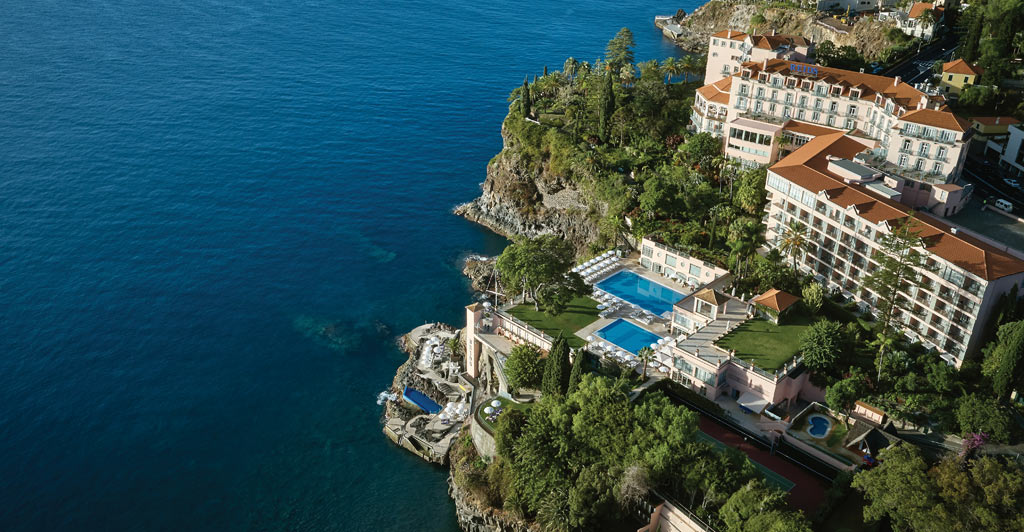 Location: Madeira, Portugal
Where to stay: Belmond Reid's Palace 
Now is the time to go to Portugal, as there are new nonstop flights from New York to Madeira. This means in a little over six hours, anytime of year, you have yourself a European getaway. The other bonus is that Portugal is actually an optimal place to visit in winter when you come from the East Coast. It's warm even during the December through March period. 
Madeira is all about the views. The surrounding area is mountainous and mostly green year-round. This is optimal for a Christmas hike, where you can look down at villages, valleys, and cascading waterfalls.
At the cliffside Belmond Reid's Palace, the views are a highlight. It's located on the outskirts of the Funchal and has sea-facing views of Funchal Bay. The hotel's 111 rooms and 47 suites are traditional-style but luxe, with balconies and terraces.  A highlight of the hotel is their traditional afternoon tea in the lounge or Tea Terrace. Another bonus is that this option is also family friendly, so bring the whole gang.

Location: Ibiza, Spain
Where to stay: Six Senses Ibiza
Last but certainly not least for where to travel for the holidays is Ibiza. We know; you're thinking that this is a summer destination. Well, the insiders know that the Six Senses throws one of the best parties for New Years Eve. We're talking getting costumed like Burning Man, (with a lot of the same crowd who flies in for the celebration) except in a completely luxurious hotel. In the off-season, you are also able to enjoy the natural serenity and energy, that is at the core of Ibiza. 
Location wise, Six Senses is away from the scene, located on the northern tip of the island on Cala Xarraca Bay, and promotes total relaxation. The stress of home will be so far behind once you roll out the yoga mat in front of the fitness experts and reconnect with your inner self. They also have unique classes, like a cardio dance as well as meditation sessions, that will get you started off on the right foot for the New Year.
The culinary program is one of the best for health and wellness, as well as indulging at the Six Senses. Israeli chef Eyal Shani is in the house debuting his newest restaurant that offers his famous vegetable dishes. Ingredients are grown right at Six Senses' farm in Santa Gertrudis. 
TRAVEL BOOKINGS

That's What We do
Message us at  [email protected].