The fact that Piedmont is the land of hamlets, castles, and rolling hills is a given. What you may not know is that Piedmont contains the first vineyard landscape to be listed as a Unesco World Heritage site. It's no surprise with the postcard-worthy scenery from every direction. But the fact that the territory is also renowned for the world's best hazelnuts and the precious Alba white truffle may be the best known (or unknown) fact of all.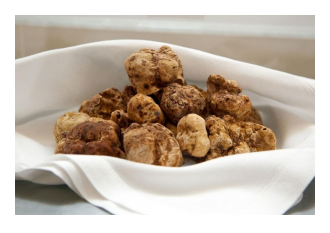 The Place to Be This Fall 
This fall the Langhe & Roero region is where to be.   It's a gastronomic mecca.  Each year, the world's greatest chefs, philanthropists, and entrepreneurs gather for the special charity auction. They bid for the one-of-a-kind truffles, paired with obscene amounts of Barolo and Barbaresco wines. And if this is really up your alley, the most exclusive guests are welcome to enjoy this auction from the historic Grinzane Cavour Castle.  The castle is  located in the heart of Piedmont, and is the iconic landmark of the region.
Besides the auction, however, there are ample other events through which guests can enjoy, like the famed truffle hunting.   No trip to Piedmont is complete without truffle-hunting in the woodlands with a truffle dog and expert guide.  With of the day, there are special wine-tastings with private sommeliers to pair with those famed white truffles. Also, a visit to a Michelin starred chef's private garden or to a local cheese producer, are just a few of the possibilities.  
A Trip Within Reach 
Although the money you spend depends largely on how many truffles can fit in your stomach, truffle hunting is actually not as expensive as it may seem. The trip is surprisingly a value.  Especially since it's one of the best culinary trips anyone who considers themselves a gourmand can take.
To book your truffle-hunting experience in Piedmont today, contact [email protected]