Good for: 
San Sebastian is for singles, solo travelers, couples, groups of friends and families with children.
Why to go:
San Sebastian is one of the great culinary capitals of the world.  If you enjoy eating at all, San Sebastian is the spot for you to take in the laid-back Basque culture while reaching a food nirvana with some of the most inventive dishes and newest talent on the scene.
To go pinxtos bar hopping, the equivalent of Spanish tapas served on sticks through the old historic town. Our favorites were the Spanish tortilla at Nestor, and the gastromonic pinxtos at Zeruko.
To check out the local area of Gros, for the less visited pinxtos bars, and enjoy a Spanish favorite: the gin and tonic outdoors while watching the world go by.
Because they have one of the most impressive wine cellars at Restaurant Rekondo, which surprisingly does not break the bank. Near Rekondo, stop by Buena Visa for a drink before dinner to watch a sunset with one of the most prime views of San Sebastian.
To try the food at Mimo San Sebastian. Mimo is one of the greatest cooking school and culinary centers that we've run across in our travels, located in the Maria Cristina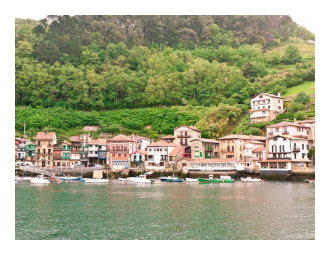 Suggested stay:
Four Days
Stay: 
Do:
Hike up to La Mota Gaztelua
Castillo de la Mota
Shop:
Koke Koko – espadrilles and summer stripes
Cortefiel – department store   
Eat:
We don't normally recommend elastic waistband pants for European trips, but you may want to stash an emergency pair when the destination is San Sebastián: famous for being a Spanish culinary mecca. When you think of food capitals, Paris, Copenhagen, and Tokyo come to mind – not a tiny town on the Bay of Biscay with gold beaches and shaggy green hills. But there's a reason you hear so many dialects in its Michelin-starred restaurants and buzzing bars; foodies from all over the world visit the provincial capital to cook and eat.
With such an intense restaurant scene, it can be tricky to pick out the legit spots from tourist catnip. We've got you covered (for example at Rekondo, a former matador's farmhouse restaurant whose world-class wine cellar counts bottles from the 1800s). Expect to haunt the locals' side of the Urumea river on a pintxos crawl in the vibrant Gros neighborhood while sipping plenty of elaborately garnished gin and tonics.
We're providing our list of favorites, but it is a hustle to try to navigate the pinxtos bars independently. Our suggestion is to hire a food Sherpa from Mimo San Sebastian for one to two days, and they will elbow their way through the crowds and make sure you are set up optimally at the most crowded spots. It makes a significant difference on experience to work with a guide, and Mimo's are the best.      
Old Town
Casa Urola (Fermin Calbetón street)
Vieira en salsa ajoblanco – Scallop in ajoblanco sauce
Gilda – First Pintxo ever made in SS (Anchovie, Guindilla and 2 olives)
Espárrago con mayonesa de ajo y polvo de jamón – White asparagus with garlic mayo and ibérico powder.
Drink: White wine, Verdejo grape from Rueda
Ganbara (San Jerónimo street)
Txangurro – Brown Crab
Surtido de setas – Wild Mushrooms
Drink: Red wine, Rioja
A Fuego Negro (31 de Agosto street)
MCobe – Cobe beef mini burger
Jamón Ibérico de Bellota – Bellota Iberian Ham
Tigreton – Mussel in a different style
Aceitunas rellenas de vermut – vermut stuffed olives
Drink: Red wine from Ribera del Duero
La Viña (31 de Agosto street)
The best cheesecake from the city
Drink: Sweet sherry wine, Pedro Ximénez
Nestor (Pescadería street)
The steak, the tomato salad, the pimientos de padrón, and the tortilla de patata
Gandarias (31 de Agosto street)
Solomillo – Sirloin steak
Jamón Ibérico de Bellota – Bellota Iberian Ham
La Cuchara de San Telmo (off 31 de Agosto street)
Foie gras membrillo – Foie gras with quince jelly
Cochinillo – Suckling Pig
Bar Sport (Fermin Calbeton Street)
Txipirón con vinagre de Modena y salsa de ajo y perejil – Baby cuttlefish with modena balsamic vinegar and parsley and garlic sauce
Calamari
Goiz Argi (Fermin Calbetón street)
Brocheta de gambas – Prawns skewer
Mari Juli – Smoked Salmon, Smoked Sardine and roasted green pepper
Borda Berri (Fermin Calbetón street), similar to La Cuchara de San Telmo
Carrillera – Veal Cheeks
Kebab de cerdo – Pork ribs with apple puree
Risotto de Idiazabal – Sheep's milk cheese Risotto
Bar Martinez (31 Agosto Road)
Pimiento relleno de Tartar de Bonito – Stuffed piquillo pepper with tuna tartar
Calamares – Squid "Calamari"
Atari (by Santa María Church)
Torrija – Basque bread and butter pudding
Gin & tonics
Sirimiri (by Santa María Church at Mayor Street)
Torrija – Basque style of French Toast & Gin Tonics
Txepetxa (Pescadería street)
Anchoa con arándanos – Anchovy and blueberry
Anchoa con huevas de trucha – Anchovy and trout eggs
Anchoa con aceituna negra – Anchovy and black olives
Anchoa con centollo – Anchovy withspider crab
La Mejillonera (Puerto street). It may not look that nice from the outside or inside but don't let that put you off. On a Sunday night, this is one of the few spots that's open and it's packed with locals.
Patatas Bravas
Calamares bravos – Calamrari with the bravas sauce
Tigres – Mussels with spicy tomato sauce
Our favorites in the locals' area of Gros
Muro
Topa (Mugaritz)
Roberto (for vermouth)