You're staying at home, but that doesn't mean it has to be your home. We're thinking you're in need of ocean front, feeling the sand between your toes. Or maybe mountain views, taking in that clean fresh air. Or some fly fishing in nature, and by that we're talkin' Brad Pitt in waders like A River Runs Through It, let's-be-in-the-outdoors kind of vibe — you get the idea. We're hooking you up with top getaway homes that are like vacations unto themselves, worthy of an episode of Cribs.
And let's face it: we're in this together, but 24/7 togetherness has been a bit of overkill at this point. It's about that time when even your dog can use a change of scenery. So leave this in our hands; we have you covered. You know the drill on any of these — [email protected]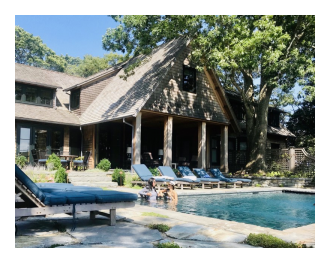 Congdon's Point, Shelter Island, New York
Why we like it: At this point it's May, and if you haven't already made it out to the Hamptons, now is the time to decamp for the summer. Realistically, we're going nowhere near Europe, as international borders will not be easy to cross until there is widespread testing, so if you're New York based or you want to keep your summer tradition going, this is the house for being in the mix but also out of it. Set back on a two-mile road that you drive on just until wondering whether you'll get ax-murdered, at which point you end up on a private peninsula haven. This is where to totally hide out until all this COVID business is over. Morning kayaking, boat rides to the beach without ever touching land, BBQs, and a house of understated luxury with James Bond-level gadgets (think a control panel that does everything from locking up to playing music with the touch of a button). You've earned yourself a vacation from the outside world.
Mesa Verde, Santa Fe, New Mexico
Why we like it: First, it's in Santa Fe, one of the most underrated cities in the United States. While a lot in it won't be business as usual, the town is super quaint for strolls in the afternoon into evening, and there's been a very low incidence of COVID-19 cases given its remote location. The art scene and opera amp up the culture factor, and the food is off-the-charts good. You're really in Santa Fe for nature: hot springs, mountains, those painted desert sunsets it's so famous for, and long stretches of open road for excursions. Oh — and the house — one of the most Cribs-worthy on our list. The pool and sound system alone are reasons to spend days here hanging out with your crew, along with all the comforts of entertainment like a media room, a massive kitchen for family cooking, and killer views.
The Hamptons: Sandcastle
Why we like it: This is not on the list because you can't actually rent it anymore. When this entire COVID business started in March, the house rented for a cool $2 mil through Labor Day. You read that right, and for those math majors out there, that's the bargain price of $333,333.33/month. But who's counting? It's the price to pay for your own indoor climbing wall, movie theater, bowling alley, and basketball court, along with 11 bedrooms for your entourage and bragging rights that you stayed in the same house as Justin Bieber. OK, maybe not the best example. How about Jay-Z and Beyoncé? Now, we have to wonder if they are going sans housekeeper like the rest of us while social distancing. Hmmmmm.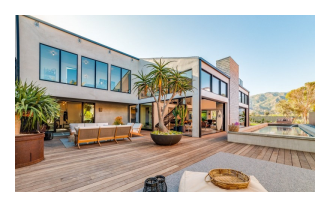 In the Colony, Malibu, California
Why we like it: Location, location, location. Right on the beach, ready for dipping your toes in the sand, we could easily wake up to this every morning. The house is elegantly luxurious, exactly what you would want from California living. We would spend a lot of quality time on the second floor chillout lounge just looking out at the ocean. With five bedrooms, it's enough of a social house but not so overrun that you can't just take this time to chill with your immediate family. Of all the houses on our list, it's a relative steal at $7,500 night.
Why we like it: There's something about being away from any scene that sounds pretty good right about now. That's the definition of Jackson Hole. While it's one of the wealthiest zip codes in the United States, you wouldn't guess it from those who choose to spend their low-key summers in one of the most beautiful parts of the country. They kind of had us at imagining ourselves nightly at fire pit and grilling outdoors with views of the mountain, while surrounded by Architectural Digest-worthy contemporary design. Add in a game room and private movie theater, and this is worth at least a two-weeker this summer.