We feel like this may be a trivia question one day, so you're welcome. This country never shut its borders to any nationality during the pandemic, as long as you traveled by private plane. Which people did in droves. It was like an Ayn Rand utopian society, where all the smartest of the bunch went to ride out the COVID storm. And clearly, smart people like utopias.  Welcome to the Maldives, some of the most exclusive islands in the world, located in the Indian Ocean.
So what makes the Maldives so special?  In this case, photos speak a thousand words.  This is one beautiful place in our beautiful world, with some of the most spectacular hotels.  The Maldives are the definition of exclusive.  First, it is a haul to get there, where you'll take a flight to Dubai, then from there, a 5 hour flight to the Maldives.  Then, it's another private flight to your hotel, where each spot is like its own fiefdom, mostly too far to even travel by boat between islands.  This is not a place that you can drive up in your RV; the barrier to entry after all the travel, is the premium price of the hotels.  But then again, the price to get to utopia is pretty worth it.
As of July 15th, mere mortals arriving by commercial means have been welcomed into the Maldives too, sans quarantine as long as you stay in one resort for your entire visit.  Soneva Fushi and Jani, the most exclusive place for families to call home (which a number of them did during the heat of the pandemic) is implementing COVID testing when you arrive on their slice of paradise.  Results come within 6 to 24 hours, during which time you get to hole up in your $2000+ night suite or villa with private pool, waterslide and room service.  You know, roughing it.  Once you're in the clear, the island or atoll is your oyster.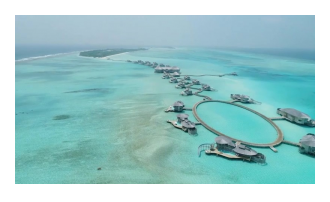 If you're feeling like a real baller, we've got to mention Coco Prive Kuda Hithi, your own private island at a cool $45,000/night, 30+ staff included.  One of whom is a personal therapist, because at that price tag, you may need a professional to talk to.  But seriously, if you're in this bracket, this is one of those lifetime experiences, and they may just have 100% customer satisfaction, which speaks volumes.
So with states requiring 14 day quarantines in the US, a vacation to the Maldives may just be what the COVID-free doctor ordered.  Welcome to utopia.
Related Articles
Soneva Jani: Gwyneth Paltrow's Honeymoon