A big shout-out to Daniel Craig who just crushed it as James Bond for the past 15 years. It's No Time to Die, but perhaps it is time for a well-deserved vacation. These are the iconic places where Craig's Bond movies were filmed. Because the locations themselves are like characters in the movies.
Budva, Montenegro
Movie: Casino Royale
When Bond isn't chasing bad guys or shooting guns, he's sipping champagne on luxury trains headed toward some far-off destinations. In one instance, he's traveling to the stunning town of Budva. The cinematography alone leaves no questions as to why Montenegro is a James Bond film location. However, the catch is that none of the movie was actually filmed in Montenegro. There certainly are no bullet trains pummeling through the mountains of Southeastern Europe. Regardless, we think you should put this country on your bucket list. The geography and cities are stunning, and the culture is underrated and super fun.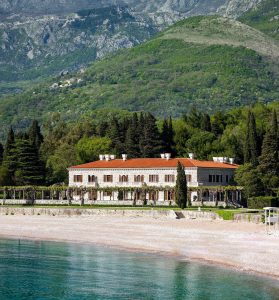 Baku, Azerbaijan
Movie: The World Is Not Enough
One look at the oil fields in Azerbaijan, and you'll instantly think of the 1999 James Bond file, The World Is Not Enough. The tall cranes evoke an eerie Industrial Revolution-era battle over the precious natural resource, which lies beneath much of the country. It's for this unique topography that the movie was filmed here. However, if you're visiting, don't just stop by for the rusty cranes. Make sure to spend time discovering the volcanoes and villages that make up this incredible country. We might be biased because we just spent time in Baku, but it's one of our new favorite places.

Faroe Islands, Denmark
Movie: No Time to Die
Green, wild, remote, the Faroe Islands have been the destination of Vikings, writers and nature seekers alike. Expect an other-worldly paradise of trickling waterfalls, wind-carved mountains and steep cliffs (aka, the perfect place for helicopter espionage). While many Bond-approved destinations are cosmopolitan, the Faroes are about as remote as you can get. And not at all in a bad way.
Matera, Italy

Movie: No Time to Die
The more popular cities are cool, but not as cool as Matera. Made up of prehistoric stone dwellings, the bony, hilltop town is perfect for dramatic chase scenes and mythological references. Matera is a must-see for lovers of action and epic movies alike, such as Wonder Woman and The Passion of the Christ. The town is also just a stunning place to see a bit of ancient history.