It's an Armenia theme this week, and we've got to give major respect to one of the most famous Armenians — who is a self-made billionaire. That billion dollars is a milestone Ms. Kardashian hit this year. And with her hard-earned cash, Kim Kardashian travels non-stop — and always in style.

Amanyara, Turks and Caicos
KK has been everywhere, so it's hard to pick just four spots to highlight.  We ent for the tried and true Kardashian-approved hotels to which the clan returns returns time and again. And while they visit everywhere from Utah to Greece for the Aman Hotels experience, Amanyara in Turks and Caicos is an especially favorite spot.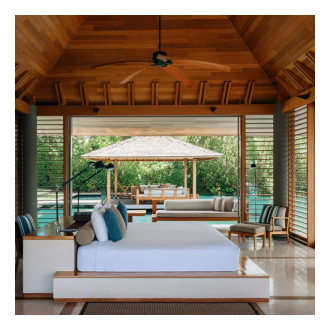 Recently Kim brought her whole gang to the island for Kourtney's birthday. They happily shared their vacation pics, which showed off matching black bathing suits as they splashed in the surreal turquoise waters. Kim's kids and family are lucky to grow up with a mom and aunt who takes them to villas that can cost $33,000 per night.
It's easy to tell why Amanyara is a recurring destination for her. The resort has some unique amenities and attractions. Many of the villas, located in private corners of the resort, feature floor-to-ceiling windows. Guests are steps away from the beach, and those in 4-6 bedroom pavilions and villas have private chefs. North might complain about her mom wearing too much black, but she definitely won't complain about Amanyara.
Iniala Beach House Resort, Phuket
Traveling in style is easy when the network that airs your your reality show pays for the whole vacation. In 2014, during the filming of the OG Keeping Up With The Kardashians, the entire family took a trip to the Iniala Beach House Resort, all on Ryan Seacrest's dime. The trip cost a pretty penny too, with three villas and a penthouse coming in at over $150,000 for the week.
To be sure, the generous gesture made for some quality content, as the resort is designed with uniquely themed rooms. Each villa comes with a private spa therapist, a chef, a butler, a driver, and a housekeeper. The hotel even put on a grand firework display for the family.
Though the beachfront views and large pools were highlights for the producers and family, the architecture of the resort made it the perfect place visually. Beds with luxury mattresses are hung from ceilings, like hammocks. Each shower and bath offers a different experience. You can get a bath with a completely exposed rain shower (next to windows) in the penthouse. Or you can opt for a space-age white tub floating in the middle of an all-white bathroom.
While in Phuket, Kim also took time to visit orphans and donate to local charity organizations. So she paid Ryan Seacrest's generosity forward to some deserving kids. Awesome.
Hôtel de Pourtalès, Paris
Though she likely won't be back, the Hôtel de Pourtalès is nonetheless an iconic Kardashian destination. Kim frequently visits Paris, most recently with North for fashion week. She famously attracts attention, and while being papped during a show, daughter North had enough of the photos. The precocious youngster held up her invitation with the word 'stop' written in bold, hoping the photographers would get the memo. But the drama and attention that surround Kim in Paris hasn't  always been fun and games.
In 2016, armed gunmen entered Kim's hotel in the middle of the night, and stole her rings worth millions of dollars. The heist was a huge deal, considering the hotel is designed to be a private residence made for the rich and famous. Kanye stayed there for years, as did Beyoncé, Jay Z, Julia Roberts, and Leo DiCaprio. It doesn't even have a formal street address, hence the nickname for the hotel, The No Address. The nine secluded apartment suites made The No Address one of the most exclusive and private places for celebs to stay.
Like Kim, the hotel has since recovered, and is back to providing intimate accommodations for those looking to stay under the radar. Guests like Jennifer Lawrence and Leo DiCaprio have returned. If you're lucky enough to get a room here, you'll enjoy the anything-on-demand service, plus gorgeous rooftop views of the city. These days, older and wiser, De Pourtalès offers on-demand body guards as well.
The Brando, French Polynesia
If you are an A-list billionaire or former President of the United States (here's to you, Barack Obama), a stay at the Brando is a rite of passage. The Brando, named after original owner Marlon Brando, is one of the most exclusive hotels in the world. Kim celebrated her 40th birthday by flying her friends and family to the island and buying out the entire resort. She clearly loved it so much that it's where she and new beau Pete recently went on vacation. Here, there's need to worry about the paparazzi. The Brando is a private island in the middle of nowhere, and nightly rates are not gentle on the wallet. It helps keep the riff-raff out.
Map: