Growing up, a getaway to Wisconsin Dells was a pretty big deal. Thank goodness for progress. Today, more and more families are traveling as a unit, and traveling is starting younger than ever. We love that even the highest-end hotels in the world understand that family is everything. Cases in point: these are the celeb family vacations, for some of the most famous families.
The Beckhams
The Destination: Providenciales, Turks and Caicos
The famous fam, including Brooklyn's soon-to-be plus one, got away recently to the beautiful peninsula on Providenciales in Turks and Caicos. You know, because the Beckhams are just like us.  They, too, need some secluded family fun in the sun, complete with bunny ears for celebrating the Easter holiday. Though they kept it low-key (for the Beckhams, that is), their Instagram photos were a little more genetically blessed than most.
Turks is always popular for celeb family vacations.  This wasn't their first rodeo on the isle. The Beckhams are known to be repeat vacationers to the Turks and Caicos. Maybe it's because it has some of the most beautiful beaches in the Caribbean. Or maybe it's the simple seafood shacks and excellent restaurants on the isle. Whatever the case, clearly the family that vacations together, stays together.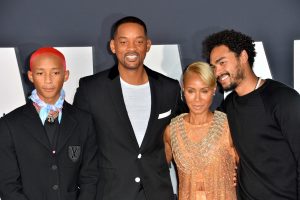 The Smiths
The Vacation: A Yacht in Greece
Parents are notorious for embarrassing their kids, but usually it isn't in front of millions of Instagram followers. Unfortunately for Willow, Jaden and Trey, dad Will isn't afraid of broadcasting their family antics online.  He loves his dad jokes too, while he's at it.  We would say any time with Will Smith, is one of the best celeb family vacations.
But on a more serious note, between playing chess and competing for the right to be called the "handsome one," these family members know how to have fun. When on a boat, it's hard to escape bonding time, and the Smiths prove that small spaces make some of the best memories. The perfect, calm, crystal-clear waters and the proximity to Mykonos, along with the constant spread of fresh Mediterranean food, probably didn't hurt either.  If you're not on Will's boat this summer, you can still be in Greece at a five star hotel.  
The Gerbers
The Vacation: Los Cabos
Cabo is the Gerbers' go-to for boating and golf and fun family dinners. It's not just where this celeb family vacations, it's where they have a second home.  Their neighbors are of course BFFs Amal and George Clooney.
If Cabo isn't the perfect place to get to know the parents, we don't know where is. After all, the weather is perfect and there's nothing to do but chill by the beach with drinks in hand. At least, that's what it seemed like when Kaia took new boyfriend, Euphoria star Jacob Elordi on the family trip to Mexico. Despite elite supermodel and nightlife boss status, Cindy and Rande look like pretty chill parents. When on vacay, Cindy is totally off duty lounging around in Rande's old shirts. Yes, she looks good in anything.
We totally get that maybe Cindy and Randy's house is full for the weekend, Cabo is full of luxury hotels.   The best right now is the new Four Seasons at Costa Palmas, and one day, you'll be able to check into the Amanvari.