No frills. Sometimes, not even proper plates or silverware. But always good drinks, a lot of them with rum. The dance floor is packed and the food is simple. We're talking about the quintessential beach shack. This is where there's no such thing as social distancing and everyone has a simply good time.  In a nutshell, it defines the Caribbean experience. Here are the top six best beach shacks in the Caribbean, and yes, bring on the cracked conch.
Basil's Bar, Mustique
If you're wondering where you can get your moves like Jagger on (he's a frequent visitor and owns homes on the isle of Mustique), Basil's on Mustique is where it's at.  This is where everyone from the royals – Princess Margaret, William, Harry and Kate – to Hollywood royalty comes for a sunset drink.  Sometimes that drink evolves into dancing on the speakers way past happy hour.
Da Conch Shack, Turks & Caicos
We think Da Conch has the award, for the "cutest" beach shack in the Caribbean.  You kind of feel like you're entering an island version of Candy Land when you arrive.  Think of Da Conch as the elevated version of the beach shack. There is actual silverware, and food that you really want to eat.  (And not just to soak up the beverages).  They so make a top notch rum punch though, paired with a side of some of the best conch fritters in the Turks.
Omar's, Turks & Caicos
We normally would not include two beach shacks in the same destination, but it's impossible to choose between Da Conch and Omar's. So we figured, why not have both?  A visit to Turks & Caicos isn't complete without both experiences, at some point during your stay.  Omar's is close to the airport.  It's either the first stop when we land, or the last stop before we leave.  Those fish tacos are just too good, and Omar, who is often in the house, is the most gracious host.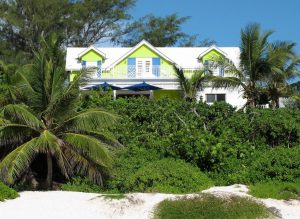 Sip Sip, Harbour Island, Bahamas
Like Harbor Island, where Sip Sip is located, this is an elegant version of the beach shack.  At Sip Sip, you will have the best lobster quesadilla of your life.  As you golf cart up to the lime green building, with the lines out the door, you know you're in for something special.  Sip Sip is local slang that means gossip, and vibe is 100% fun. Beach and water views are for days, as are the pink sands that Harbour Island is renowned for.  Check out our video for the inside look at Eleven Experience's Bahama House, the most exclusive place to stay on isle.
Floyd's Pelican Bar, Negril, Jamaica
Now we're getting down to the real, authentic, gritty beach bars, where the food isn't the reason you're in the house.  At Floyd's, you'll have your pirate moment.  To get there, you board rickety speed boat on the shore and aim towards the middle of nowhere.  By water, you approach a hut, which is really in the middle of the ocean. It's evident from the lively music and people practically falling off the side of the bar, that this is where the party is at.  Make your mark and carve your name onto any surface that has space, like the thousands of other guests who come through.  This is as Jamaica Mon as it gets, and if you're lucky, you'll get a sighting with Floyd.
Willy T's, British Virgin Islands
We saved the most debauchery and necessary stop when you're in the BVI, for last.  The original Willy T's was actually a refurbished old tanker,  where every yacht, sail boat and party house would head for drinks. At some point, people end up jumping off the roof, sans clothing.  The sans clothing happens day and night.  Unfortunately, Willy T's was lost in Hurricane Irma in 2017, but came back, bigger and better, in 2019 to its original home at Normal Island.  It's an experience if you're into the best beach beach shacks in the Caribbean.  It's definitely not as highbrow as our other best beach shacks in the Caribbean, but one where you are guaranteed a story to tell afterwards.