Tuscany is one destination that continually shows up at the top of everyone's list. This is because Northern Italy has a unique charm that's hard to find anywhere else. The rolling hills, olive groves, and cypress trees create a magical environment. Tuscany is known for its renaissance art and architecture as well as its medieval villages. This means that most of these resorts used to be castles that housed aristocrats and royals. Here you can spend your days exploring the surrounding vineyards, going truffle hunting, or even lounging by the pool. Of course, being that this is also a culinary destination there will be authentic food and even cooking classes. Immerse yourself in Northern Italian living at these top resorts in Tuscany.

The Resort: Reschio Hotel
Overview
The Reschio Hotel is set on a 1,500 acre estate that is considered a top resort in Umbria. Staying here makes you feel like a royal and gives you insight to the storied past of the area. There are a lot of different unique places to sit and lounge in within the walls of the castle. For example there are two courtyards, one encased in glass, and the other surrounded by old pines and flowers. The Palm Court is filled with vintage furniture, a piano, and portraits of the Count and Countess di Reschio. Rooms at Reschio retain the old character that makes the resort unique while offering views of the courtyard, gardens, and hills. In addition there are seven newer updated rental houses on the property that come with their own pool and garden.
There are two restaurants at Reschio. Ristorante Alle Scuderie serves light simple dishes prepared with fresh local produce and ingredients from the organic kitchen garden. Ristorante Al Castello is set outside on the terrace. A breakfast buffet is served here daily in addition to traditional Italian meals in the evening during sunset. Reschio also has its own cooking school. You can spend the day foraging in the landscape, picking produce from the garden, and creating new dishes with their chefs.
Just outside the castle walls is a swimming pool surrounded by trees in the garden. Reschio has also converted their underground wine cellar into a unique tranquil bathhouse.

The Resort: Castiglion del Bosco
Overview
Castiglion del Bosco is a Rosewood hotel that is fully reopening at the end of March. It is set in the region of Tuscany known as Val d'Orcia, A UNESCO World Heritage Site. The 5,000 acre Italian estate is 800 years old and exudes an old world atmosphere of luxury. There are forty-two suites, each with their own unique set of antique furniture, textiles, and artisanal crafts. Additionally there are eleven restored farm houses on the estate that have been turned into Tuscan villas. These luxury homes are set in the Tuscan countryside and come with their own heated pools, gardens, and terraces.
For food Castiglion del Bosco has two restaurants and a cooking school. The Michelin starred Ristorante Campo del Drago features innovative dishes made with ingredients from the organic garden. Osteria La Canoicia serves authentic Tuscan trattoria on the open veranda. Other dining options are The Lobby for lunch, CDBAR for cocktails, and by the pool for drinks and snacks.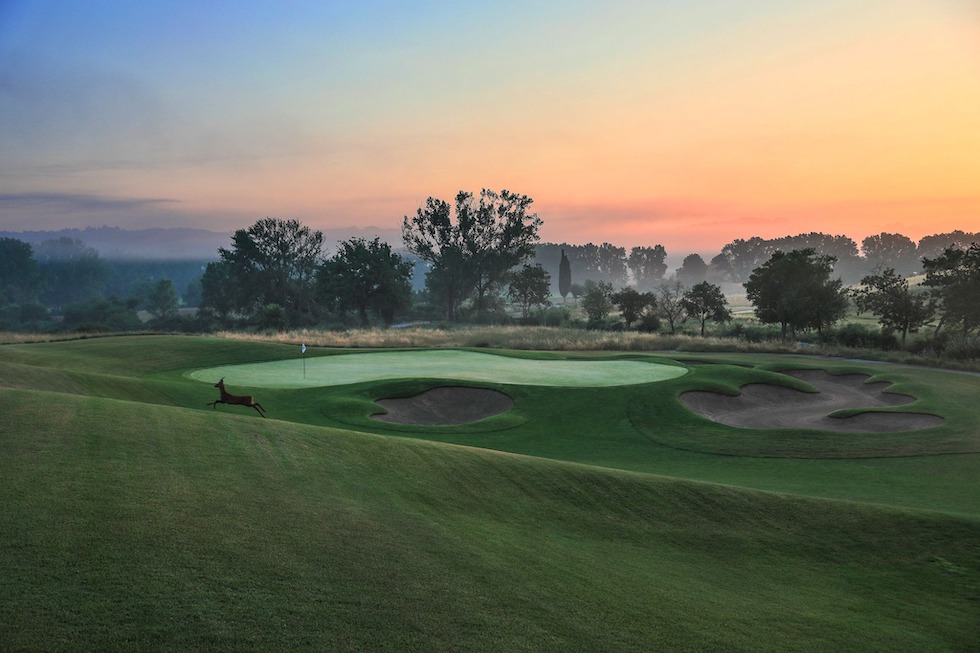 The Rosewood Spa includes a sauna, steam bath, and tranquil garden. There is a fitness center for yoga and workouts as well as trails and hikes to explore the surroundings. Their swimming pool is perched on the hilltop and is surrounded by trees. Additionally, Castiglion del Bosco has their own private golf course.

The Resort: Villa San Michele
Overview
Villa San Michele is a Belmond Hotel situated within Florence's countryside that reopens May 16th. Just a short fifteen minute complimentary ride and you're in the center of town. But, between that and Villa San Michele are miles of hills, patches of woodland, and scenic olive groves. Besides, this estate is so beautiful and historically enriching that just by staying here you soak up a sense of the past. This sixteenth century converted monastery has a facade designed by Michaelangelo himself. Even Leonardo da Vinic was here, testing out his flying experiments in the nearby woodlands. In addition, the property's enchanting gardens, shaded park, and sprawling lawns were once nursed and maintained by the Franciscan monks. With forty-two unique rooms and suites, Villa San Michele is Tuscany's most breathtaking boutique hotel.
The restaurant La Loggia has a perfect view for seeing Florence's glimmering lights off in the distance immersed within the valley. On top of that, the food is elegant and refined with a fresh approach towards the traditional dishes. Ristorante San Michele on the other hand pays homage to Tuscan tradition and serves slow cooked meals with ingredients from the garden. You can also sample some grilled food and pizzas for lunch by the pool.

The Resort: Castello di Casole
Overview
Castello di Casole, another hotel by Belmond, will reopen April 1st. Different from Villa San Michele, Castello di Casole is set deep in the Tuscan countryside of Siena. The tenth century estate is spread across 4,200 acres. It exhibits the best of both a luxurious retreat and an entrypoint into the charms of rural living. You can spend the day visiting local farms and vineyards, even hunting for truffles, and then return to your own piece of paradise. Castello di Casole has thirty-nine rooms and suites made up in a variety of styles. The interiors combine antique elements of stone, wood, and tile with modern furnishings and fabrics.
For Food, Castello di Casole blends rustic tradition with a newer sensibility. Tosca, their restaurant set on the veranda, primarily serves pastas, seafood, and produce from the garden. They also make their own olive oil on the property which goes great with their homemade bread. Emporio del Castello features casual dining with the feel of being inside a village store. Feast on regional delicacies, shop for products to take home, and enjoy their woodfired pizzas.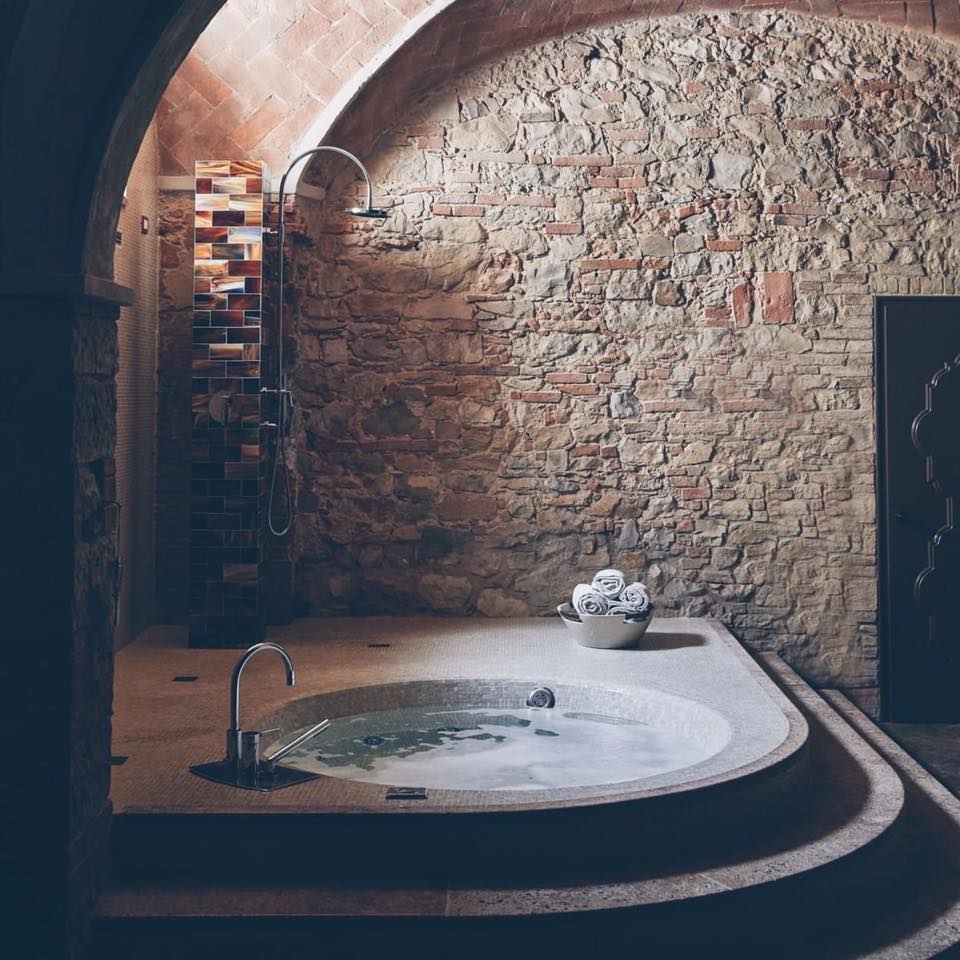 The Spa at Castello di Casole has an ancient atmosphere. Located within the castle's wine cellar, its restored stone facade and barrel vaulted ceiling take you back in time. Many of the products used in the treatments are all homemade with ingredients like oil, grape, and rosemary. There is also a fitness center and swimming pool for exercise and lounging.

The Resort: Casa di Langa
Overview
Casa di Langa is nestled within Piedmont's rolling hills and is surrounded by three different wine making regions. It's 42 hectares of vineyards, a main building, and natural landscape. Additionally, it borders a UNESCO World Heritage Site known for its fine wines and white truffles. At the heart of this appreciation for the landscape is Casa di Langa's commitment to sustainability. It is carbon neutral and uses one hundred percent recycled water for irrigation. There are 39 rooms designed within the hotel's aesthetic of rustic items like terracotta, oak, and stone. Each room comes with a private terrace, rain shower, and Le Labo toiletries.
Fàula Ristorante serves an exclusively green menu using their greenhouse and biodynamic garden offering their take on the region's cuisine. At Sorì Cocktail Bar you can enjoy some of the best wines from the region at their tastings. Additionally, there are both cooking classes and a wine academy for learning more about what makes the region a culinary destination. If food isn't your thing then there is the Spa, heated infinity pool, and fitness center to enjoy.

The Resort: Borgo San Felice
Overview
You come upon Borgo San Felice by walking between the town's small medieval streets, courtyards, and canopies. A restoration turned the old building into a quaint hotel that hasn't compromised on keeping the integrity and charm of what it was. There are thirty-one rooms and forty-two suites that have views of the Tuscan countryside. In addition, just a few steps from the main hotel are two private villas you can rent out. Staying here, you get access to the hotel's amenities and get your own garden, pool, and private chef.
The hotel has committed itself to using one hundred percent renewable energy, producing zero waste, and nurturing a sustainable environment. Their restaurant Poggio Rosso won a Michelin Star for their use of only local ingredients and respect for the surroundings. Osteria del Girgio serves authentic tuscan cuisine on the terrace, using ingredients from the garden. They also have a cooking school. In addition, Borgo San Felice has pioneered a community agricultural project and created a medicinal herb garden. They have a bar and wine cellar that features some of the great wines of the region.
Borgo San Felice has a botanical spa with a variety of treatments. They also present wine tastings and excursions outside of the property like truffle hunting and horseback riding.
Related Articles
A Luxury Hotel in Umbria – Castello di Reschio
Your Guide to Where to Stay in Florence