This year marks numero 10 for having the privilege to write to you as part of our Thankful issue. Yes, I am proud to say, October marked Galavante's 10th year in business. And every year since our very first, Thanksgiving has been our time to pause and thank our lucky stars. Which, in case you didn't know, is you.

10 Years in Business 
This milestone is especially reflective. There's a lot this year that has happened in the world. The ongoing pandemic. The vaccine. The insurrection. Afghanistan. That's a whole heck of a lot to unpack. The beauty is, though, we survived. The eternal optimist in me even believes the future is brighter than ever. And if anything, I think this time made us closer to you. Of course we hit your inbox every week, with the usual Galavante tongue-in-cheek commentary on life. This year, though, we got real and addressed world issues that are as tied to who we are at Galavante as travel itself is.

The Galavante in the World Foundation
We started a foundation that, in two months, has provided over $45,000 of direct financial and housing assistance to at-risk Afghan women and families. And this is just for starters. We will not leave women behind who are getting scholarships to Georgetown for graduate school. Philanthropy was always core to our identity at Galavante, and now we have a foundation that will make direct impact on lives. We would never be able to make this humble difference in the world without your support.

It's All Because of You
Which brings us back to you. So many of you have been here from the very start. You stood by this crazy idea of Galavante — perhaps a psychotic break from reality to start a travel company. How were we going to be different than other travel publications or travel agencies? Well, 10 years later, I am proud to say, we're different in so many ways. And the core reason is because of you. Your banter with us when The Weekly hits your inbox brings our writers a lot of joy. You inspire us with the travels that our team is lucky to help you with around the world. And you motivate us every day to keep exploring the world and to make a difference. It's you who have helped us build the dream of Galavante.
So this Thanksgiving, we are especially thankful for you. It's been the ride of a lifetime, and there is so much more in store. Our gratitude could not be truer than it is in this moment.
All the best to you and yours this Thanksgiving.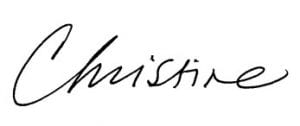 Christine Drinan
Founder & CEO