Hotel: The Brazilian Court
When it's winter at home, it's high season in Palm Beach, which means it's time to soak in some Vitamin D, and sport your matching family Lily Pulitzer. You will brighten both your wardrobe and your spirits. Follow the industry tycoons, presidents, celebrities and socialites for a luxurious Palm Beach weekender at the Brazilian Court Hotel. Once your family arrives at the Brazilian Court, you'll enjoy comfortable extravagance and truly supreme service. You'll receive a gold key to your room (yes, physical key) to unlock the pampering of Palm Beach and let everything you touch turn to gold. Let it begin.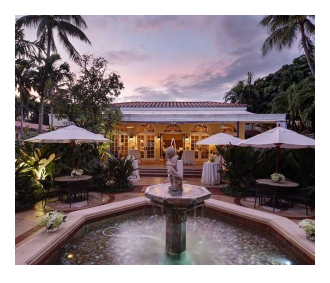 Highlights:
Beautiful beaches
Fine dining at Café Boulud
Pampering at Fekkai Salon and Spa
Something for everyone in the family
Suggested stay:
Three days. That's enough time for a classic Palm Beach weekender, with ample opportunity to soak in the sun and society. 
Your Not-So-Humble Abode
The Brazilian Court is a cosmopolitan and celebrated hotel – it's like meeting your perfect match. With proximity to both Worth Avenue shopping and the breathtaking ocean beaches, the Brazilian Court is the ideal location for families looking to experience it all in the best possible way—the lap of luxury.
The hotel has some serious Palm Beach street-cred since it is complete with art from Paul Fisher Galleries, a restaurant from renowned French chef Daniel Boulud, and a salon and spa from celebrity stylist Frédéric Fekkai. We love that the resort only has 80 rooms (be sure to book the Brando suite): each one is complete with mahogany fittings, striking colors, jetted marble tubs, and equipped with private pools and courtyards.   
Play All Day
We suggest you settle in the lush tropical courtyard to sip the signature White Cosmopolitan (topped with an orchid ice ball) as your kids sip their juice. Then, listen to the trickling fountains and let the gentle ocean breeze kiss your skin, while your kids can run amok through the private courtyards. It's euphoric for both the grown-ups and the kids.
If you grow tired of relaxing, we suggest taking a break to rejuvenate and unwind. Head over to the palm-fringed pool. You'll thank us later. The intimate pool sanctuary is surrounded by lush palm trees and gardens (and beverage service starts at 7 a.m). Peek in between the palm fringes as you laze in the hot tub and watch the kids cannonball into the pool.
Next on the rigorous agenda should be the Brazilian Court's Palm "Beach" Experience. It entails getting chauffeured to and from the beach in your Mercedes, having sunbeds and umbrellas waiting for you at arrival, and having someone else pack your ideal beach bag with towels, sunscreen, bottled waters and reading materials. Just don't forget to bring the kids.
The hotel is also within striking distance of doing a tour of Worth Avenue, taking in a polo match, taking the kids to the Palm Beach Zoo, and ending with ice cream at Sprinkles before calling your chauffeur to take you back.        
Wine and Dine
On-property dining at Café Boulud offers a solid French menu. You could dine for there for every meal of the day, and please everyone in the family every time. Be sure to try the watermelon gazpacho, lobster roll and duck breast. And help your kids add "alfresco" to their vocab by snagging an outside table for an open-air dining experience.
Your visit would not be complete without stealing some alone time at the Frédéric Fekkai Salon. Make a hair appointment with Jonathan, sit back, and get ready for some magic. Hailing from the South of France and having been handpicked by Fekkai himself to come to the States, Jonathan will make you look like a new person (but only in a good way). You will want to take him home with you, and have him style your hair every day. (Warning: the rest of your family may object).        
So with a taste of summer in Palm Beach, and winter still a little crisp at home, now is probably a good time to secure your gold key to Palm Beach.
FAQs
Q: Is there Wi-Fi at the hotel?
A: Hotel guests are welcome to complimentary Wi-Fi in every room and social area.
Q: Does the hotel offer bicycles for guests to use in the area?
A: The Brazilian Court has Linus bicycles (standard and electric) for its guests to use around the area. The first two hours of use are complimentary, but guests can pay for extra hours. The standard bikes are $15/ per extra hour (plus tax). The electric bikes are $20/per extra hour (plus tax).
Q: When is Café Boloud open?
A: Café Boloud hours:
Breakfast – Daily – 7-11a.m.
Lunch – Monday-Friday – 12-2:30p.m.
Dinner – Monday-Sunday – 5:30-10p.m.
Brunch – Saturday-Sunday – 11a.m.-2:30p.m.
The Brazilian Court Information
Address: 301 Australian Ave, Palm Beach, FL 33480
Phone number:   5616557740
Map: