Summer in Greece?  It may just happen.  Even better if it's poolside, next to Charlize Theron.  Or Tom Hanks.  No, it's not a hotel in Mykonos or Santorini, which are great too.  No, this is more off-the-beaten tourist path.  What could be better than dancing on a table at Nammos?
Maybe it's the 130,000 years of archeological history. Or the pink sand beaches. Or the turquoise waters as stunning as in the Maldives. Or it could be this hotel in Crete you've never heard of, because it's clearly the Oscar-winner's spot-to-be. Welcome to the Elounda Peninsula Hotel.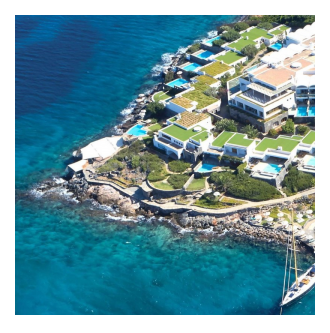 Set right on the Aegean Sea with direct views of the Sitia mountains, Elounda took what was already a great hotel, and renovated this 2020 to take it to the next level. An all-suite hotel that's made for privacy, our favorite room is not a room at all.  It's a new 5000 square foot villa decked out with its own pool and right on the sea.
Besides the Charlize and Tom factor, the hotel equally caught our eye because of the Six Senses Spa. The Six Senses takes science and as they put it, high tech, and high touch, for an integrated approach to wellness.  So yes, they do have facials – with red wine, royal jelly (we're doing this just because we want to find out what that is) and 24 Karat gold, but they also have acupuncture and meditation. We're hoping they bring in their signature wellness assessment, where you get hooked up to EKG like nodes and they look inside your soul. It's life-changing.  Just like a vacation in Greece.  Just ask Charlize and Tom.
FAQs
Q: When is the Six Senses Spa open?
A: The spa is open daily from 9a.m.-7p.m. The extensive treatment menu, including pricing and other necessary details, is available here.
Q: What are the dining options?
A: The Elounda Peninsula Hotel has various dining options, including eight restaurants, private dining options, room service, wine tastings, a cellar dinner, dinner on a boat, and more. The Dining Experience section of the website provides extensive details.
Q: How far is the hotel from an airport?
A: The Elounda Peninsula Hotel is 70 km (43.5 miles) from Heraklion International Airport "Nikos Kazantzakis."
Elounda Peninsula Hotel Information
Address: Pigadakia, Elounda 720 53, Greece
Phone number: +30 2841 068012
Map: