Well, the pandemic is still working in your favor, as there are some top international destinations available for a last-minute holiday trip. Think big. Like lifetime-trip big. And luxurious. These are places that normally require booking a whole year in advance but just happen to be yours now for the taking. So there's no need to wait for the next time because the time to get back into travel is now. Here are the top international destinations to really ring in the roaring '20s.

Destination: Turks & Caicos
Why to go
There's nothing better in the dead of winter than heading somewhere warm. Where the rum is practically on tap, conch fritters are on the menu and the beaches are sublime. So this New Year's, your plan is Turks & Caicos, which has all of the above. They also, hands down, have the most beautiful beaches in the Caribbean. This New Year's, you will not sit on the sidelines.
Overview
If you're traveling with a group, Turks & Caicos is still an option for a last-minute international getaway. The winter is the most popular time to get warm, and Turks is popping with water activities, lively restaurants and fun cruises. They like to celebrate all the time in the Caribbean, but the winter months are prime for festivals like Maskanoo. The day after Christmas can be anticlimactic with the last gift already opened, but not in Turks, where they like to throw a masquerade ball in the streets.
Where to stay
The hotels are pretty full, but we have a handful of villas made for an entourage. When split among you and your friends, our options even turn out to be relatively reasonable luxury getaways. Surprisingly, these villas don't massively dent your wallet and yet don't sacrifice on luxury. We have a few villas still open: Mesmerizing Paradise and Dream Pavilion are set right on the beach. And yes, they come with all the booze and butlers you need to throw your own private parties at night.

Destination: Belize
Why to go
You want to keep it low key but you want somewhere warm. Belize is authentic, eco-friendly, cultural and overall fun for the whole family. A vacation in Belize will keep you active, whether you're scuba diving, hiking the Maya ruins, or doing a black hole drop.
Overview
For a last-minute international getaway, Belize gives you the most bang for your buck. On and off the resorts, there are countless activities for those into nature and active pursuits. And some of you are channeling healthier energies for 2022. While you can dance on the beach anywhere, scuba diving near coral reefs, horseback riding and sunrise tours can keep you on track to the new, better you. Belize is also the perfect place to bring kids with boundless energy.
Where to stay
There are some quaint, eco-hotels in Belize, but when we want an updated hotel on the beach that won't break the bank, the Alaia resort was the best option. Villas and guest rooms have beautiful, modern interiors and punch above their weight class for the price points. The resort also has three separate pools and adults-only spaces to enjoy.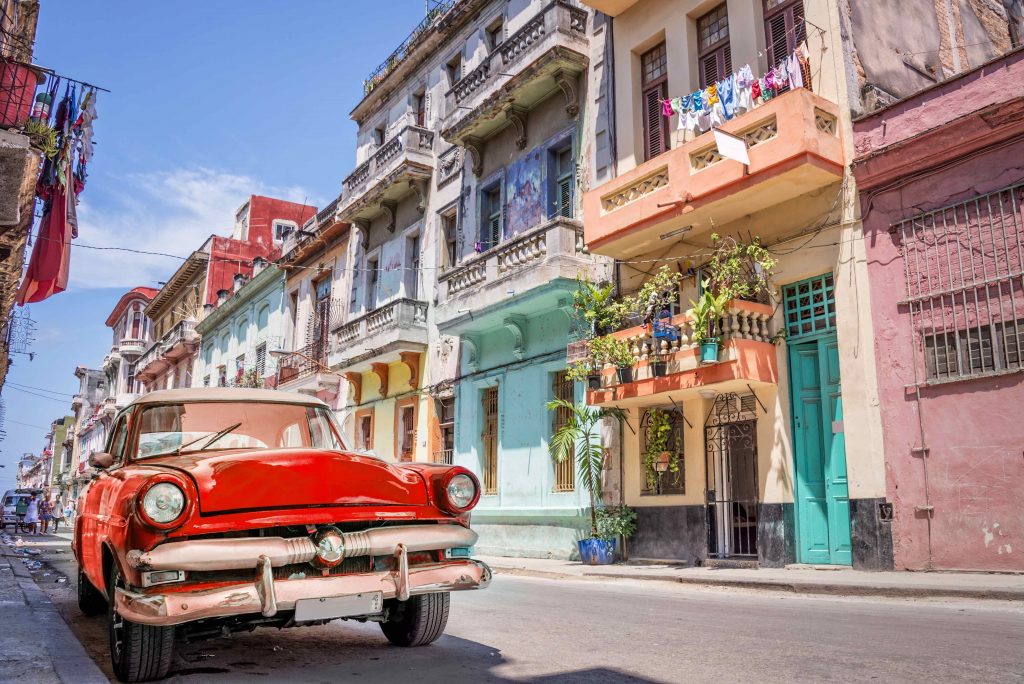 Destination: Cuba
Why to go
Cuba is a bucket-list destination, and Americans while it was touch and go there for awhile, can still file for an exemption to travel there. The country has a rich history, strong cultural identity and capital city that's fascinatingly frozen in time. Covid-19 has been fairly contained because the country was effectively closed to tourism during the pandemic. It just reopened this November, and tourists have not yet rushed in. This means that costs are relatively reasonable for the holidays and sites won't be overrun. From now through the winter months is the time to go.
Overview
A trip to Cuba may not be like other Caribbean adventures, but you're prepared. Baroque and neoclassical buildings in Old Havana are beautiful to visit. Riding around in old cars and sipping on real mojitos are also must-dos. You can take the opportunity in Havana, Trinidad, or wherever you may go to really learn about the deep colonial history that has contributed to the development of the United States. Or, you can simply relax and smoke a Cuban cigar on the beach.
Where to stay
Paseo 206 for a luxury boutique experience. The small hotel is distinctly Havana, but with a super-elevated spin. Or we recommend La Reserva, which also exudes old-time Cuban glamour.

Destination: Madrid
Why to go
If the arrival of a slew of new luxury hotel groups is any indication, Madrid is the destination for New Year's and into 2022. If you were thinking of going before, you should put Madrid on your list for a last-minute international getaway. The museums, restaurants and culture, in addition to the luxury hotels, are a few of the compelling reasons to travel to Madrid. It's also enough to go just to hang out with the people who live there. Madrillenos know how to have a good time, even on an average day, and they take it next level for the new year.

Overview
Except maybe a beach, there is nothing Madrid lacks. The city is easily navigable and is filled with stunning architecture, cafes and museums. It's less touristy than Barcelona, and the top places to visit are hubs for tourists and locals alike. With a little Duolingo, you can feel like you belong.  They just want to live life to the fullest, and party. Plus, getting around both in the city and to other day-trip destinations is super easy.

Where to stay
Like we said, you have options. But in Madrid, you're mostly looking at timeless, elegant hotels that reflect the city's historic opulence. The Four Seasons opened in 2020 in a restored building from the 1800s. The Mandarin Oriental opened in 2021 in the historic Ritz, after a complete multi-year renovation. Both hit the nail on the head when it comes to combining Madrid's important historical identity with a classic yet modern update. Our last pick is the Urso Hotel, which doesn't dent the wallet and good for easy trips to Madrid. All are just a walk away from the center of town.

Destination: Paris
Why to go
Seriously, who doesn't want to go to Paris? If there's one last-minute international destination that is guaranteed not to miss, it's the city of love. And now is the perfect time to go. The Eiffel Tower is an iconic symbol of New Year's, and even if you're staying cozy in your room, you can make watching the light show with some champagne a whole event.

Overview
You don't need an overview of Paris, but we will say that the holiday season in Paris is magical. The Parisians are out in full force and in full regalia for holiday celebration. Every single night you can find a hot spot, like Gigi on Mondays that has cabaret and diners who look like they walked off the runway. Paris is at full tilt this holiday season, and it's time to get in on the action. For weather, winters are relatively mild and even in cold spells, the cozy, romantic cafes and quieter streets make anyone fall in love.
Where to stay
We always love our faves like the George V, but Paris has some new gems to keep on your radar. The Bulgari rooftop may be the perfect place to see the lights and firework spectacular, and Hotel Costes will definitely have the party scene.

Destination: French Polynesia
Why to go
As far as luxury bucket-list destinations go, French Polynesia has to be at the top of the list. New Year's is just an excuse to visit; you would want to go here any time. French Polynesia isn't the easiest or cheapest place to get to, and that means relatively little Covid-19 transmission. There's a pretty good chance you won't have a worry in the world once you arrive here.
Overview
This is the option for those who just want to blow it out. These aren't just the prettiest beaches in the region; they're the prettiest beaches period. This is where you go if you want to genuinely just enjoy the location and those around you. Crystal clear water, delicious food and suitably strong cocktails are all standing features anywhere you go on the islands. Sometimes during the holidays, all you want is a no-stress, perfect vacation. That's what you're gonna get here.
Where to stay
Maybe you're in the market for a $1 million villa for the week. Or maybe you want to vacation like Obama at the Brando, which offers off-the-charts bliss. Whatever route you go in French Polynesia, all roads lead to luxury and a baller way to welcome in the new year.